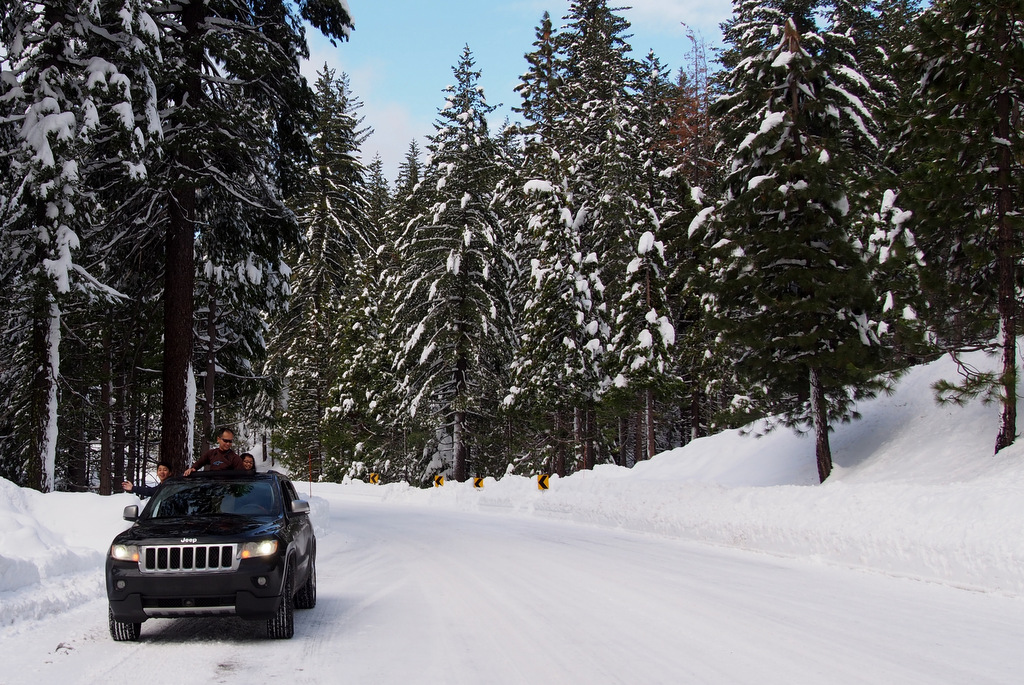 By David Colman
Hypes: Does-It-All, Looks to Kill, Great Price compared to the Europeans
Gripes: 6 or 8 Speed Gearbox Would Be Nice, Thirsty
Jeep engineers must have had the mountain bike rider in mind when they designed the new Grand Cherokee. If you flip the rear seats down and pop open the hatchback gate, you've created the perfect storage area for a mountain bike. Tailgate lift-over is moderately high, but once you've got the hang of sliding your bike in and out, you're good to go anywhere, because the Grand Cherokee is Trail Rated. Its base price of $39,295 includes Quadra Trac II all-wheel drive featuring a terrain selection knob that lets you optimize grip for sand, snow, or loose gravel. In addition, standard Hill Descent Control steadies your gait on long declines, while mud and snow rated 265/60R18 Michelin Latitude Tour tires get a sure grip on steep ascents. If the going gets too tough for this mountain goat of a Jeep, just roll that bike out of storage and tackle the trail with pedal power.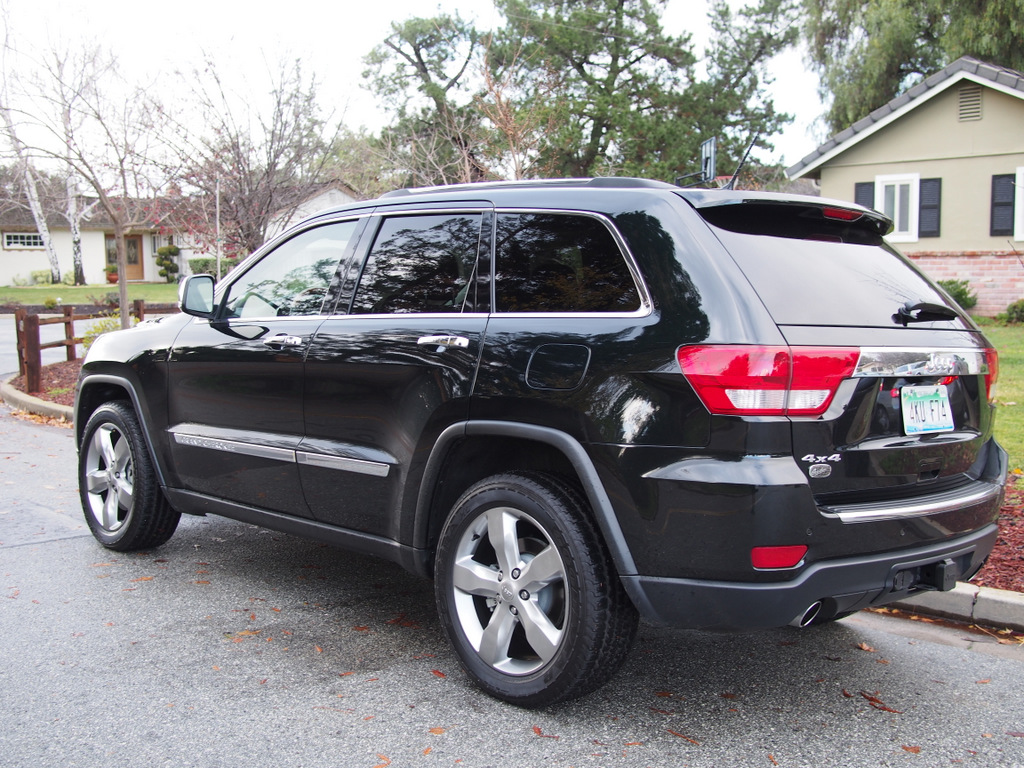 While the foregoing expedition is certainly possible with a Grand Cherokee as your guide, in all likelihood, your next outing will be cross town to the grocery store, not a foray up Mt. McKinley. The Jeep is just as well suited to the mundane as it is to the heroic. Although available with a variety of V-8 engines (ranging from 360 to 470hp), the basic powertrain consists of a perfectly adequate 3.6 liter V-6 coupled to a 5-speed automatic gearbox. This sophisticated new baseline prime mover produces 290hp and 260 lb.-ft. of torque. That's more than enough surge to meet any passing lane requirement, tow 7,400 pounds of trailer, and still return a thrifty 23 miles per gallon on the freeway. The V8 Hemi featured here is a monster at with power that is omnipresent.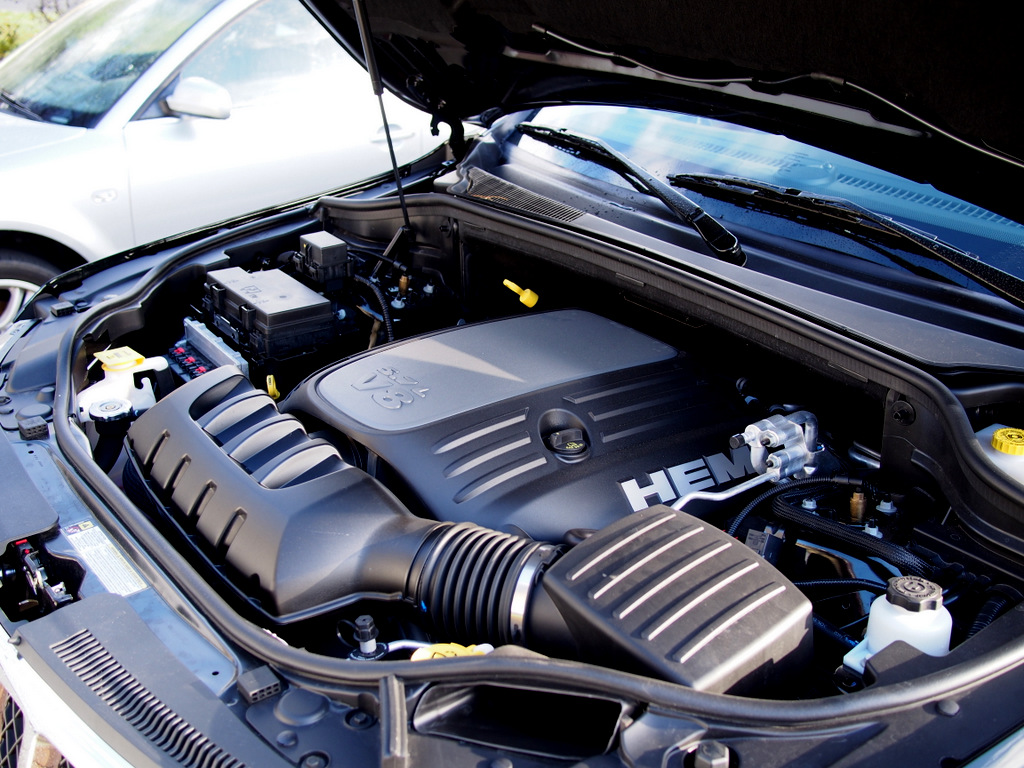 Since Chrysler conceived the latest Grand Cherokee while still a subsidiary of Daimler Benz, the Jeep shares a number of genetic markers with the current Mercedes ML series of SUVs. Most notably, the interior and exterior design of the Grand Cherokee evinces a Teutonic purity of line that puts the overwrought competition to shame. Compared to the bulbous designs of Honda, Acura, Toyota and Lexus, this streamlined Jeep glows like a beacon of simplicity. Chrome accents sparingly emphasize just the beltline, exterior rear view mirrors and signature Jeep grill. The comfortable and functional interior looks like it belongs to a much more expensive SUV. The 9 way adjustable and heated front seats prove exceptionally comfortable on long trips, and even the rear seats are heated. Fit and finish inside the cabin is outstanding, with the black-topped vinyl dash separated from the light frost beige leather interior by a strip of burl material that would look at home in a Range Rover.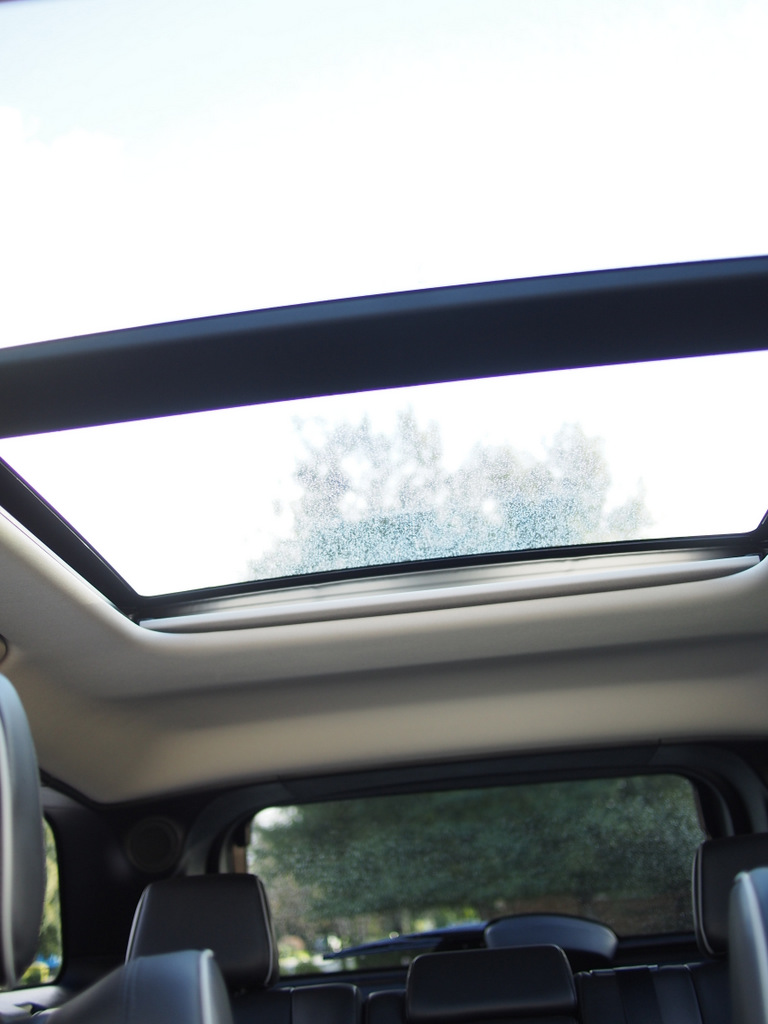 Despite its high stance and sizeable bulk, the Cherokee handles like a sports sedan rather than a truck. The generously sized 8 x 18 inch polished aluminum alloy wheels plant the Jeep firmly on its Michelins. Their simple 5-spoke design is a refreshing change from all the busy looking alloy wheels designs flooding the market today. In fact, those wheels are emblematic of what's best about this Jeep: forthright design. The Grand Cherokee does not pretend to be anything other that an all-purpose, all-weather family mover, built with care, wrapped in flair, and imported directly from Detroit.
2013 Jeep Grand Cherokee Overland
Engine: 5.0 Hemi V8
Horsepower: 360 hp
Torque: 390 lb.-ft.
Fuel Consumption: 13 MPG City/20 MPG Highway
Price as Tested: $54,670
Star Rating: 9 out of 10 Stars
Related posts: