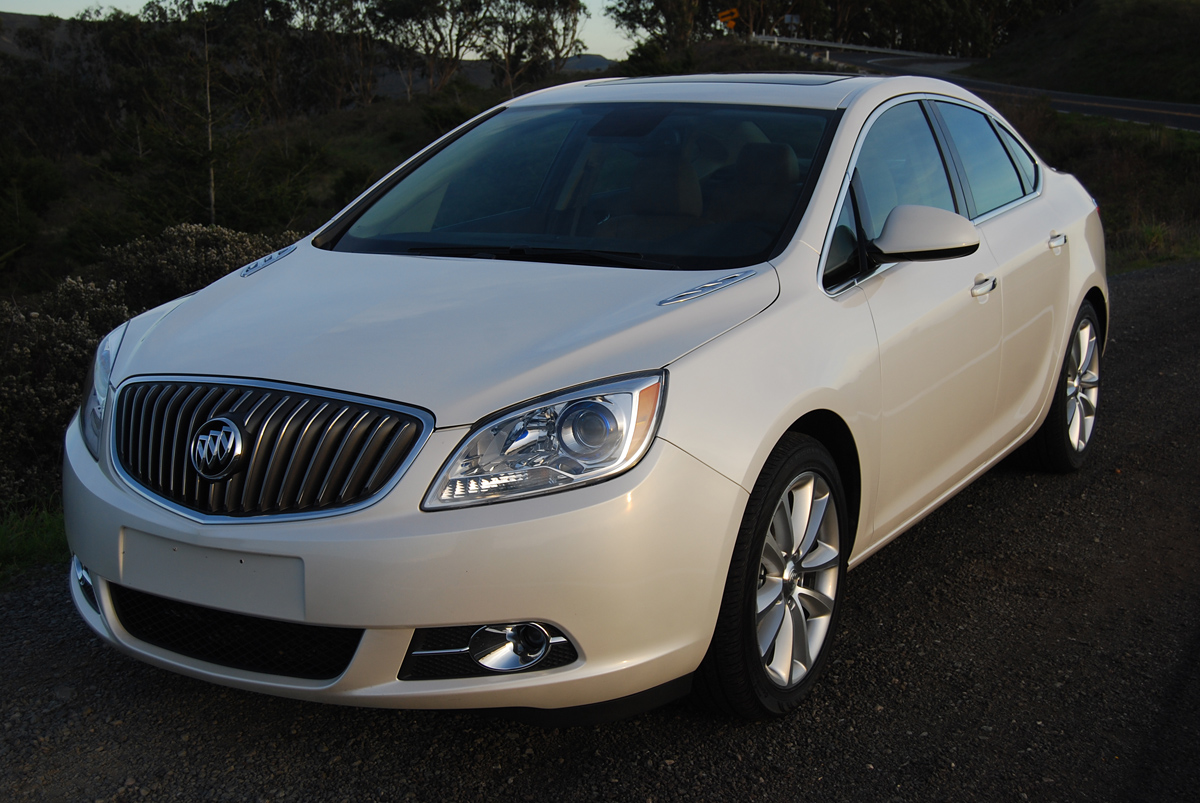 By David Colman
Hypes: One of the Best Drivelines Period
Gripes: A-Pillar Trim Mismatch, Cheapo Passenger Seat
A lot of years have passed since Buick built a hot rod called the GNX. Since the drag racing reign of the GNX ended in the mid 80s, Buick has focused on fine tuning their product line to appeal more to Chinese buyers, who value ersatz luxury and plush ride over performance attributes. The Buick Division's focus on comfort and polish has made it GM's number one sales leader in China. But back home, in the USA, where drivers remain performance oriented, Buick has had little to offer until the advent of this Verano Turbo, a sizzling rendition of their smallest sedan.
Prior to introduction of the Turbo model, Verano has been an innocuous four-door without particular merit for the enthusiast driver. Based on the same platform that Chevrolet utilizes for its hot selling Cruze, the Verano recasts the clean stylistic look of the Cruze with such vestigial Buick DNA markers as a toothy chrome grill and hood-mounted triple porthole emulators. These heritage devices look rather out of place on the Verano's otherwise streamlined shell. Inside, Buick designers have done a better job of breaking with the marque's customary serenity by offering up a strikingly bold two-tone cabin that posits mocha panels against chocolate trim to make an eye appealing combination.
The driver's seat, with its power controls for fore/aft position and backrest inclination, is comfortable and supportive, though lacking memory retention. The passenger's front seat, on the other hand, lacks any power positioning and is difficult to configure due to its crude manual backrest lever. Rear seats, while serviceable for kids' short trips, are tight and upright for adults. A small sunroof graces the interior, and the Verano's headliner is handsomely upholstered with a waffle weave oatmeal fabric that cleverly conceals front and rear head curtain side impact air bags. Buick has fitted Verano with no less than 10 standard bags, which made this model a 2012 IIHS (International Institute for Highway Safety) "Top Safety Pick."
What really distinguishes the Verano Turbo is its sweet performing 2.0 liter, turbocharged, inline 4. Borrowed from the larger Regal GS, this beautifully detailed motor doles 250hp and 260 lb.-ft. of torque through an F40 6-speed manual gearbox, which Buick has surprisingly certified for use with this twin exhaust engine. The combination produces 0-60 mph runs of 6.2 seconds, which bests both the Lexus IS 250 and the Acura ILX 2.4, both of which Buick considers as prime competitors. The shift unit, nicely done in chrome, clear plastic, and leather, is a real treat to operate through standard aluminum faced pedals, which will collapse in the event of an accident. The F40 slips without hindrance from gate to gate, with well spaced ratios, a predictable inviting clutch interface, and lots of usable acceleration thanks to an unusually low final drive ratio of 3.55:1 that gives the Verano plenty of dig off the line.
Chevy's top sports Cruze, the RS, plants 225/50R18 rubber at each corner, but Buick goes its corporate sibling one better by specifying 235/45R18 Continental ContiProContact tires all around. Since these tires are mud and snow (M&S) rated, their ultimate grip level is rather modest, and you can feel them wash out under sustained side loads. Part of the problem too is the soft spring rates Buick engineers have chosen for the MacPherson Strut front and Watts Z-link rear suspension. But as compensation for some loss in ultimate cornering prowess, the Verano Turbo offers a plush and comfortable ride, especially considering its relatively short wheelbase of 105.7 inches.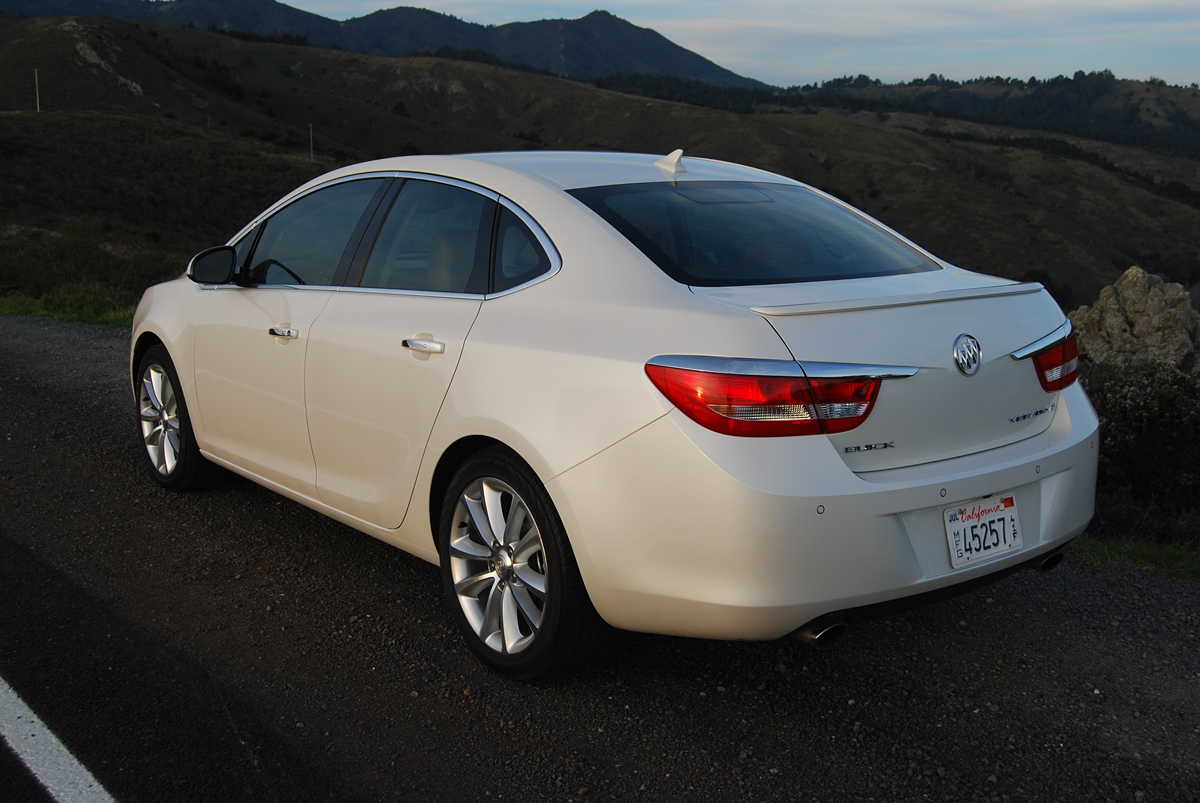 This Verano makes the perfect choice for a family of 4, with sub-teen occupants in the back seat, and a couple of enthusiast drivers up front. The buy-in is certainly right at $29,000, because you'll find yourself spending a lot more for comparable performance from Lexus, Acura or Nissan.
2013 Buick Verano Turbo
Engine: 2.0 liter inline 4, 16 valves, DOHC, turbocharged
Horsepower: 250hp
Torque: 260 lb.-ft.
Fuel Consumption: 20 MPG City/31 MPG Highway
Price as Tested: $29,000 (est.)
Star Rating: 8 out of 10 Stars
Related posts: