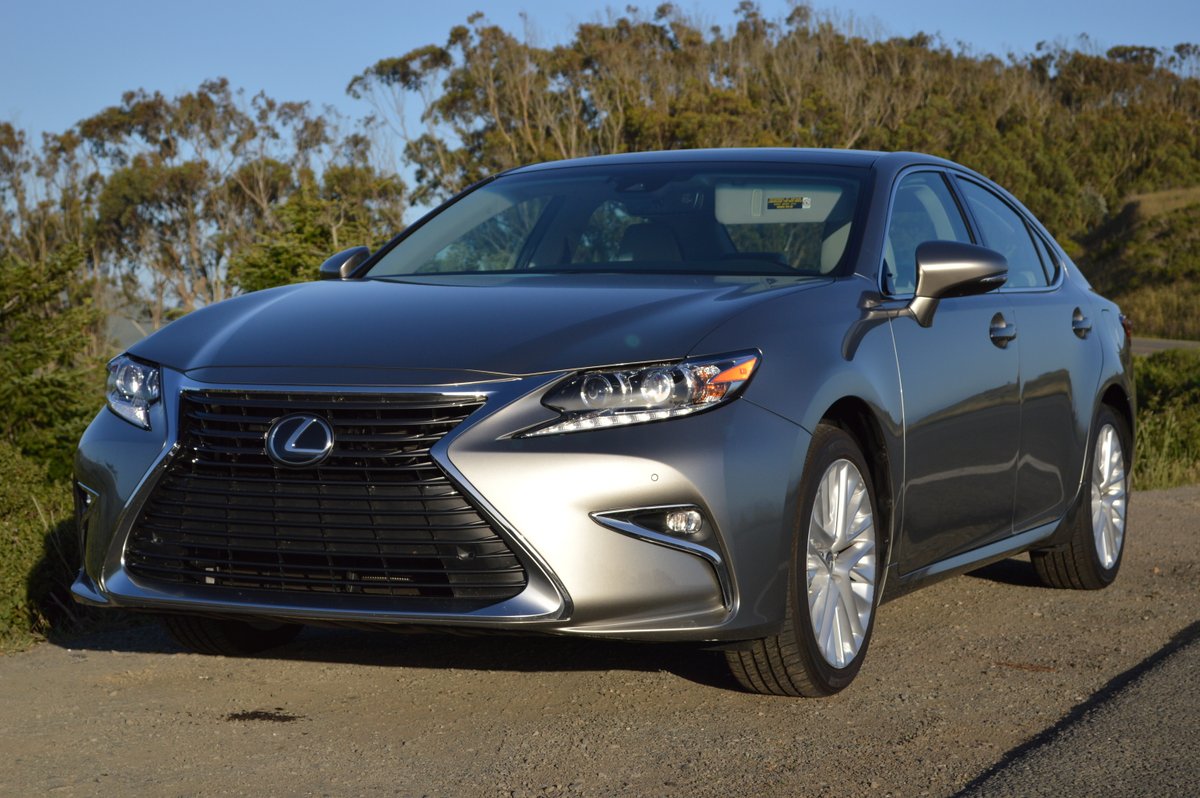 Hypes: Sparkling Performer, Luxurious Accommodations
Gripes: Lose the Mouse GUI
If you're in the market for a proven high quality 5 passenger sedan at an affordable base price of $38,900, take a close look at the 2018 Lexus ES 350. Because the 2018 version is the last ES before Lexus introduces its TGNA platform-based ES for 2019, you may be able to do some dealer dickering on the outgoing model. While it's hard to predict what you'll miss if you don't wait for the new architecture to materialize, I can certify that there's absolutely nothing wrong with the current well tested version I enjoyed for a week.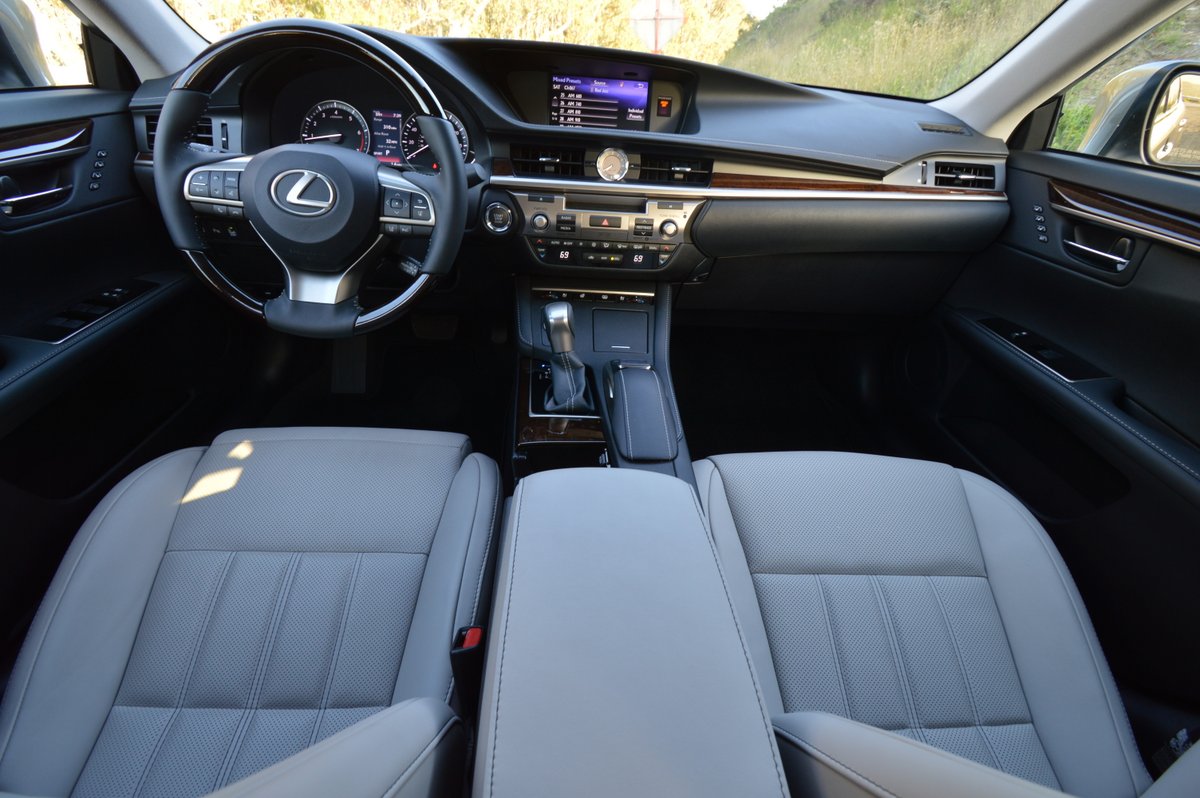 My loaded test exemplar padded the modest base price with $10,282 worth of accessory packs which helped convert a prosaic car into a sumptuous chariot. The most expensive add-on, entitled "Ultra Luxury Package," cost $3,500 and consisted of semi-aniline leather seats, wood interior trim, power tilt and telescoping wheel, memory system for both front seats, powered sunshade for the rear window, manual shades for the rear side windows, and ambient interior lighting.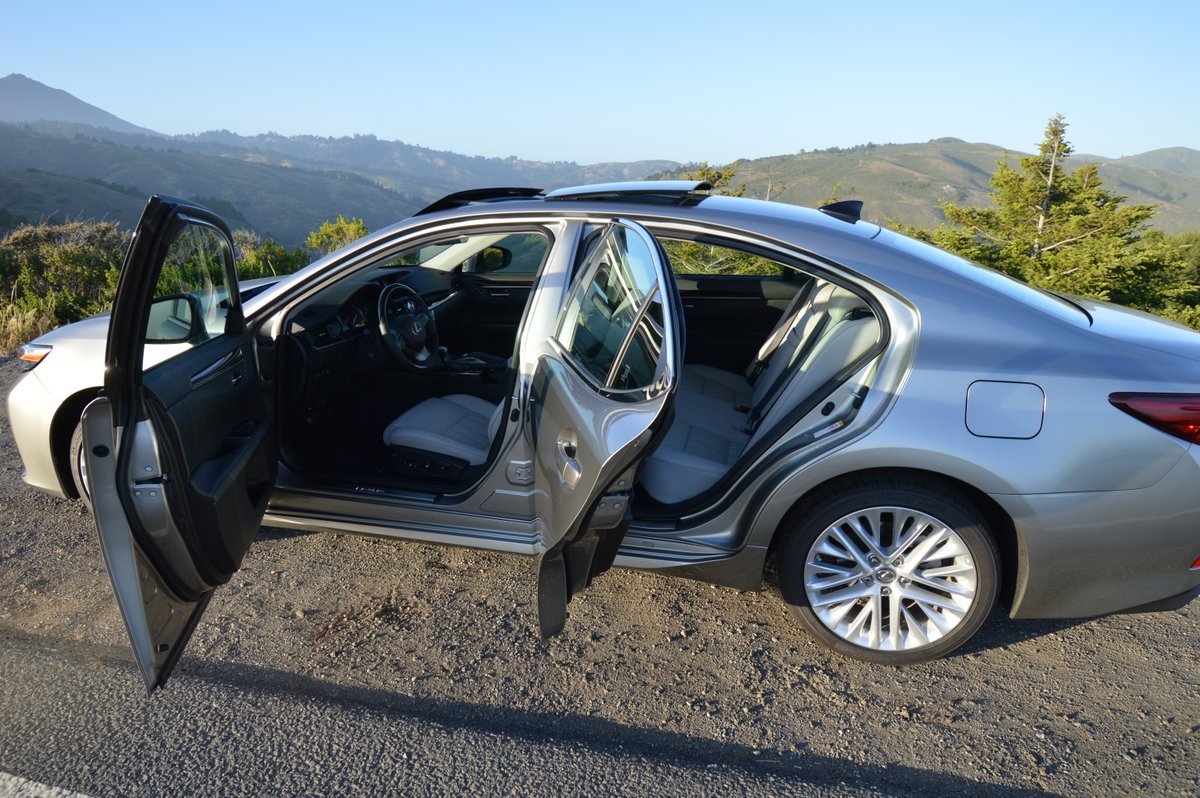 But the most beneficial contribution of this accessory group is the two part "Panoramic Glass Roof and Power Moon Roof." This ingenious device exposes the otherwise somber interior of the ES 350 like a can opener. You get two separate glass roofs here, with the motorized front section sliding open but the rear section remaining fixed. If you shut the interior shades, and raise all 3 sunscreens, the ES cabin becomes dark as a hearse. However, if you drop the shades and slide the panorama roof shades open, you feel like you're driving a convertible minus the wind hassle.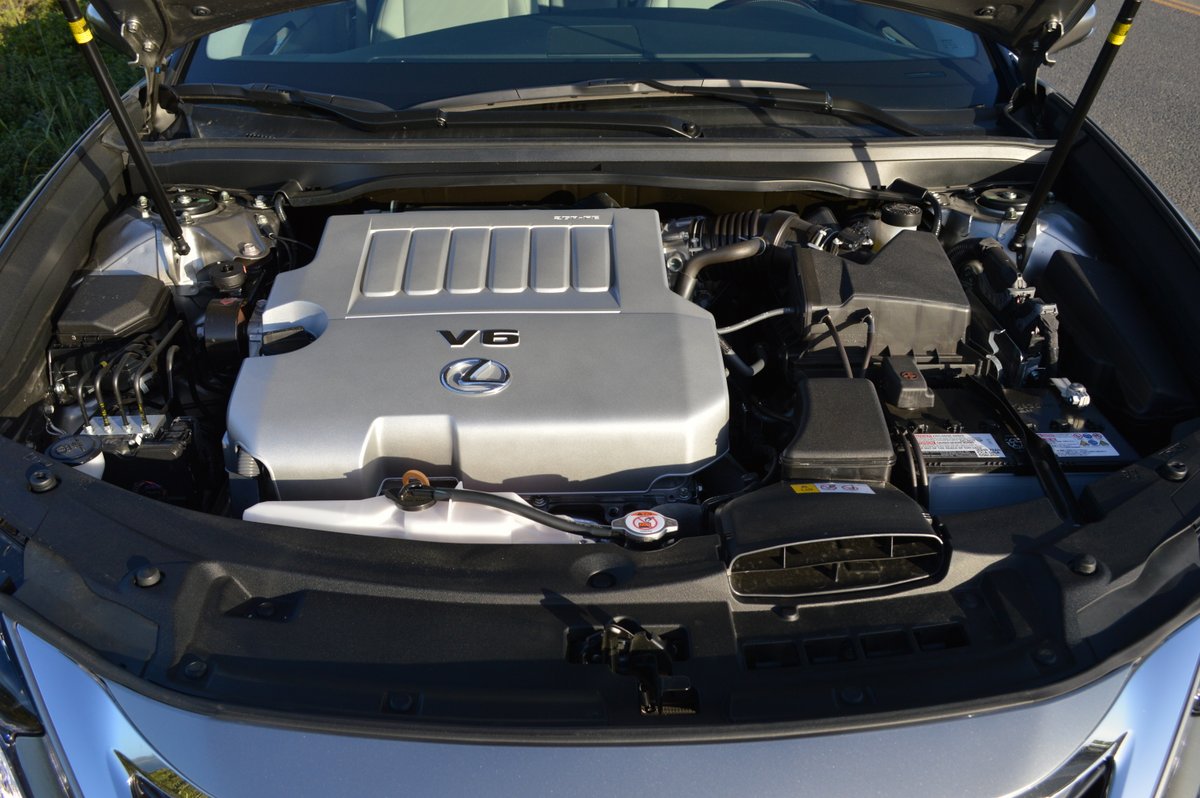 No matter how you option your ES 350, the base price includes a powerful and highly refined 3.5 liter V6 engine coupled to a 6-speed automatic gearbox featuring a manual shift selection gate but no paddles. Lexus is proud enough of their 268hp engine to call out its "2GR-FE" number on the plastic shroud which keeps the motor clean. I have not seen this sort of ID used by Toyota/Lexus on other products. They have every right to celebrate the performance of this V6, which scoots the front wheel drive, 3,575 pound sedan at a clip that will never leave you short of passing power. The 2GR-FE manages 30MPG on the freeway, and 24MPG in overall driving, and does so without a trace of torque steer. Its snap acceleration is due in large measure to a wide torque band which generates 248lb.-ft. from the instant you open the throttle.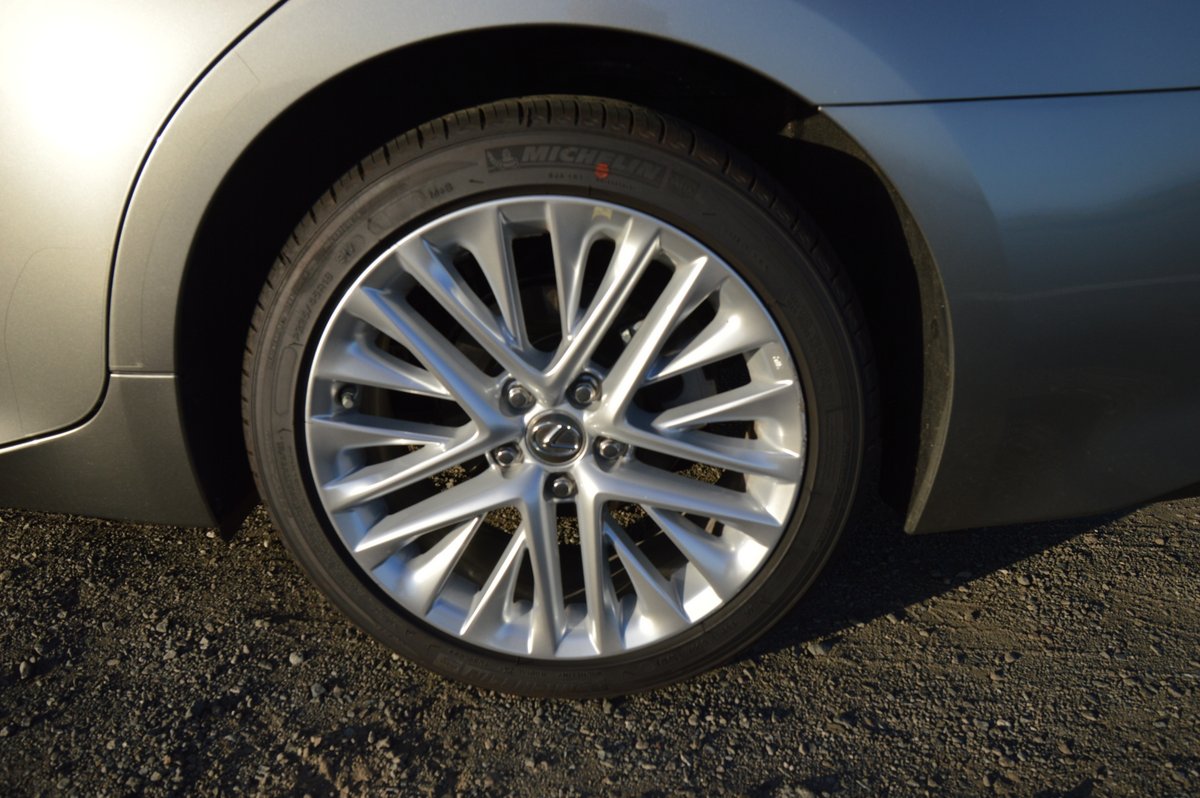 While the sizeable 193 inch long Lexus hardly qualifies dimensionally as a true sports sedan, its backroad instincts are surprisingly good. Contributing to the adroitness of the ES are the following solid building blocks: 4 wheel independent suspension with gas pressurized shock absorbers plus appropriately stiff front and rear anti-sway bars. Standard ES wheel allocation consists of 17″ x 7J alloy rims with 215/55R17 radials at each corner. But our test car was equipped with $880 optional "18 inch wheels with high gloss finish." These 18″ x 7.5J rims extend wheel width a useful half inch over stock, and increase diameter by a full inch. The optional rims plant low profile 225/45R18 Michelin Primacy MXM4 tires all around. These enhance cornering ability compared to the standard issue 215/55 rubber. Best of all, this upgrade does not affect ride comfort. It's well worth the extra $880, and turns the ES into a near sports sedan.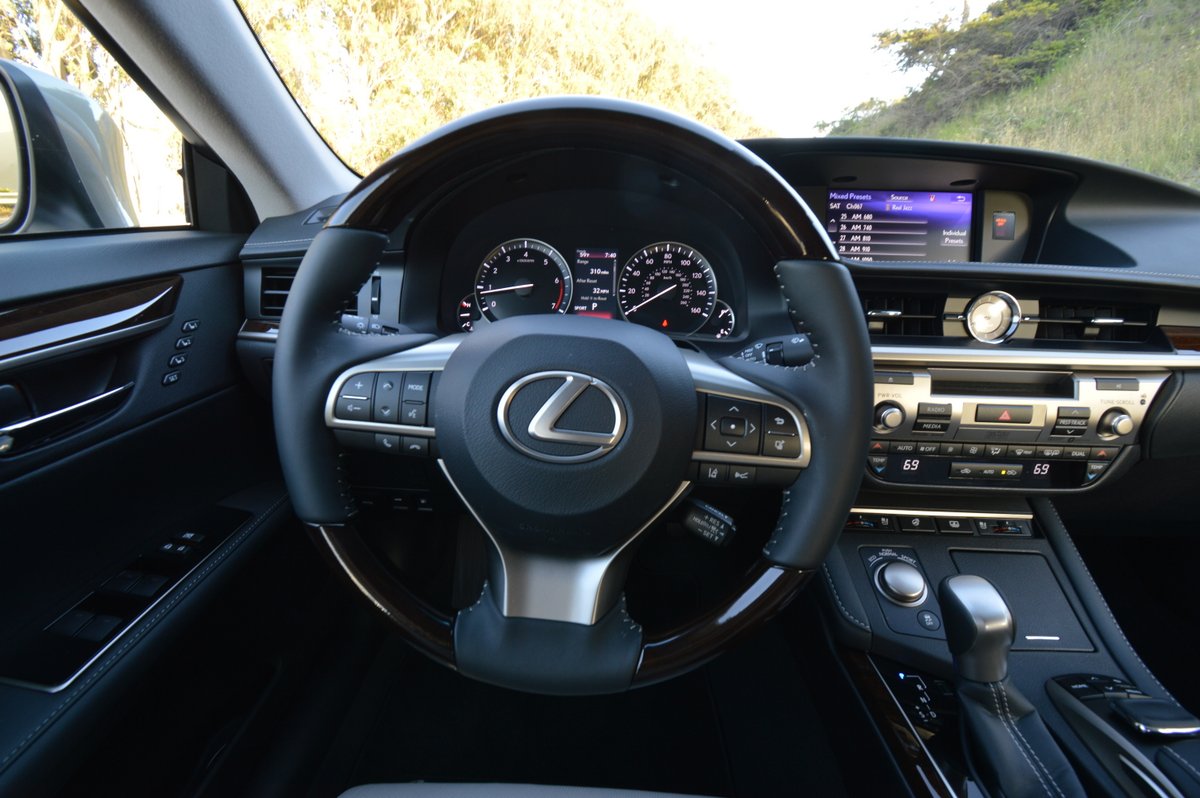 I was intrigued on a 70 mile freeway run to discover just how well the steering wheel controls manipulate both cruise speed and entertainment choice. Unlike the confusing cruise control designs of many other manufacturers, the Lexus unit is located on a separate stalk of its own. To activate it, just press the button on the end of the stalk, and bump the stick up for more speed and down for less. A thumb button on the right steering wheel spoke controls following distance. When you select one car length distance, this Lexus actually follows your command, never lagging 3 lengths or more behind like so many other cruise control laggards that interpret 1 as 3.
Lexus equips the center console with an overly sensitive mouse-like unit that is best operated by the passenger, not the driver. However once you have entered preset favorites from SiriusXM radio you can easily control station choice via a scroll switch on the steering wheel's left spoke. Same goes for volume. The ES 350 is a most reassuring Lexus, one that knows how to take care of its driver on long jaunts.
2018 Lexus ES 350 4-DR Sedan
Engine: 3.5 liter V6, DOHC with Variable Valve Timing (VVT-i)
Horsepower: 268hp
Torque: 248lb.-ft.
Fuel Consumption: 21MPG City/30MPG Highway
Price as Tested: $50,177
Star Rating: 8.5 out of 10 Stars
Related posts: