Sean reviews the new 2012 Honda Civic Si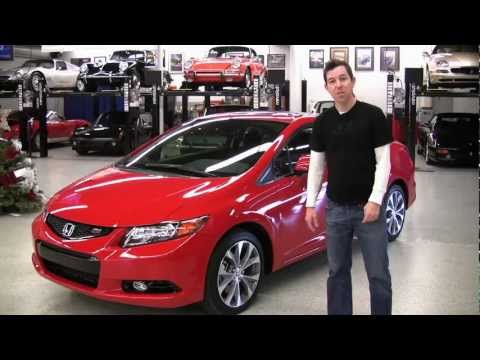 Pros:
Smooth, powerful and high-revving engine
Incredible transmission
Nimble, responsive handling
Cons:
Strange RPM behavior when shifting
Schizophrenic interior
Introduction
The Honda Civic first appeared in 1973 as the no-frills economy car Americans needed due to climbing gas prices. In the mid 80's Honda offered a spiced-up version called the 'Si' which added horsepower and handling improvements to the lightweight Civic, proving that a practical car could also be fun to drive. It turned out to be a winning formula and the Si badge has been in Honda's line ever since. The 2012 Si showcases 30+ years of evolution in the breed, and as we had hoped, this is the best Si yet.
Driving Impressions
The Civic Si has two sides. Most of the time it's a smooth, quiet and no-frills economy car for spinning around town and commuting. But give it more throttle and let the RPM's spin up past 'VTEC' to redline and you'll find the Si's dark, aggressive side that hunts down and slaughters lesser sport compact cars. There's a light, effortless feel in the steering, pedals, shifter and motor that serves both the Si's personalities well. But the suspension belies the Si's true colors; ride quality is on the firm side. The Si is dialed for corners first and rough roads second.
Build
The Civic Si displays the quality we've come to expect of Honda—it's well made with an apparent sense of quality throughout, but not exceptionally plush. Slam the doors or trunk on a German sedan or a more expensive Japanese car and you'll get a muted, airless 'thunk'. The Si's doors and trunk feel thin in comparison; not necessarily cheap, but perhaps lacking some sound deadening material. This observation echoes throughout the rest of the car—overall the Si feels like a well-made car but there's no denying its economy car genetics.
Interior Comfort and Ergonomics
Honda chose a several materials, textures and colors for the Si dash and door panels. It's all quality but the variety gives a somewhat disjointed feel to the design. Worse than that, the split-level dash and gauge design looks like someone's overdone impression of futuristic. Honda has several sub-screens showing random bits of info, including a power gauge showing how far VTEC is engaged on the left side, and on the upper right there's a user-configurable screen that shows percentage of power used, audio system display, clock, or nothing. This format is used on the rest of the Civic line and it does a fine job of displaying a lot of information at a glance, but it doesn't match the SI's personality. We'd like it better if Honda chose classic sports car dual analog speedometer and tach gauges, or the F1-inspired digital gauge from the S2000.
Front seats are well-bolstered and grippy, something you'll appreciate when flicking the Si into tight corners. Our test drivers are not tall people, yet all noticed that head room both front and back was not exceptional. Tall drivers and those with a penchant for big hats may find this to be a problem. Also, the rear seats fold down, though it's a cumbersome process. The switches are conveniently located at the edge of the trunk, but you may need to crawl into the trunk to push the seats forward. We managed to stuff a mountain bike into the back of the Si, but it was not as easy as it should have been.
Performance
Honda's F1-inspired naturally-aspirated motors are legendary for their smooth, high-end power thanks to what's known as VTEC, a sophisticated variable valve timing and cam positioning system that allows a small motor to act like a larger one past a certain RPM. This is where the Si's dual personalities come from. Stab the throttle and the motor spins up effortlessly, but really comes to life past %555 when VTEC kicks in to deliver 201 horsepower, which is more than enough to get the lightweight Si hauling up to ticket speeds in a blink.
But Honda's brilliant VTEC motors have always been anemic on the torque side. The 2012 Si has more torque at a lower RPM than any previous version (170ft/lbs at %555) thanks to the upsized 2.4 liter motor stolen from the Acura TSX. Still, the Si lacks the instant low-end kick that you get from turbocharged competition from the likes of Volkswagen, Mini and Subaru. If you're cruising along and feel the urge to accelerate, a mere mash of the gas pedal won't be enough—-you'll need to downshift at least one gear.
Shifting is excellent, with a slick, precise shifter and smooth clutch engagement. But the light and lively motor seems to hold RPM's for an unusually long period of time between gears. This works out well when driving hard, holding the motor up in the power band even if your shifter hand is slow, but when driving casually, it gives the impression that you're a manual transmission noob. It's distracting until you adapt.
It's a car that's easy to drive, and it begs to be driven hard. The Si feels fast, possibly faster than it really is, considering the 0-60mph times in the mid 6-second range still put it behind the competition. But unlike many of those faster gars, the Si still gets over 31mpg after a week of angry test driving during which spins up to redline were the norm. Impressive.

Related posts: