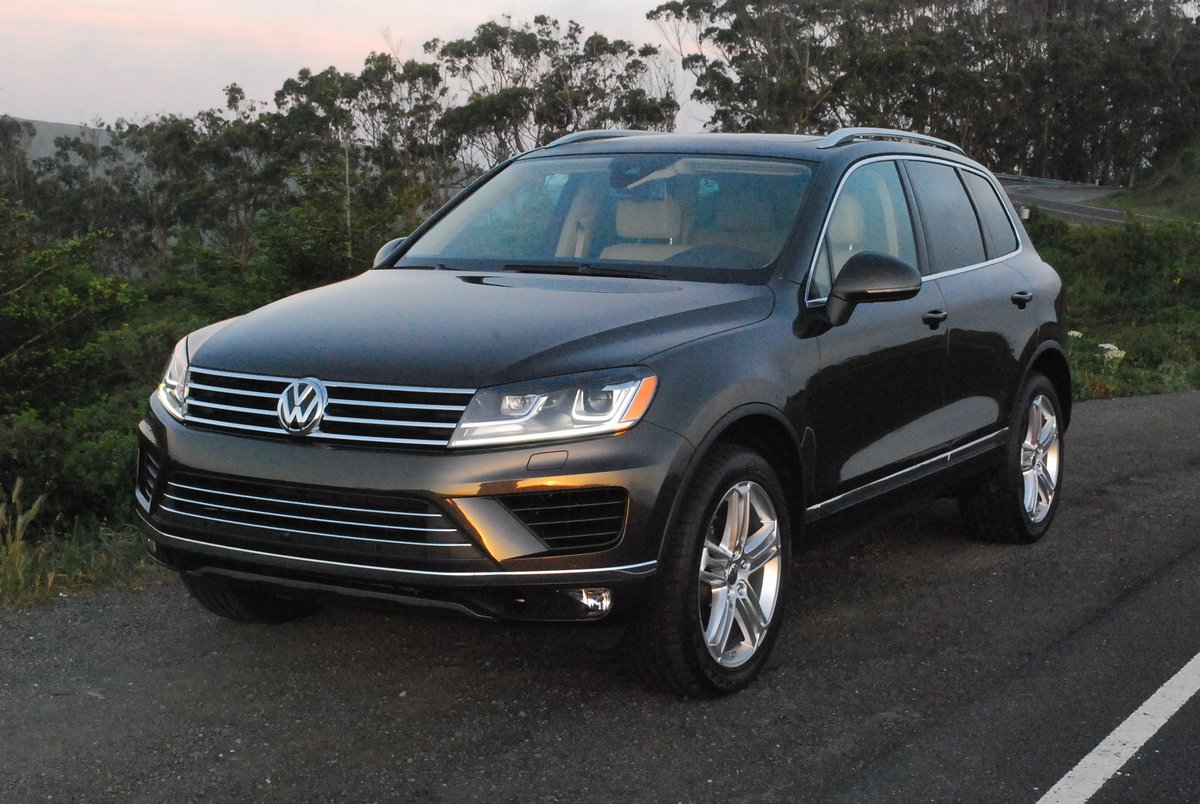 By David Colman
Hypes: Super Clean Fit, Finish and Appearance
Gripes: Sloppy Throttle, V6 Needs More HP and Torque
Volkswagen has refreshed the appearance of the Touareg SUV for 2015. Most noticeable is the revamped prow, with seven horizontal strakes emphasizing the platform's 76 inch width. New 20 inch alloy rims complement the new grill's linearity with their triple ribbed five spoke design. All in all, VW has successfully infused the aging Touareg platform with a new visual vocabulary. Yet all the previous virtues of this luxury SUV remain: all-wheel-drive (4Motion), sumptuous accommodations for 4, excellent all-around visibility, and rock solid handling. The 4 Motion system benefits from a self-locking center differential that will extricate you from virtually any traction robbing situation. The grabby Goodyear LS2 Eagles (275/45R20) contribute high levels of wet and dry traction. And if you do get yourself well and truly stuck, VW provides 3 years and 36,000 miles of 24 Hour Roadside Assistance including towing, jump starts, tire changes, plus remedies for out-of-fuel and lock-out problems.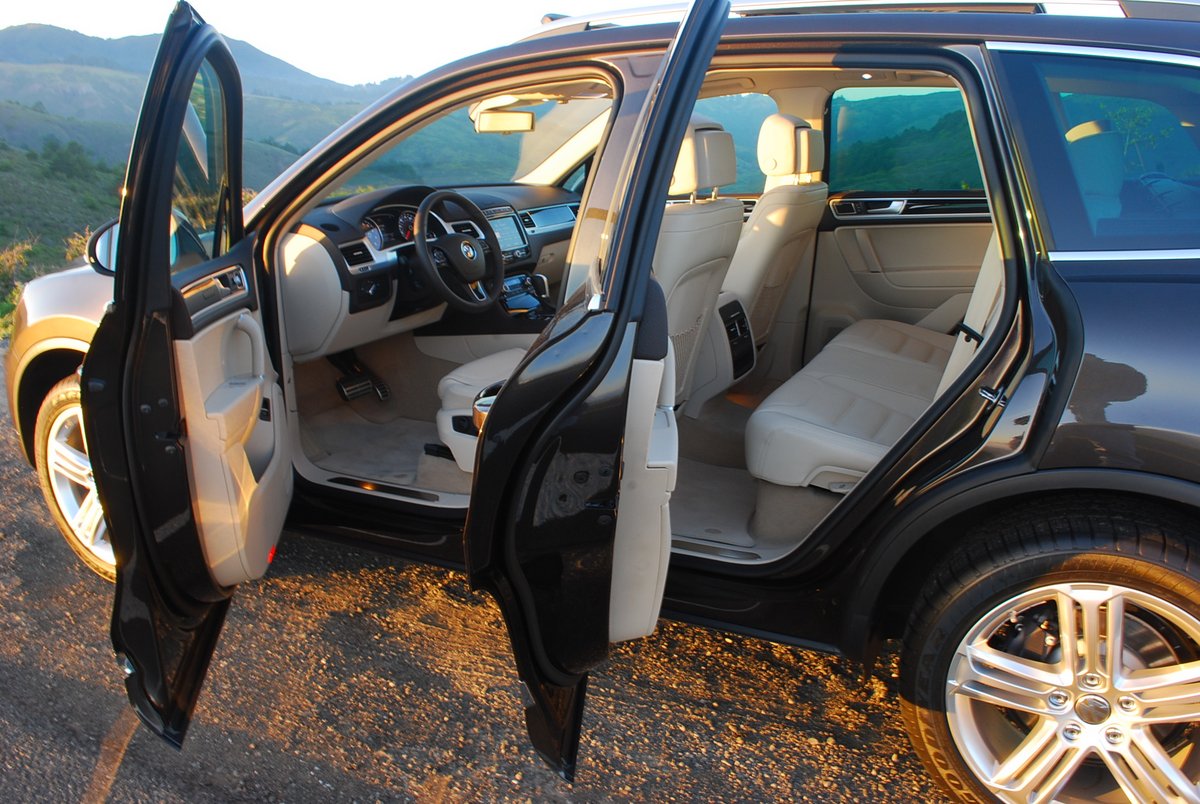 The upgraded interior of the Executive model rivals the best offerings from Range Rover or BMW for understated good taste. Our "Black Oak Brown Metallic" test model featured a "Cornsilk Beige" interior as easy on the eyes as it was on the torso. The enormous power lifting and sliding panoramic sunroof (standard issue) brightens both rows of the interior, even when shut. Both front and rear seats are trimmed with exceptionally pliant leather, carefully tailored into bolstered sections that look like recliners you might find at Scandinavian Designs. In fact, that same clean European design idiom permeates the interior, from the precision feel of the center console lid to the ancillary controls on the steering wheel and dashboard. VW charges $2,500 for the Executive Driver Assistance package, which adds Adaptive Cruise Control and Lane Assist, a lane departure warning system. Both offerings add to the Touareg's ease of operation and your own peace of mind. VW's Lane Assist is one of the best on the market, with a mutable chime and a useful blinker under each exterior rear view mirror to remind you of adjacent traffic.
Also new is an 8-speed automatic transmission which VW imports from Japan. This unit insures decent highway fuel mileage of 23MPG, as well as manual gear override via a stubby floor mounted selector lever. Unfortunately, steering wheel mounted paddles are not offered as part of the gear changing system. Still, it's easy to lock the transmission in a gear ratio of your choice. Doing so insures that the gearbox will not up-shift on its own accord, especially handy when you are pulling a trailer. Touareg is well equipped for such towing duty, with its standard receiver jack, and standard "Area View" camera system to help position hitch on ball. Trailer rating is a generous 7,700 lbs.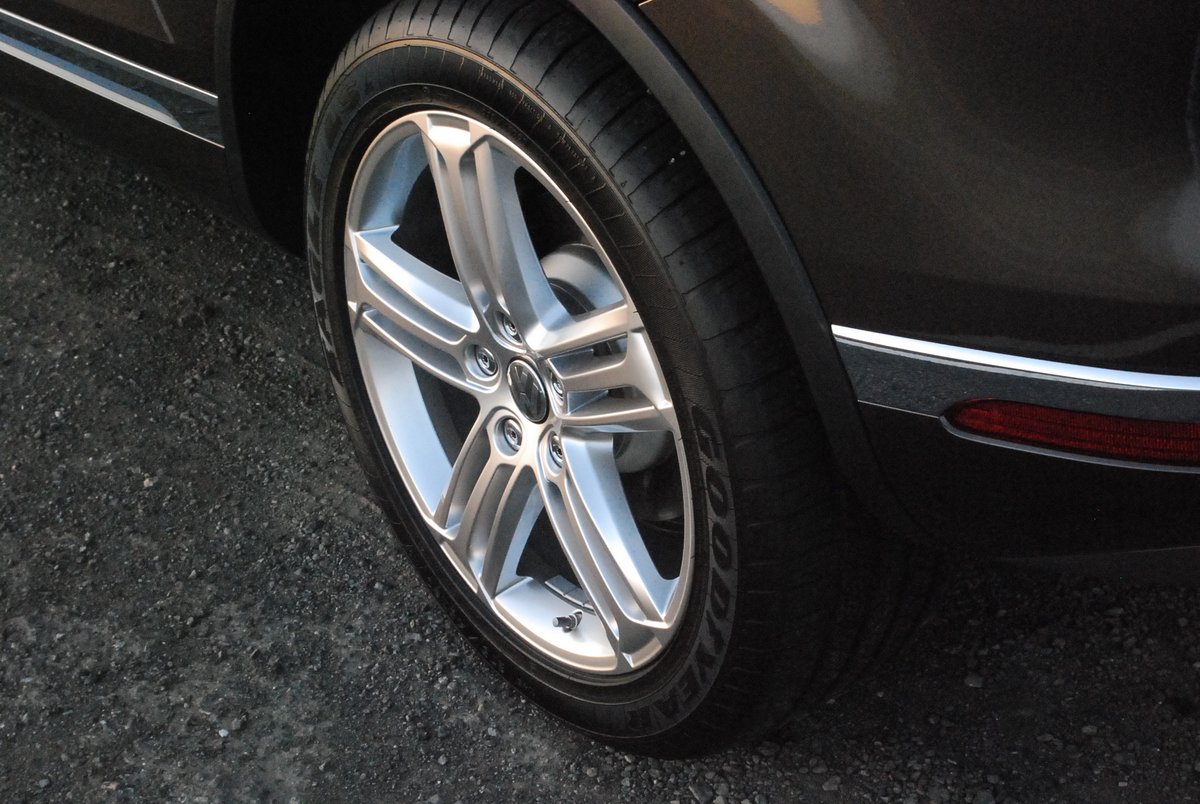 If you do plan on towing a substantial load, opt for the diesel engine or the Hybrid Touareg, because the base model V6 we tested is short on pulling power. Bear in mind that this VW weighs in at 5,060 pounds. If you select the TDI turbo diesel option (base price $62,200), you get just 240hp, which gives you a power-to-weight ratio of 21lb./hp. But the diesel's exceptional torque output of 406 lb./ft. more than covers the horsepower shortfall. If you opt for the top model 380hp V6 Hybrid ($66,995), your power-to-weight ratio drops to a very lively 13.3 lb./hp. Our gas powered V6 Touareg Executive ($58,700 base price) makes just 280hp and 266lb.-ft. of torque. That's a burdensome power-to-weight ratio of 18.07lb./hp. Further complicating the gas V6′s lack of thrust is a throttle pedal that is not linear in its application. When you mash the throttle, you encounter considerable pedal free play before the engine responds to your input.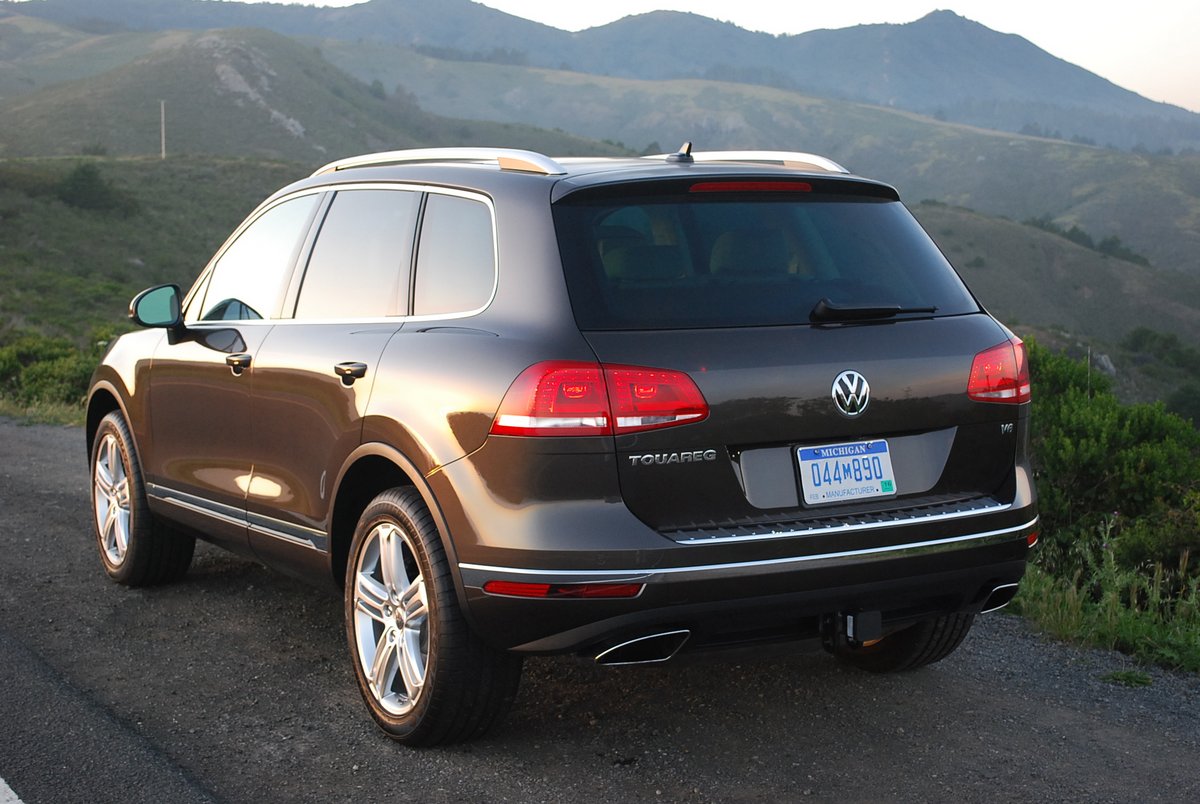 The Executive version of the Touareg is loaded with comfort and luxury features you will pay dearly to match should you chose a similar product from Porsche (Cayenne) or BMW (X4 or X5). For example, standard inclusions from VW are adaptive Bi-Xenon headlights, park distance control, 10 speaker Dynaudio sound system, Climatronic dual zone automatic climate control, keyless access with push button start, remote power lift gate with easy opening feature, rain sensing wipers, and a dozen more useful additions. Life with this Volkswagen is pleasurable, and its promise of future benefit recently reached maturity with a full blessing from Consumer Reports. CR just conferred "Recommended" status on the Touareg, since reliability has finally improved to "average" after many years in the sub-par category.
2015 Volkswagen Touareg Executive
Engine: 3.6 liter VR6, 24 valve narrow angle V6 with FSI direct fuel injection
Horsepower: 280hp
Torque: 266lb.-ft.
Fuel Consumption: 19 MPG City/23 MPG Highway
Price as Tested: $62,110
Star Rating: 8.5 out of 10 Stars
Related posts: