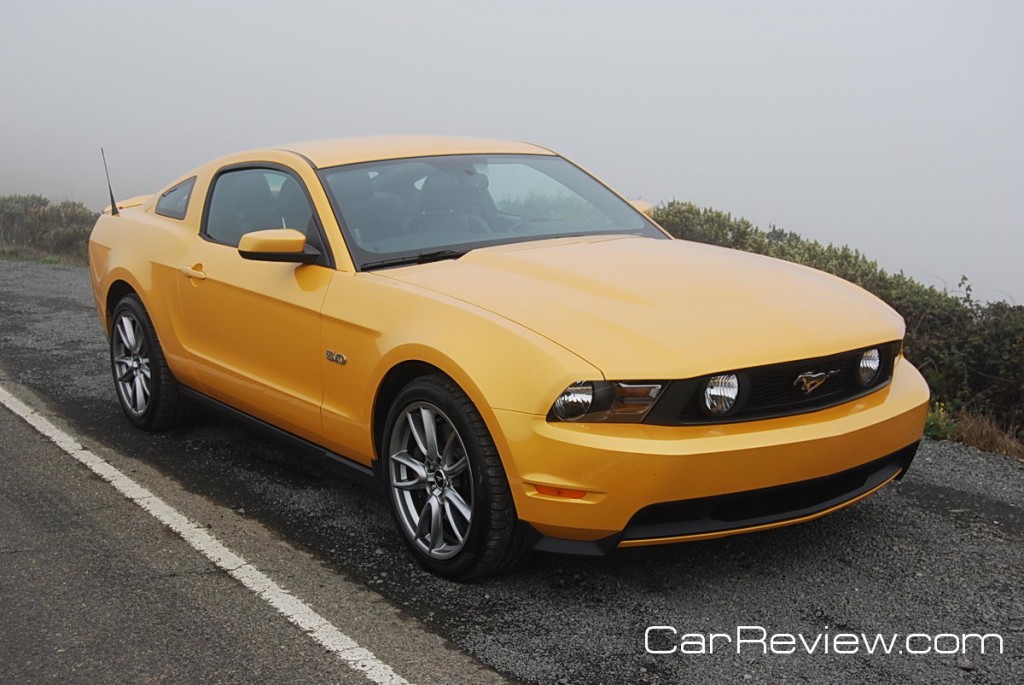 By David Colman
Likes:
Incredible Bang for the Buck
Everyday Practicality
Dislikes:
Limited Rear Vision
No Separate Gas Cap
The latest iteration of the long-lived Mustang GT has to be the bargain performance sensation of the year. When correctly optioned, this $36,000 evolution of Ford's original pony car of 1964 is a ferocious street fighter capable of punching twice its weight.
However, you'll want to tick all the right boxes when you order your GT. Color is important on this revamped body, and the $445 optional Yellow Blaze Metallic tri-coat does the newly buffed shape proud. Opt for the Premium version of the GT and you'll pay an extra $3,500 for some worthwhile upgrades like black leather seats with white racing stripes up the cushions, 8 speaker stereo, and a fat rimmed, leather trimmed, steering wheel with remote controls for cruise and communication/audio functions.
Although you can order a new 6-speed automatic transmission for the GT ($1195 extra), the 6-speed manual gearbox in this Mustang is the best shifting stick I have ever had the pleasure of operating. Be sure to check the box for the $395 limited slip rear axle, with the 3.73:1 gearset. This drag race axle ratio affords tremendous launch off the line, though you need to be quick with the stick to keep up with the V8's insatiable desire to redline at 6,000 rpm.
The 5 liter V8 is a work of hot rod art. In GT form, it makes 412hp and 390 lb.-ft. of torque (10 more lb.-ft. than the much more expensive Boss 302). That output is particularly remarkable in light of the base price of this vehicle. If 412hp aren't enough, you can upgrade to a 444hp Boss 302, though the option will set you back an additional $7,000. There's really no need to gild the GT lily with the Boss option because the GT is more than fast enough to keep you perpetually entertained. Its best attribute is its mellifluous dual exhaust system, which produces a delicious burble on overrun that your right foot can play like a trumpet. 40 years ago I had a Norton Commando 750 Interceptor (superbike) which I fitted with Dunstall Decibel Silencers. The Mustang GT is the closest I've found to that Norton sound in all the intervening years.

Related posts: