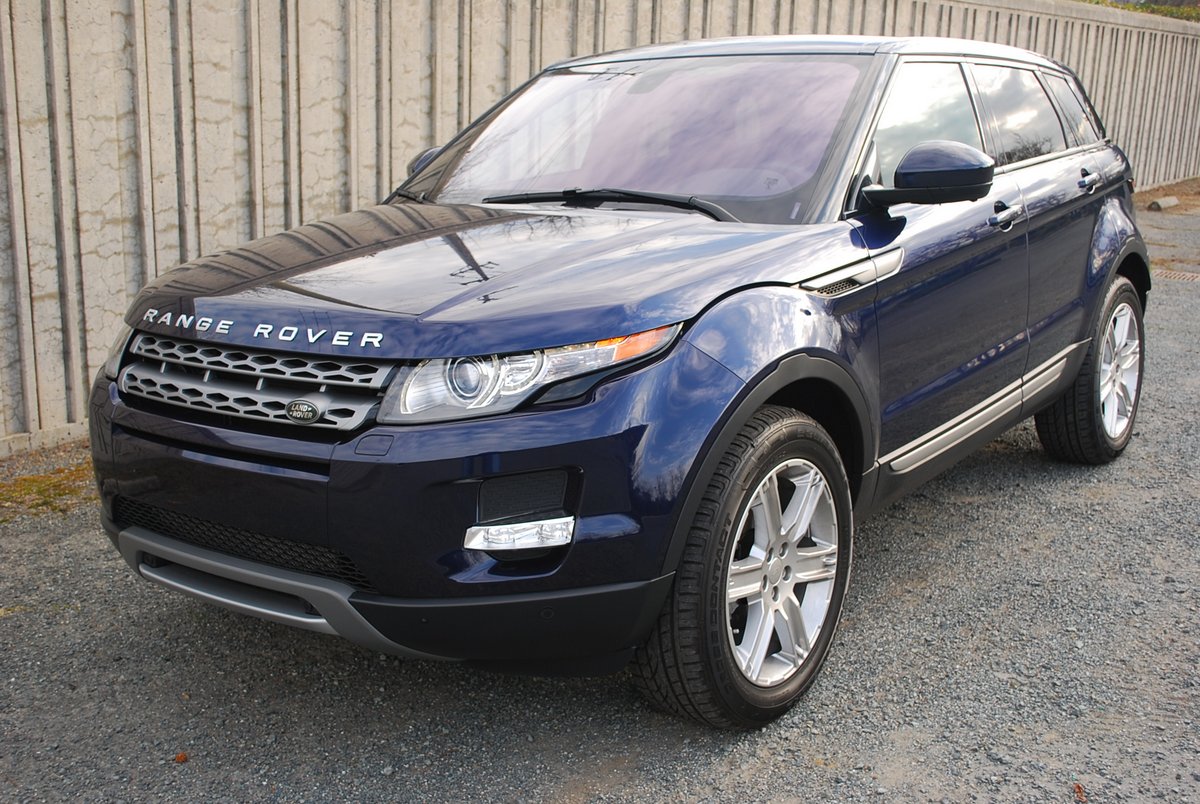 By David Colman
Hypes: Sterling Motor, Show Car Looks, Plush Interior
Gripes: Odd Control Placement, Irritating Stop/Start
Evoque posses the kind of command presence other SUVs would kill to have. A purity of line instantly distinguishes this entry level Land Rover from all other luxury mini SUVs. Only Porsche's new Macan comes close to captivating your attention with the kind of allure the Evoque generates. And even the Macan looks like something of a styling mash-up by comparison to the Evoque. The steeply sloping roofline meets the high beltline in a perfect example of diminishing single point perspective. Once you see your first Evoque you will never forget its charismatic design. With a base price of just $41,100, it's hard to believe such visual excitement is so affordable.
Of course, our test Evoque upped the final ante to a still reasonable invoice price of $51,170, thanks to the usual bevy of ancillaries manufacturers include on press pool specimens. These included a $3,000 "Power Plus Package" that had nothing to do with upping the 245hp under the hood. Rather, it consists of powered leather seats with lumbar and memory, a fixed Panoramic roof with power blind, front fog lights and headlight washers, and 19 inch alloy wheels to replace the standard 18 inch rims. These optional wheels plant all season Continental Cross Conti 235/55R19 rubber at each corner. An extra $2,100 gets you the "Vision Assist Package" which upgrades headlamps from Halogen to adaptive Xenon, and provides blind spot monitoring with closing vehicle sensor. A surround camera system takes care of monitoring all quadrants. The navigation system adds $1,750 to the bottom line. Although the navigation responds to voice control, the pictures it generates on the 8 inch, high resolution color monitor look rudimentary and dated compared to the latest Google Earth derived images available elsewhere. Finally, a $1,300 "Climate Comfort Package" provides 3 stage seat heaters front and rear, plus a heated steering wheel and hot windshield washer jets. On recent cold East Bay mornings, the seat and wheel heaters were terrifically efficient and welcome.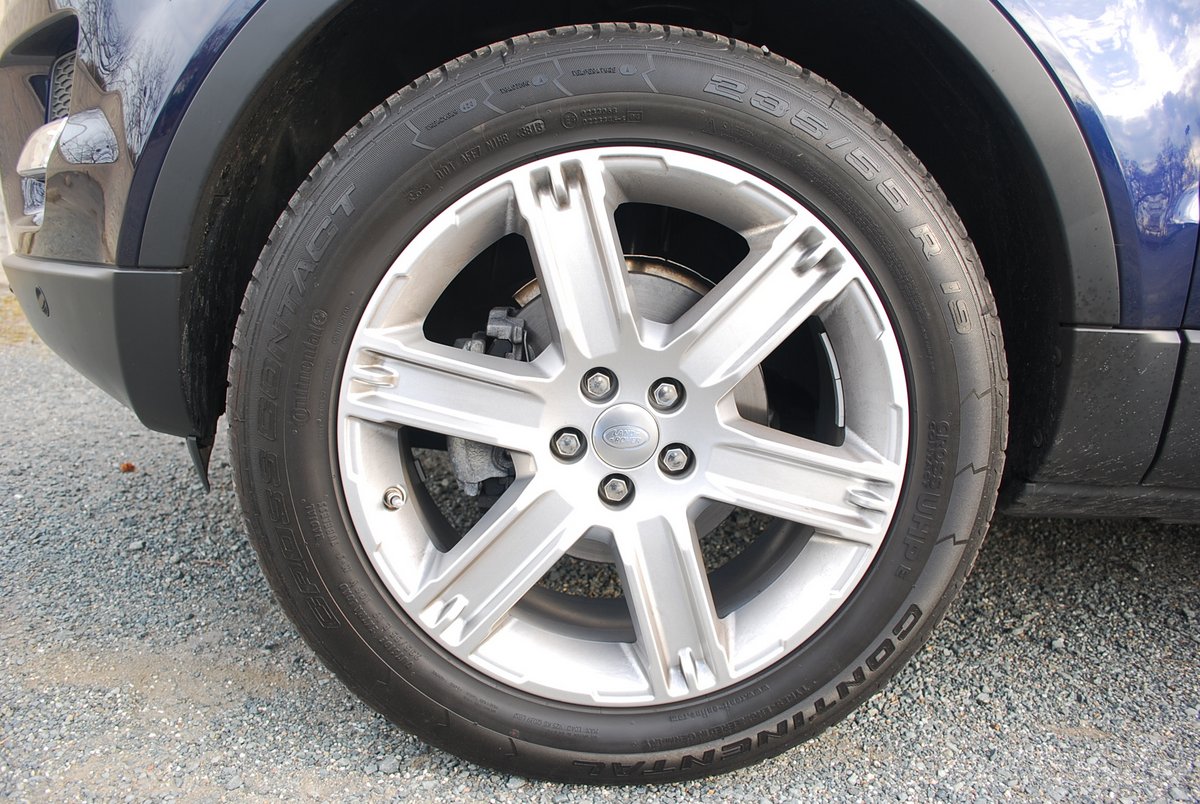 An exceptionally lively turbocharged 4 cylinder aluminum alloy motor propels the Evoque with gratifying authority. This 240hp engine drives all four wheels through a 9-speed automatic gearbox that offers paddle shifts to control gear choice in manual shift mode. Programs for automatic operation in Normal or Sport mode remove shifting responsibility from your list of concerns. Although the direct injected turbo 4 is plenty responsive to throttle application, you can up the output this year by selecting a limited edition "Autobiography" edition, or "Autobiography Dynamic" version, which bumps punch to 285hp. The base engine also does a commendable job of fuel conservation, posting an overall figure of 24 MPG, quite respectable for a vehicle weighing nearly two tons and driving four fat footprint tires.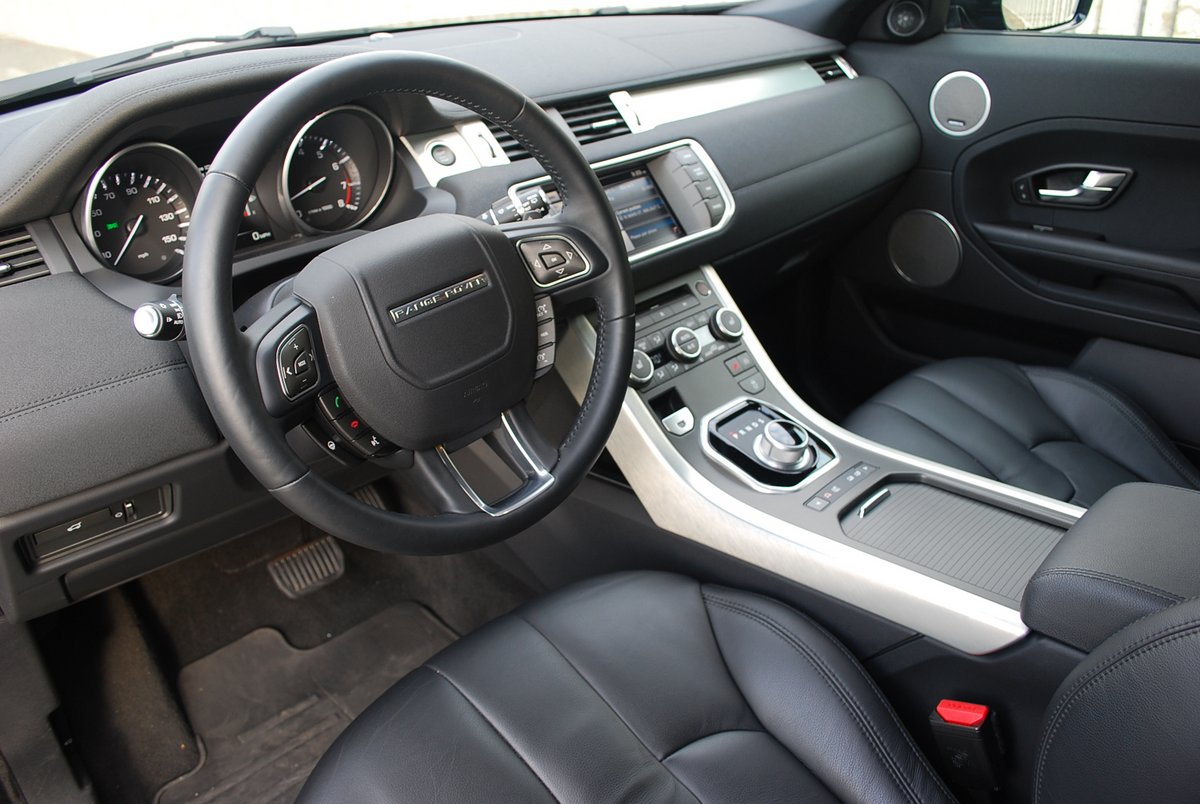 If there's a downside to life with Evoque, it lies inside the cabin, where idiosyncratic design makes you wonder who was in control of switchgear placement. For starters – literally – the remote start button is inexplicably located high on the dash fascia, up by the tachometer face. A relocation to the center console would eliminate this perplexity. A second irritation in daily use is the fuel saving automatic engine shut-off, which kills the motor when you brake to a stop, then re-fires it when you remove your foot from the brake. The Evoque judders during each transition phase. Although you can delete the operation by depressing a small button on the center console, you must remember to do so each time you restart the Rover.
Despite its severely sloping roofline, the Evoque will just clear the head of a 5'8″ tall adult in the back seat. Even better, the back windows travel all the way down into the doors. The Evoque's five door configuration facilitates use of the 25.5 cubic foot storage area. We made repeated pick up trips to Lowe's and drop off trips to Goodwill during our week with the Rover, and found it to be adept at managing mundane transportation chores with more panache than you would expect from lesser SUVs. Now into its fourth year after introduction, the Evoque still makes a convincing argument for its purity of line, strength of engine, and distinctive rarity.
2015 Range Rover Evoque 5 Door
Engine: 2.0 liter inline 4, turbocharged, direct injection, with twin variable valve timing
Horsepower: 240hp
Torque: 250lb.-ft.
Fuel Consumption: 21 MPG City/30 MPG Highway
Price as Tested: $51,170
Star Rating: 8.5 out of 10 Stars
Related posts: