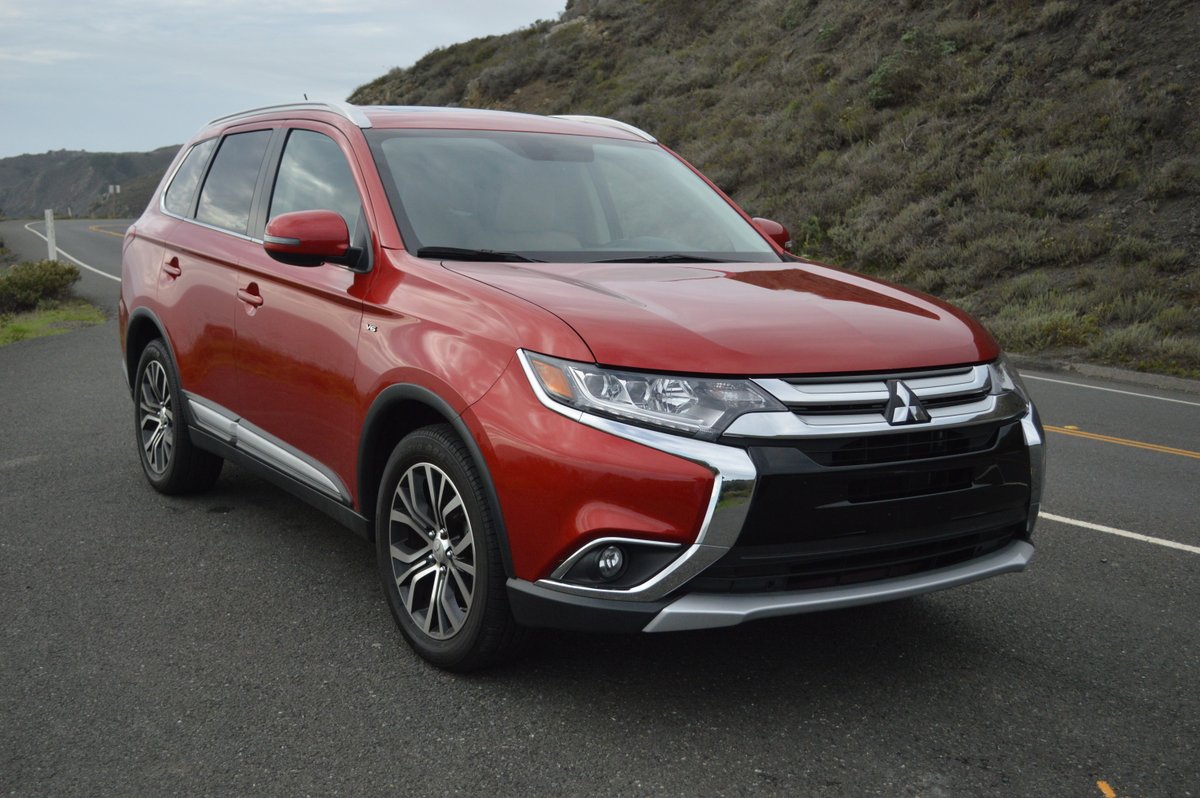 By David Colman
Hypes: Great Interior Space, Strong Drivetrain
Gripes: More Tire Please
Normally, press review vehicles graduate from evaluation duties after accumulating 7,500 miles on their odometer. While such a short life span insures that these vehicles remain fresh and relatively new, we testers rarely get to experience more mature examples. This Mitsubishi proved an extreme exception to that rule when it arrived with a whopping 20,000 miles showing on its odometer. While you might expect that such intense usage would lead to an accumulation of shakes, rattles and clatter, this Outlander performed like it had just been driven off the showroom floor. Nothing squeaked, nothing failed to operate as intended. If it weren't for a smattering of scratches and dings accumulated over the past year, this veteran Mitsubishi could pass for a brand new vehicle. Such long-term solidity bodes well for your ownership future with this brand.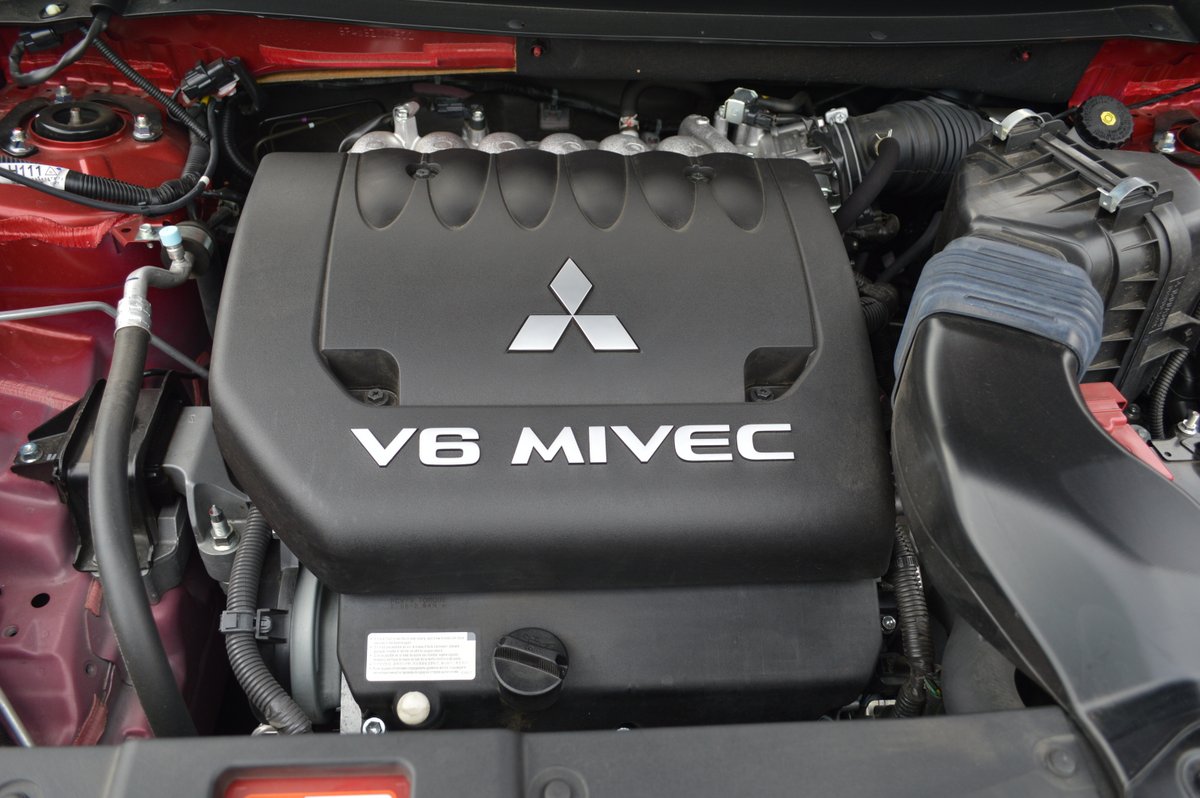 The loaded Outlander GT makes a good case for ownership. For starters, the price is right, at a base of just $30,995. Even fully loaded, with a $3,350 Navigation System that also includes Lane Departure Warning and Adaptive Cruise Control, the bottom line tally is a modest $35,195. In an SUV world of screaming 4 cylinder engines mated to shrieking CVT transmissions, the Outlander GT provides a welcome respite from such cheap engineering. This model houses a very healthy 3 liter V6 mounted sideways under its hood, and coupled to a real automatic transmission containing 6 actual gears instead of CVT rubber bands.
While the powertrain combo here won't help you set any quarter mile drag records, its 224hp and 215lb.-ft. of torque prove more than adequate for the daily drive. Mitsubishi equips GT models with enormous elephant ear shift paddles adjacent to the leather wrapped steering wheel. These enable you to tap your way right into the engine's performance sweet spot. Just administer a thwack on the left paddle for downshifts or a swat on the right one for upshifts. This system is brilliantly designed and puts to shame similar, less effectual paddles offered on much more expensive German sporting products like Porsche and BMW. The paddle design should come as no surprise, however, since Mitsubishi has won countless world rally championships, where quick shifting is the name of the game.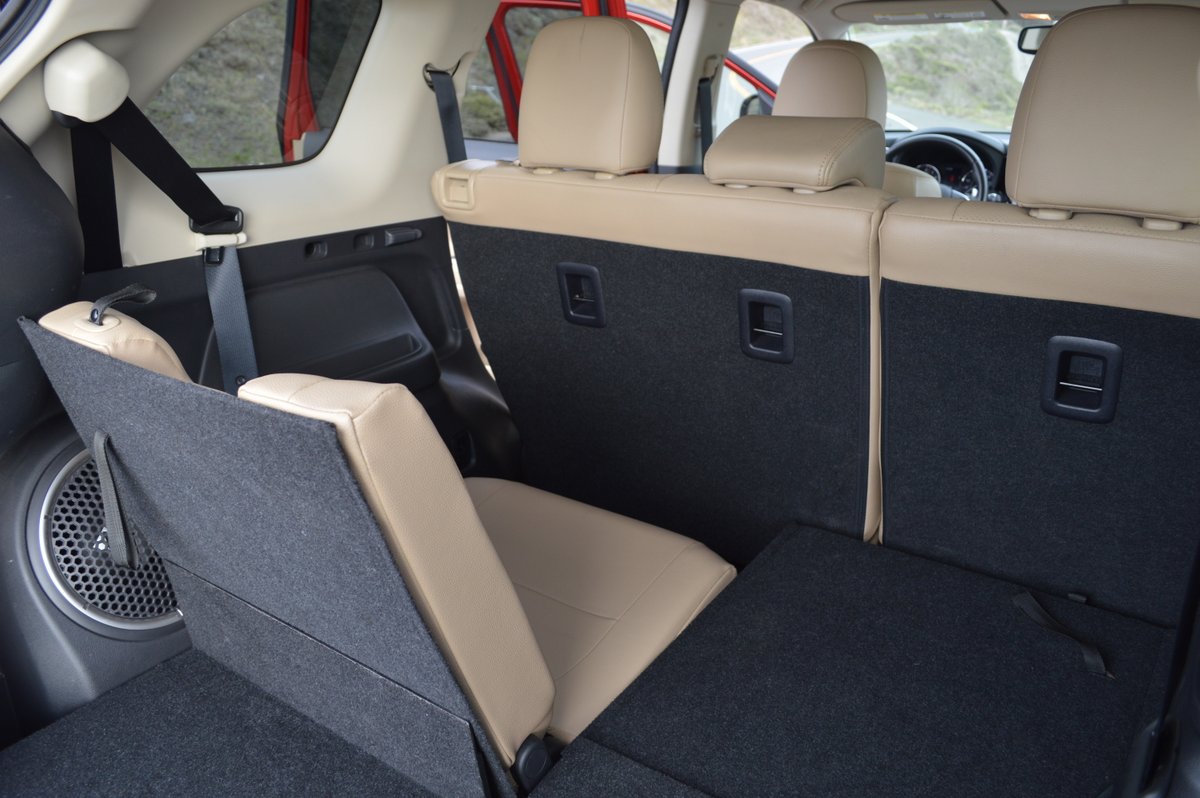 Equal ingenuity has gone into the Outlander's interior configuration. While seating for 7 is virtually unheard of in this class of SUV, the Outlander GT manages to turn the trick with a 2/3/2 package that includes a pair of diminutive third row seats that will pack the whole hockey team on board. The 32.5 cubic feet of interior space can be quickly reconfigured to accommodate a bicycle. Just step up to the rear side doors, pull a strap on the lower seat cushions to fold them forward, then lift a latch on the back cushions to fold them into the newly created well. The entire process takes about 8 nanoseconds. The GT comes with an electrically activated tailgate which can be triggered by a button on the dash or by a pad on the keyfob remote. The remote trigger, however, worked only intermittently. Perhaps after 20,000 miles, its battery was feeling a bit under the weather.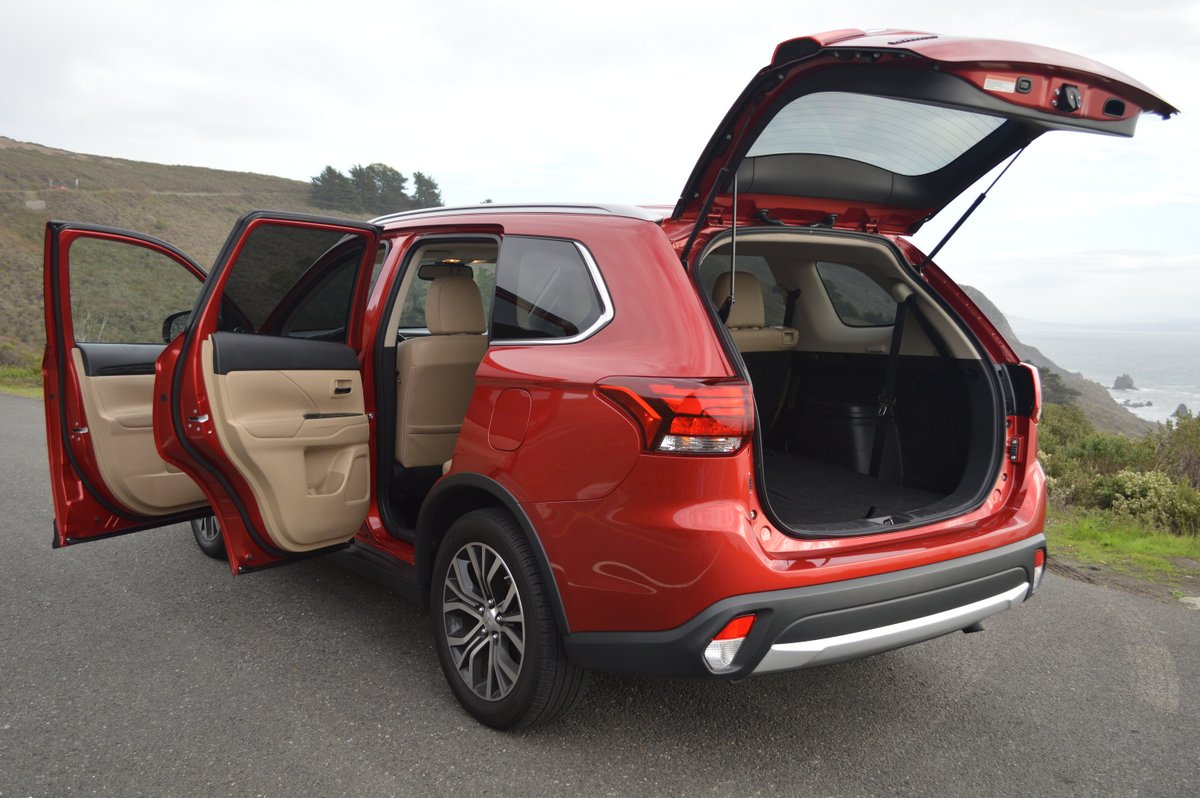 In North America, Mitsubishi products seem to fly under the radar. Whether this is due to a lack of advertising or a restricted number of dealerships is unclear. What is clear is that the brand has consistently turned out strong examples of compact SUVs for a long time now. We were recently impressed with the Outlander Sport, for example. Although the Outlander GT can't match the crisp handling of the Sport, the deficit is due in part to the mediocre Toyo A24 (225/55R18) tires fitted to the GT. These Toyos offer marginal stick and since the GT is relatively softly sprung, the footprint combination produces pronounced understeer accompanied by tire squeal. Although the Outlander GT won't get your juices flowing at the sight of a twisty road, its many other cumulative virtues make it a prime candidate for your consideration as a do-it-all 7-Up family hauler.
2016 Mitsubishi Outlander 3.0 GT S-AWC
Engine: 3.0 liter V6, SOHC, 24 Valve
Horsepower: 224hp
Torque: 215lb.-ft.
Fuel Consumption: 20 MPG City/27 MPG Highway
Price as Tested: $35,195
Star Rating: 9 out of 10 Stars
Related posts: