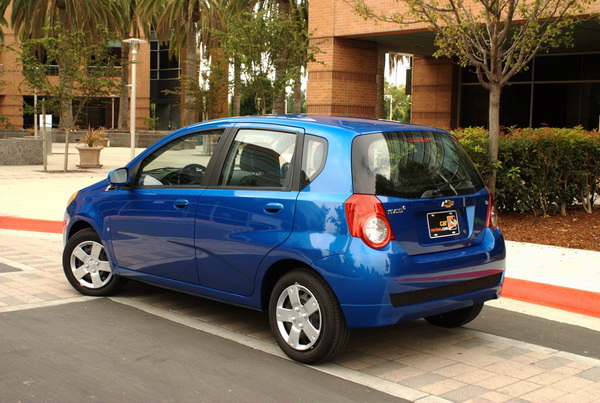 By Alex Kramer
Pros:
Plush suspension
Good build quality
Excellent 6 speaker stereo
Spacious seating
Cons:
Tepid 4-cylinder engine
Very limited trunk space
Cheap looking fake leather seats
Mismatched exterior style
Poor overall value
Introduction
Buying a cheap, entry-level car usually involves making a lot of sacrifices. Forget about power door locks, air conditioning, or fancy stereos. If it's an economy car, that means hand crank windows, a manual transmission, and interior plastic that smells like a rubber factory after it has burned to the ground. At least, that's the way it used to be. Nowadays consumers demand more and it's rare that you can even find a fully stripped, no-frills model on the lot.
Chevrolet's popular entry-level sub-compact, the Aveo, is no exception. Available in sedan and four-door hatchback ("Aveo5″) body styles, the Aveo seats five and can be ordered with a host of creature comforts. Our Aveo5 test car arrived nicely appointed, with automatic transmission, A/C, power accessories, and even satellite radio. But once you add all these options, this entry-level car unfortunately carries a more than entry-level price tag, leaving us wondering if the Aveo remains a good value when compared with bigger, better cars.
Driving Impressions
Spend just 15 minutes behind the wheel of the Aveo5 and the predominant words that will pop up in your mind are terms like "decent" and "OK." Nothing really jumps out as exceptionally good or bad, and on the whole the Aveo5 delivers a solid, uneventful ride. Most buyers will use the Aveo5 for basic transportation and won't be expecting exceptional performance, but a little more driving excitement wouldn't hurt. Compared to more engaging sub-compacts like the Honda Fit and Mini Cooper, the Aveo5 comes across as rather bland and mundane.
Performance
All models of the Aveo are motivated by the same 1.6 L 4-cylinder engine, which receives variable valve timing for 2009. Output is still quite meager, with only 107 hp and 106 lb ft of torque on tap. Combine this small motor with an over 2,500 lb curb weight and a 4 speed automatic transmission with wide gear ratios, and you have a recipe for slow acceleration. Using our unscientific stop watch method, it takes an agonizing 14 seconds to reach 60 mph. Only between 5,000 and 6,000 rpm does the engine have any pep, and the auto tranny makes utilizing this narrow power band quite difficult.
Although this sluggish performance precludes anything resembling spirited driving, especially in the mountains, the Aveo5 does OK when running errands around town or cruising on the freeway. The transmission shifts smoothly enough and acceleration is adequate for keeping up with traffic. Just don't try to merge right in front of a big truck or pass someone with little room, unless it's real life-or-death excitement you're looking for.
Handling
Anyone who assumes that all sub-compacts handle like a sports car will be a bit disappointed by the Aveo5. The suspension has been tuned more to provide a plush, supple ride, then to carve corners. Steering response is also a bit lazy, which combined with the soft suspension will occasionally fool you into thinking you're behind the wheel of a minivan instead of a sub-compact. For many drivers this won't necessarily be a bad thing and it definitely helps the Aveo5 feel like a larger, more mature automobile. One small ode to sportiness is Chevy's selection of 15″ low-profile Hankook tires. Despite their unassuming appearance and all-season tread, the tires provide a surprising amount of grip and limit the car's tendency to understeer when leaning hard into a corner.
(Continued on page 2 – Build | Interior | Exterior | Value)
Related posts: