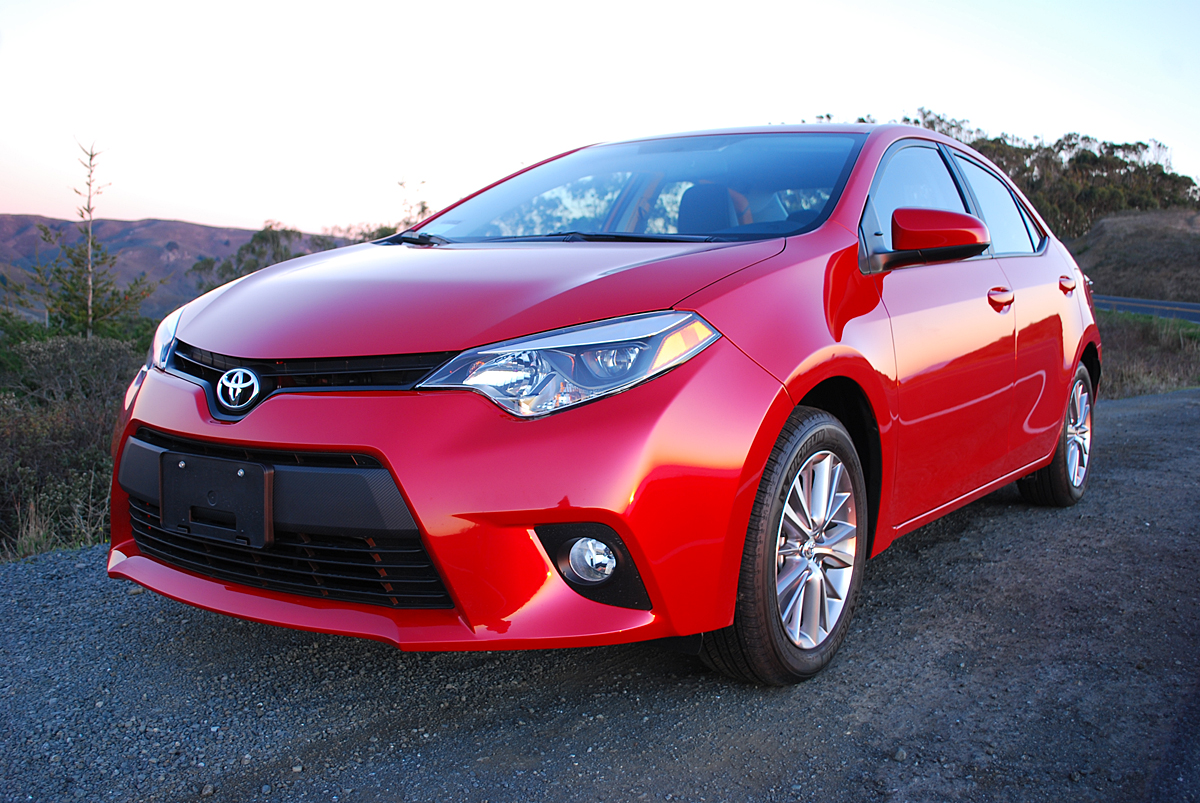 By David Colman
Hypes: Refined Seating Area, Fresh Aero Face, Vast Rear Seat Legroom
Gripes: No Paddles on LE CVT
Corolla is Toyota's Gold Glove Shortstop, in other words, their Franchise Player. With a completely redesigned entry for 2014, Toyota will almost certainly sell close to 300,000 Corollas in the coming year. Buyers will queue in droves for this most affordable and value rich Toyota of them all. Its base price, in mid-range LE form, is just $19,400.
Part of Corolla's appeal lies in its seemingly endless choice of power train and trim combinations. There are 4 model lines (L,LE, LE Eco and S), subdivided into 11 drive and gearbox mutations. The LE range, subject of this test, is available in 3 flavors, CVT, CVT Plus and CVT Premium. The CVT designation refers to the transmission used across the LE range, a constantly variable transmission (hence "CVT") coupled to a 1.8 liter inline 4 that is standard in all LE models. This double overhead cam engine, refined with variable valve timing, produces 132hp and 138lb.-ft. of torque. If you desire an up rated "Eco" motor, you can opt for the Eco or S model Corolla, and thereby gain 8 extra horses.
The 140hp S Plus is available with a 6 speed manual transmission, making it the only new Corolla with a gearbox containing real gears. If you enjoy the art of driving, the 6-speed S Plus will be your best option. The CVT in our test LE proved long on noise and short on performance. With only 3 range choices available (Drive, Sport and Braking), the base model CVT is constantly making decisions for you about engine speed that you would be better off making yourself. If you're determined to go automatic, at least consider upgrading to the S model range, which includes paddle shifters and a "Sport" driving range to give you some manual control in optimizing engine performance.
Our LE Premium included the following improvements over the base model LE: 16 inch alloy wheels, integrated fog lights, SofTex trimmed, heated front seats, 8 way power adjustable driver's seat, and 4 way adjustable front passenger's seat with map pocket in the seat back. It's curious that even in the Premium combo pack, Toyota didn't see fit to include a map pocket in the driver's seat back as well. The new for 2014, SofTex material, which Toyota touts as "elegant with the environment in mind," is leather-like, but washable. It's also very comfy. In fact, the redesigned interior is pleasingly benign and unobtrusive. A handsome beltline pinstripe of celestial blue garnishes the dash and door panels. Automatic Climate Control is standard on the LE Premium, operated with a simple, oversized single knob that's a pleasure to use.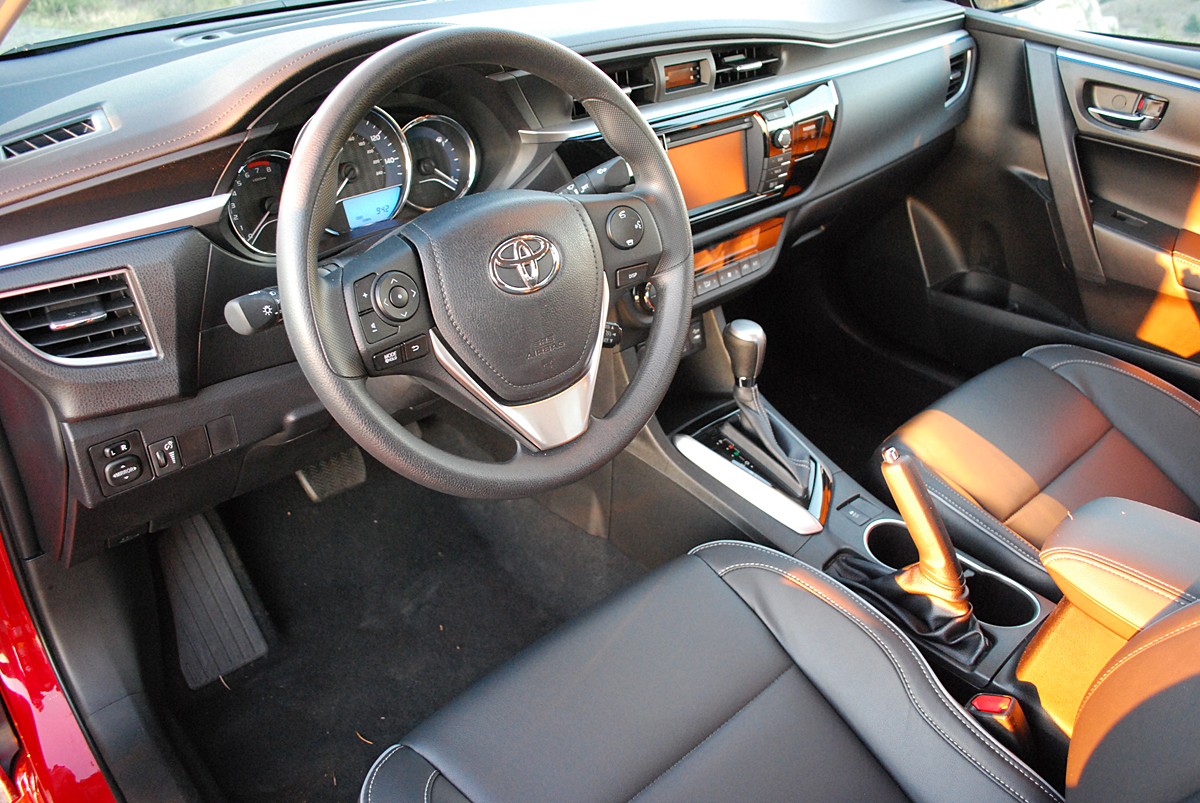 Parents buying children Corollas will love the fact that this entry level sedan contains 8 airbags to protect their progeny. On the other hand, the progeny will find that the strongest selling point of the new Corolla is Toyota's suite of built-in Apps.
Of course, the connectivity costs extra, $1,510 for the "Driver Convenience Package" which brings you every conceivable manner of input: Entune Navigation and App Suite, AM/FM CD Player with MP3 and WMA Playback capability, USB 2.0 port with IPod connectivity, Hands Free Phone capability, Music Streaming via Bluetooth Wireless Technology, and 90 day free trial of XM Satellite Radio. This package includes so many distractive nuisances that it ought to be renamed the Driver Inconvenience Package. For staid old folks, the package also includes Smart Key Keyless Entry with push button remote for trunk unlatching.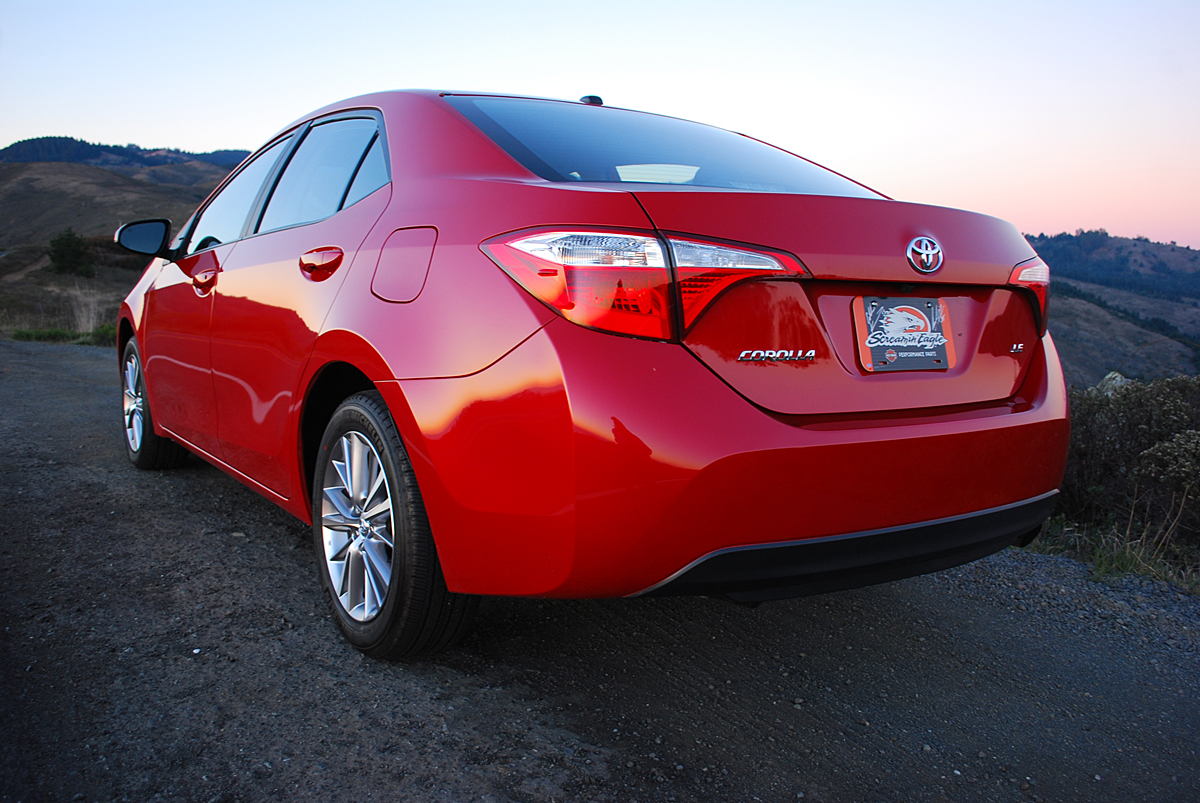 Thus, the LE Premium, enhanced with the "Driver Convenience Package," is going to be ground zero for buyers seeking an affordable living room on wheels. The fact that those 16 inch wheels are a little small for great handling, and shod with unimpressively diminutive all weather tires (Michelin Primacy MXV 205/55R16)) won't matter a whit to symphonic sycophants more concerned with music playlists than apex angles.
2014 Toyota Corolla LE Premium
Engine: 1.8 liter DOHC inline 4 with VVT-i
Horsepower: 132hp
Torque: 128lb.-ft.
Fuel Consumption: 29 MPG City/38 MPG Highway
Price as Tested: $22,570
Star Rating: 7 out of 10 Stars
Related posts: