By David Colman
Hypes: Easy To Park, Cheap To Buy and Run
Gripes: Shaky 3 Banger, Cosmetic Defects
Cute got a new face for 2017. Mitsubishi has grafted new front and rear fascias to their eminently affordable beginner car, the Mirage GT. Up front, new HID Bi-Xenon headlights contain a light tube for signature recognition. These slanted light pods are high enough in the fenders to mimic crinkled smiling eyes. Top them off with a dainty pucker of a grill. Then underline the happy face with a pair of broadly outlined fog lights and you've got the formula for the New Cute at Mitsubishi. Likewise, a new roof spoiler plus winking LED tail lights spice up the butt of the freshened 2017 Mirage.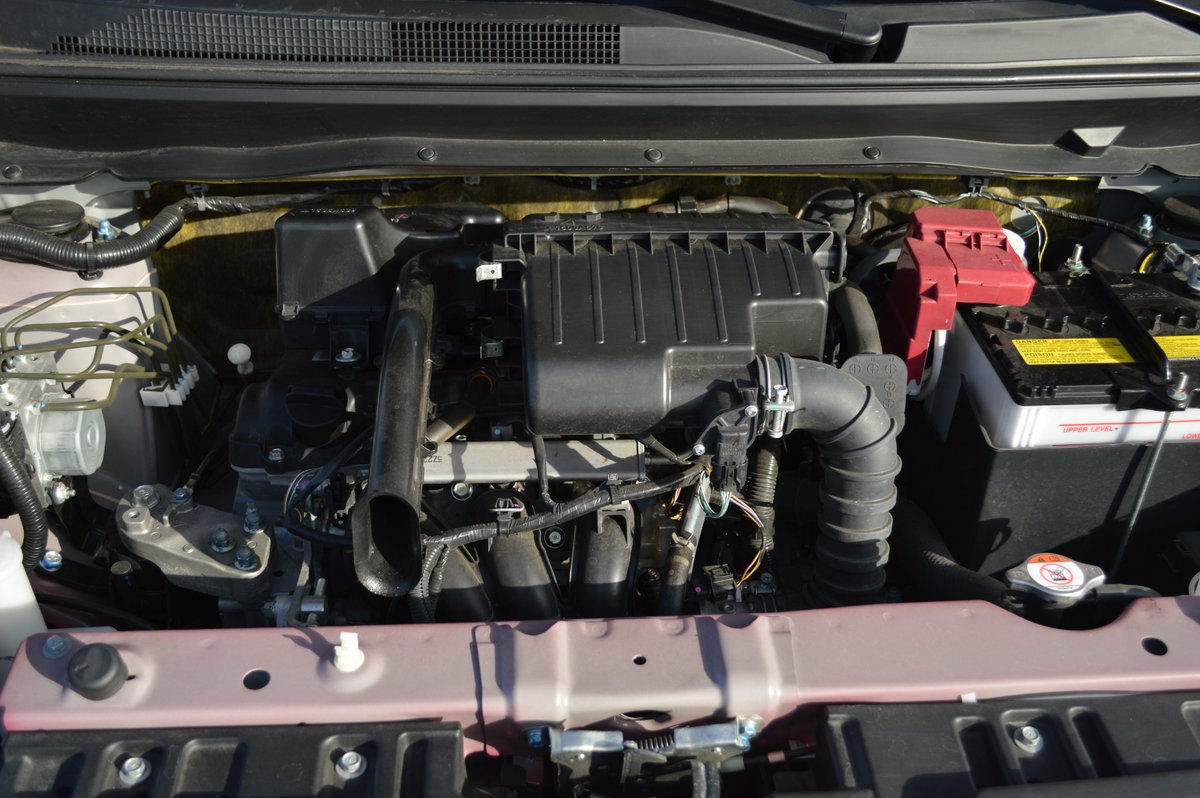 Even cuter is the base price of this revamped, built in Thailand, 5 passenger hatchback: $17,330 out the door. There's little else on the market to compete with the GT's bottom line. In fact, you'll have a hard time finding a decent sports touring motorcycle for that kind of money. What exactly do you get in this starter car from Mitsubishi? Under the short front hood lies a very rare automotive item these days – a 3 cylinder inline, 1.2 liter DOHC, 12 valve engine mounted transversely. Only the Smart from Mercedes uses a similar powerplant. Mirage output has been bumped by 4hp for 2017 – to a whopping 78hp. Torque comes in at 74lb.-ft.
These output numbers fall well short of most 500cc motorcycles on the market today. But bear in mind that the Mirage is a real lightweight in comparison to today's normal two ton vehicles. It weighs just over one ton (2,085 lbs.), giving it a power-to-weight ratio of 26.7lbs/hp. Back in 1970, the original Porsche 914 weighed the same as this Mirage and offered only 85hp. Given that perspective, the Mirage's hp/weight ratio looks decidedly better. If it was good enough for Porsche's definitive sports car, it will work for you today.
So accept that modest acceleration is the ruling order here. Around town this comparative lethargy is annoying but tolerable. On back roads, you can forget about passing slower traffic. You are the slower traffic. But once you get the GT up to cruising speed on the interstate, it acquits itself with honor. In the 60-75mph range, performance is plenty adequate, especially if you use long downhills to counteract long up-hills. Drive judiciously, and the Mirage will pay off like a loose Vegas slot: 37 MPG around town and 43 MPG on the freeway.
For the modest money, it's amazing how many features Mitsubishi tosses into the GT pot to sweeten the deal. New this year are Apple CarPlay and Android Auto display modes. And how many bottom line, entry level offerings come with heated seats? How about push button start and remote door lock? An intermittent rear wiper? How about a tire pressure monitoring system, and three point seat belts for all 5 positions? This little cruiser is loaded with extras, and Mitsubishi doesn't charge extra for any of them. I am particularly gratified to see that the GT scores highly in the Government 5-Star safety Ratings category, posting 4-Star results in the Frontal Crash for both driver and passenger, as well as 4-Stars for Rollover protection. So don't automatically dismiss the Mirage's safety cell on the basis of its small size (149 inch length, 97 inch wheelbase).
If the Mirage suffers from anything, its lack of attention to details. The 3 cylinder engine tends to buzz and shake at idle. An internal balance shaft or better motor mount isolation would take care of the problem. Inside the cabin, the doors shut with a tinny snap rather than a reassuring thunk. More sound deadener inside the panels would cure the issue. Finally, the front passenger side airbag cover matches neither the color nor texture of the rest of the dashboard. Certainly, this obvious disparity could be easily cured. I wanted to Armorall the offending patch to help it match the rest of the dash's sheen.
These offenses should not cause you to eliminate the Mirage GT from consideration as a possible purchase. For the prospective owner who hopes to own a brand new vehicle for $17,330 – complete with 5 year/60,000 mile warranty – a few rough edges shouldn't skew the deal. Mirage's inherent value is a rarity indeed in today's expensive marketplace.
2017 Mitsubishi Mirage GT 5-Door
Engine: 1.2 liter inline 3, DOHC, 12 Valves
Horsepower: 78hp
Torque: 74lb.-ft.
Fuel Consumption: 37MPG City/43MPG Highway
Price as Tested: $17,330
Star Rating: 8.5 out of 10 Stars
Related posts: