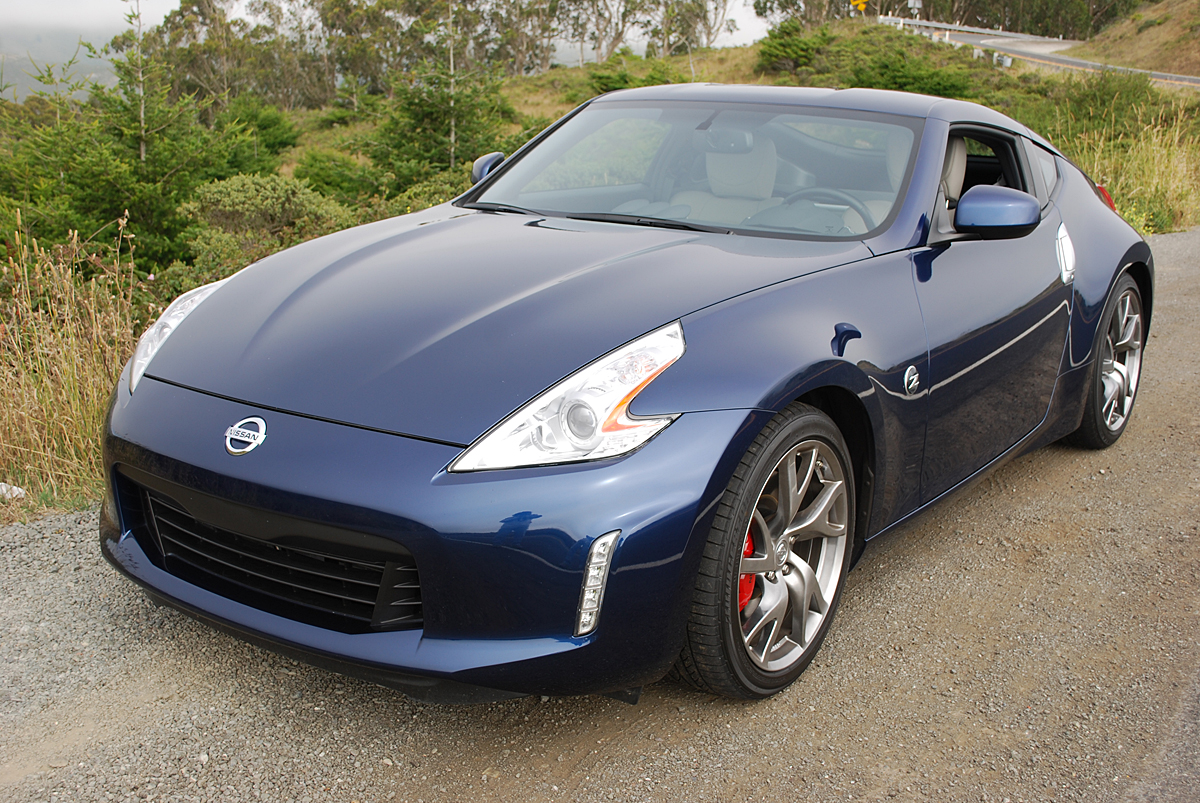 By David Colman
Hypes: Arrive and Drive Racer
Gripes: Stick Shaker, Poor Rear Vision
The 370Z is a no-compromise sports car. If you aim to own one, be forewarned that it's you that will be making the compromises, not the Z. For example, the simple act of climbing aboard the coupe version will present a physical challenge you may not enjoy. The roof line is so low that you will have to duck your head while you fold your torso in order to slide bottom end first into the seat. After repeated pretzel twist entries, I learned to grab the steering wheel while performing a butt thrust that made me look like flopping Dick Forsbury, the first high jumper to clear 7 feet backwards.
Of course, once you're ensconced in the Z's tight cabin, memories of your inglorious entry fade as you lavish your eyes on the magnificent instrument panel, which provides more information than you could ever use. A trio of angled gauges atop the dash crown, mimicking those of the first 240Z, inform you of water temp, battery charge and time of day. A 9,000 rpm tachometer zips to redline in front of your nose, while the adjacent speedometer reads to 180mph. The fat, perforated leather steering wheel responds with vernier precision to the most minute adjustments. It is also fitted with handy tabs for scanning your SiriusXM presets without having to reach for the radio faceplate.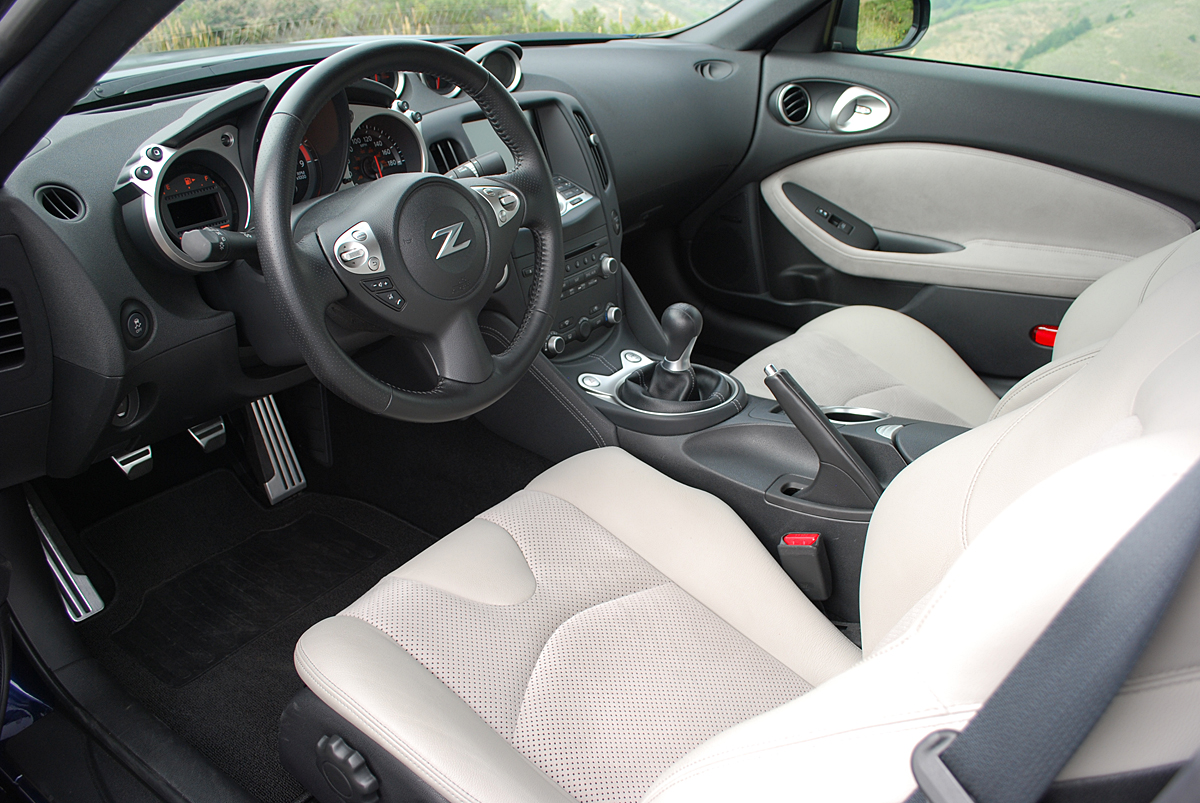 The Z's love-it-or-leave-it personality persists once you prepare to drive off. Should you need to back out of a parking slot, you will be stymied by your inability to see anything lurking behind or beside you. Tank commanders have a better rear view than do Z drivers. You'd be well advised to back into parking places first, in order to spare yourself the agony of reversing blind later. Almost all is forgiven, however, when you fire up the 332hp V-6, snick the rifle-bolt-precise 6-speed manual into first, and feed in just enough gas to launch the Z from a standing start. Unlike so many finicky manual clutch packages, the Z's take-up is perfectly linear and free of drama. Even though the Z lacks a hill holder function, you can perform a hill start anywhere in San Francisco with no drama thanks to an immediate supply of 270 lb.-ft. of torque. A persistent drawback to the manual transmission is its proclivity to shake the stick when in neutral. This has been a problem since Nissan reintroduced the Z back in 2003, and their engineers haven't figured out how to quell the annoyance in 10 years. Of course, you can eliminate the problem by opting for the paddle-shifted automatic gearbox which contains 7 speeds instead of 6. But you'll pay an additional $1,300 for the convenience.
Given the long, proud racing heritage of the Z, this latest Nissan two seater handles with the precision and aplomb you'd expect of such a pure bred sports car. Helping in that regard are several improvements for 2013. If you order the Sports Package ($3,030), the RAYS forged wheels differ in appearance from earlier versions, with thinner spokes revealing newly painted red brake calipers. These ultra light 19 inch diameter RAYS replace the standard issue cast 18 inch alloys. The gunmetal finished RAYS measure 9.5 inches wide in front and 10.5 inches wide in back (versus 8 and 9 inch width for the 18 inch wheels). Our Sports Package equipped 370Z mounted Bridgestone's best all-around performance tire, the RE050A, with front rubber measuring 245/40/R19 and rears 275/35/R19. Nissan has also modified the valving of its Sports Package shocks for a "Euro-tuned" firmer, more controlled ride that can feel downright harsh at times. The package also includes a Viscous Limited Slip Differential, so this as-delivered Z is ideally configured for fast street driving, or track day competition.
A prime factor in the Z equation has always been its big 6 cylinder motor. Today's hot rodded 3.7 liter V-6 benefits from micro-polishing of the crankshaft and camshafts. With variable valve timing and lift, the motor makes 332hp and 270lb.-ft. of torque. Just be prepared to endure a lot of not particularly pleasant noise when you stretch the motor past 4,000rpm. Even so, with a base price of just $37,820, the 2013 Z is without question a best buy sports car. Even when equipped with the Sports Package and Navigation System ($2,150), the 370Z still posts an affordable bottom line of $43,905. If you're a nascent racer willing to put up with the minor foibles of this hard-edged rocket, you can't do better than the latest 370Z.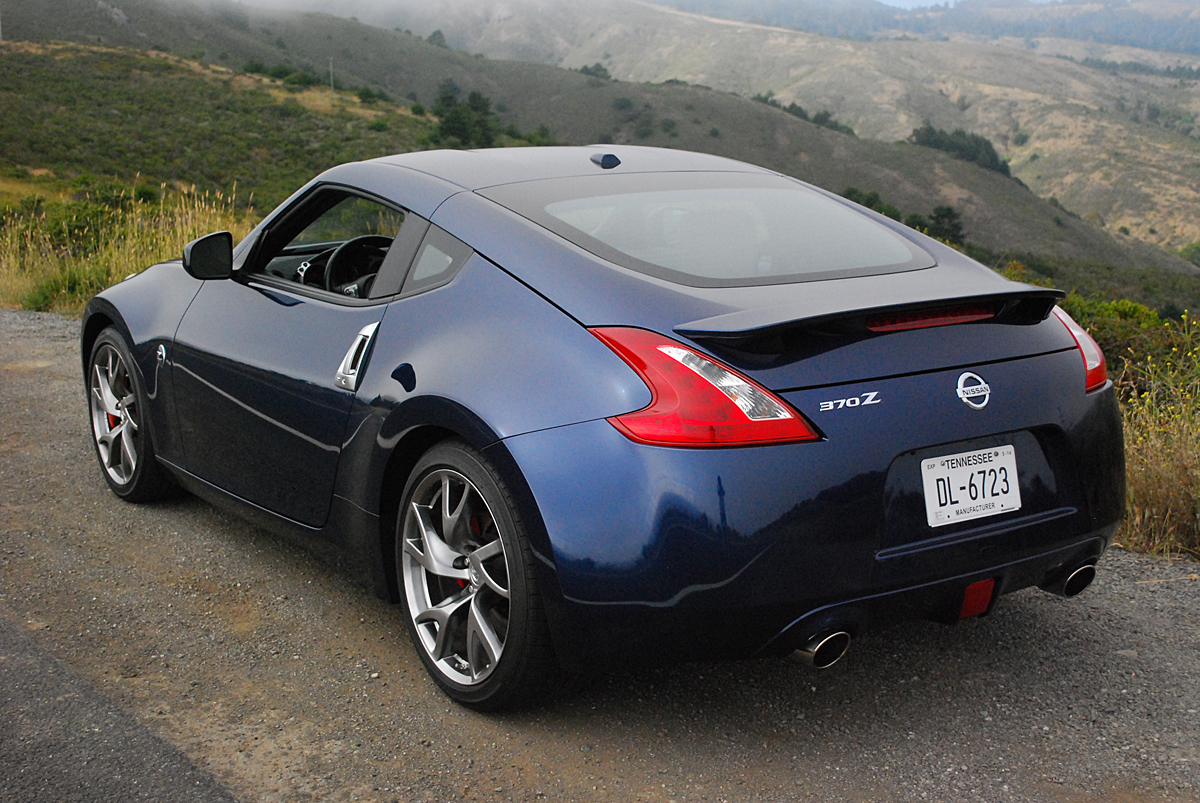 2013 Nissan 370Z Touring
Engine: 3.7 liter DOHC V-6 with VVEL
Horsepower: 332 hp
Torque: 270 lb.-ft.
Fuel Consumption: 18 MPG City/26 MPG Highway
Price as Tested: $43,905
Star Rating: 9.5 out of 10 Stars
Related posts: