Hypes: Gives Real Meaning to "Sport"
Gripes: Puny Horn, No Dead Pedal, Poor Rear 3/4 Vision
Sport has to be the most misused term in the automotive realm. Manufacturers of the most prosaic products have managed to append the descriptor "Sport" to vehicles eminently unworthy of the appellation. On top of that, almost every two ton SUV these days comes with a magic button on the dash labeled "Sport" to convince you that a push of said button will somehow transform an elephant into a gazelle. Just like there's no free lunch, there's no free "Sport." If you want to label your product "Sport" you better be prepared to back up that claim with some hard design and engineering work.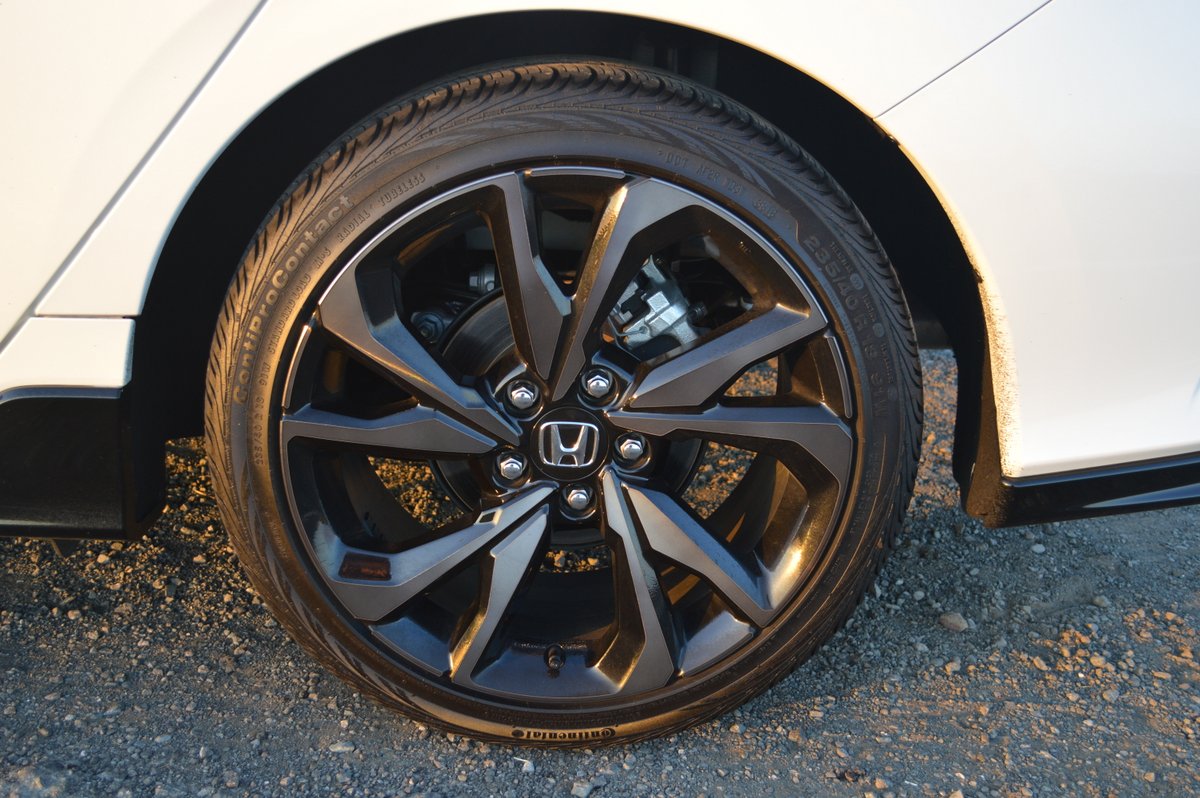 Honda's newest Civic, is the product of just such hard work. It truly deserves the name Sport – a legitimate title earned through suspension excellence, engine performance, shifting precision, and overall driving feel. This is a front-wheel-drive, five door, family transport hatchback with the following features that define the concept "Sport" – 180hp engine, 6-speed manual transmission, multi-link independent rear suspension, 18″x8″ alloy rims with 235/40R18 Continental ContiProContact rubber, electric power assisted rack and pinion steering.
Honda has assembled these essential sporting ingredients into a rather spacey looking package that harks back to the company's best Civics from the mid 1980s – the CRX and the Civic Si. Although updated in every way – especially from the safety standpoint -the 2017 Civic Sport responds to the driver with the same alacrity those early Civics did. I should know because I once owned a 1988 Civic Si.
Recently, Honda has been unable to reproduce the lightness and responsiveness of those early Civics. This time, though, they have turned the trick in spades, and done so for a very modest buy-in price of $21,300. Unlike decidedly tinny Civics from decades back, the latest compact Honda scores an impressive 5 star rating in all 5 aspects of the Government Safety Rating analysis. Honda's "ACE body structure" and the inclusion of dual stage front airbags, side airbags, and side curtain airbags with rollover sensor all contribute to the 5 Star rating.
But the Civic Sport scores heavily as well in accident avoidance thanks to excellent acceleration, superb braking, and responsive handling. That 1.5 liter gem of an engine lying under the "Earth Dreams" valve cover shroud makes 180hp and 177lb.-ft. of torque fed through a 6-speed manual gearbox. This manually operated shift mechanism is increasingly rare in today's automotive spectrum. The light touch required to move from gate to gate is a joy to experience. Clutch pedal take-up, however, occurs rather high in the pedal's arc of operation, so coordinating your shifts can sometimes be a challenge.
The engine itself is gratifyingly responsive, providing you with a VTEC-like boost when the turbo motor climbs on the boost at 6000rpm and snaps straight to 6500rpm. Car & Driver (April, 21017)tested the Civic Sport and recorded a sterling 0-60mph run of 7.0 seconds, and a quarter mile time of 15.2 seconds @ 94mph. Incidentally, the Civic Sport won C&D's comparison test handily versus the Mazda 3, VW Golf and Chevy Cruze.
At one stoplight, we were accosted by a curious woman driving a Lincoln Navigator who inquired what kind of car we were driving. Seems she just loved its looks. The latest styling effort from Honda is rather polarizing. Either you love it like that lady in the Navigator, or you shake your head in dismay. But either way, once you hunkered down in the Sport's deeply contoured buckets, grabbing its fat rimmed leather wheel, and snapping real upshifts and downshifts with one of the last available stick shifts, it doesn't much matter what the new Civic looks like to others. Because inside that cabin, the Hatch Sport provides driving nirvana anyway you look at it.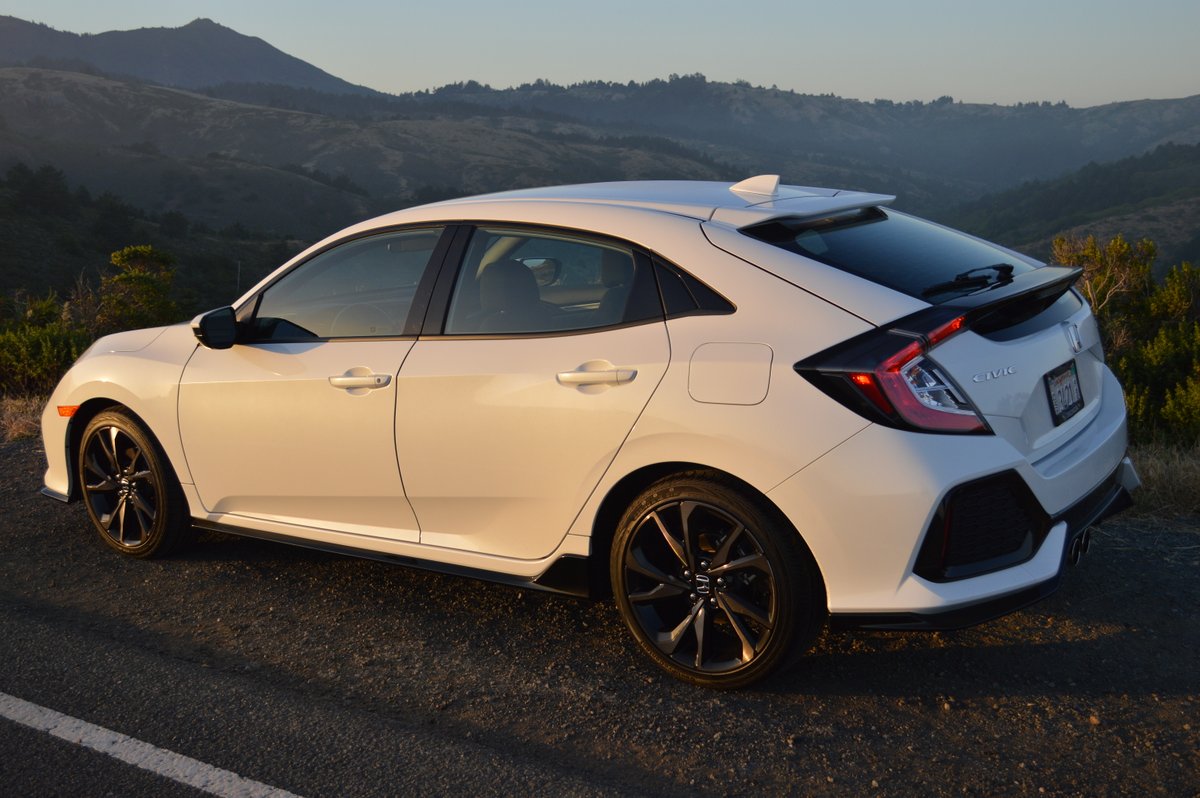 2017 Honda Civic Hatch Sport
Engine: 1.5 liter DOHC 16 Valve, Direct Injection, Turbocharged
Horsepower: 180hp
Torque: 177lb.-ft.
Fuel Consumption: 30 MPG City/39 MPG Highway
Price as Tested: $22,135
Star Rating: 10 out of 10 Stars
Related posts: