To put a cap on the good vibes, the handling of the GT is impeccable if you order the $1,695 Brembo Brake Package. You not only get the fat red calipers with their legendary stopping power, but also upgraded 19-inch "Premium Painted Luster Nickel Aluminum Wheels" that fill out the wheel wells much more satisfactorily than the GT's standard 18 inch hoops. The Brembo upgrade also bumps tire size from 235/50R18 to superbly effective Pirelli P Zero tires measuring 255/40R19 all around.
The GT is so well balanced that it tracks around curves with utter confidence. If, however, the road surface is wet, you'll need to be extra careful in your throttle application because this V8 has so much torque just off idle that a stab of throttle will induce instant oversteer.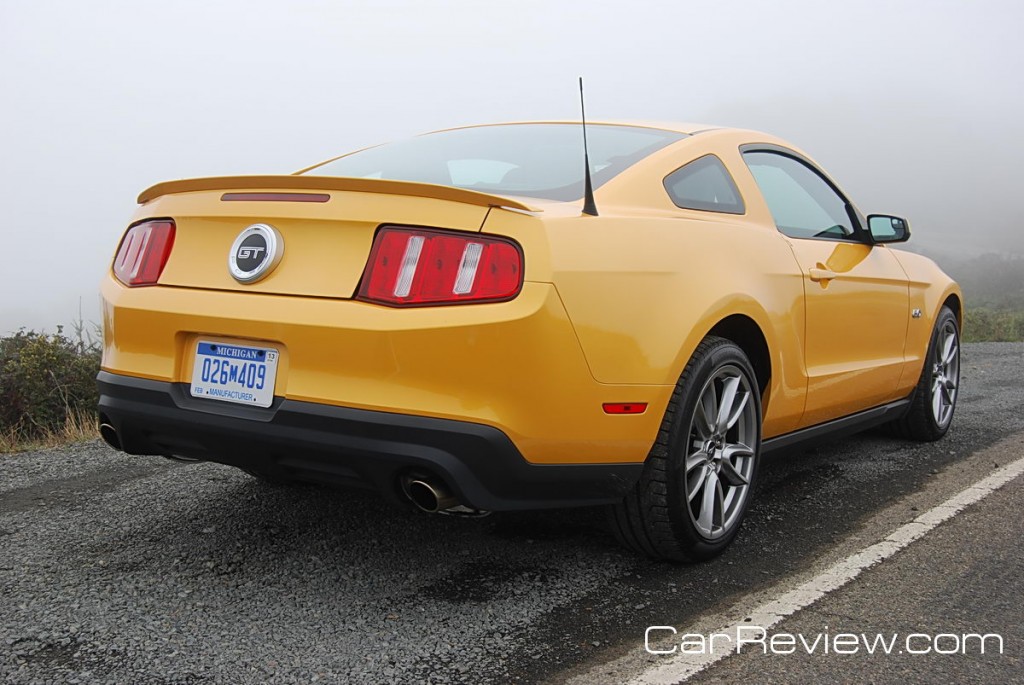 From a practicality standpoint, the GT works well as an everyday driver. The ride is invigoratingly stiff but not painful. The steering is communicative but sufficiently boosted to enhance parking. The keyfob remote opens the trunk when your hands are loaded with grocery bags. Front seatback latches flip them forward for easy access to the rear seat storage area. That diminutive space is best occupied by belongings rather than passengers. All in all, the correctly optioned Mustang GT is one of the best sportscars on the market today, and certainly one of the cheapest.
2011 FORD MUSTANG GT:
ENGINE: 5.0 liter V8
HORSEPOWER: 412hp
TORQUE: 390 lb.-ft.
TRANSMISSION: 6-speed manual
FUEL CONSUMPTION: 17 mpg city /26 mpg highway
PRICE AS TESTED: $36,675
FORD MUSTANG EXPERT REVIEWS
2011 Ford Mustang V6 Review – Driving impressions of the V6, 6-speed manual
By Twain Mein

"Which one is better, you ask? The automatic, with its greater convenience and ease of use, or the boy racer, with the stick shift and extra sticky rubber?"

First Impressions Review: 2011 Ford Mustang – V6 engine with no excuses
By Twain Mein

"This car has massive visceral appeal. But it is also incredibly easy to drive. The gas mileage is impressive and the styling is superb. Congrats to Ford for hitting a home run with this car!"

2010 Ford Mustang GT Review – Reliving the Glory Days
Rating:
By Kurt Gensheimer

"Our week with the new Mustang was far too short. It's without question the car that was hardest to part with. We still dream about the raucous growl of full-throttle stomps and the aggressive looks in Grabber Blue…"

First Impressions: 2008 Ford Mustang Bullitt
By Twain Mein

"This is Ford's 40th anniversary edition of the '68 Mustang made famous in the Steve McQueen movie "Bullit". I've been a Mustang fan since 1982 when Ford brought back horsepower and burnouts (at "just" 157 hp) and have loved the styling of the 64-70 models ever since I can remember."

2008 Ford Mustang Bullitt Video Review
Rating:
By Derek Mau

"With its retro-inspired design and aggressive stance, the current generation Mustang is the perfect platform to play homage to the legendary '68 Mustang fastback"

2006 Ford Shelby Mustang GT-H – First Impressions
Rating:
By Tony S.

"This car is all about emotion and passion. It has the right look and makes the right sounds. The acceleration is addictive and I put a smile on my face the entire time that I was behind the wheel."

2006 Ford Shelby Mustang GT-H – First Impressions
Rating:
By Derek Mau

"The Shelby GT-H is definitely not a luxury or economy car. Road noise and rough pavement could wear a person down on extended road trips. Although, one could fight off the weariness by pressing hard on the accelerator for a few seconds…"
Related posts: