By Adrienne Gruben
Back in 1981, when the Talking Heads sang about the "large automobile" in their class-angst anthem "Once in a Lifetime," and its spirit-shriveling effect on the song's anti-hero dad, no one had a clue that just two years later, something called a "minivan" would debut, and proceed to enchant, confound, comfort and embarrass scores of dads to come–especially because it all started innocently enough.
With the van no longer the stuff of Beach Boys songs, portals between virginity and crabs, and false memories of family vacay singalongs (instead of the real version where dad swerved the van onto the shoulder, slammed it into park and threw everyone's luggage out before threatening to take off alone),–the family decided it wanted to actually be able to park their lugging mechanism in the garage, and get more efficiency out of the deal.
And so, the modern incarnation of the minivan was born, and its ob-gyn was Chrysler who, in 1983, delivered the landscape-changing Dodge Caravan and Plymouth Voyager. It was probably on their Voyager's car stereo that families heard Ronald Reagan say, "It's morning in America."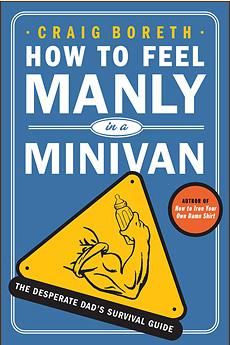 It was certainly morning for the minivan, and throughout the 80′s, it was smooth sailing-image wise for a certain type of American dad. You could sit up high, and not only was Mom suddenly King of the Road during the day, after work, dad was King of Home Depot–able to buy plywood, load it in the car, and have it out to work on in time for Hardcastle and McCormick, Knight Rider, or the A-Team. But then he started to get a little itchy.
Minivans got a little nicer — and the more mom looked at home in her Toyota Previa or Honda Odyssey, the more dad started to feel like the guy in "Once in a Lifetime" when he says, "You may find yourself behind the wheel of a large automobile. You may find yourself in a beautiful house with a beautiful wife. You may ask yourself, well, how did I get here?" And so he got the hell out of there and started driving a Sports Utility Vehicle, and he started to feel like himself again–until SUVs started to look a little too bulky, seem a little too pricey, and according to the cute eco-girl serving his mocha at the Starbuck's, it made the air a little too dirty.
And so, not just based on the realization that he had become the guy who drinks mochas, again, he started to get itchy. And then again with the Talking Heads song, he thought, "Where does that highway lead to?" For the answer, all he had to do was go to the part of the song that says, "After the money's gone," because that highway led to a big, fat recession. It also revealed a distinct philosophical schism between dads of two distinct eras.
Gen X and some Gen Y dads struggle with what the minivan meant when they were coming of age in the 1980s. For some of them, driving one is like raising a hand in the hair and saying, "Hey sad clown of life, do you need a sidekick?" And so dads of that generation with some means (and some "I'm totally over the minivan!" mommies) have forsaken their minivans for the crossover. But for Gen X and Y dads on a budget, or Echo Boomer Dads, the currently in-first-place Chrysler Town and Country; the desperately-in-need-of-a-style-makeover Odyssey; the image-challenged dark horse Toyota Sienna, and the work-horse Dodge Caravan, make all kinds of safety, cargo carrying, price-point sense.
Plus, the Echo Boomer Dads have never even heard that Talking Heads song, but on their way to play softball with the guys, followed by a Red Dead Redemption video-game marathon, they need to drop their kids off at School-of-Rock class, and they need to do it all in the "I couldn't care less", bang-for-the-buck minivan. Mommy agreed to cosign the video game marathon AND pick up the kids after class as long as she gets to take her prayer-group girls to a spa/Rascal Flatts Concert weekend in Tucson. So to the guy in the Talking Heads song I say, "THAT'S where that highway leads."
Related posts: