By David Colman
Hypes: Great Platform, Feature Laden Signature package
Gripes: Dump the Hood Prop-rod
Unlike so many of its competitors, Mazda never loses sight of the simple fact that the pleasure of driving matters. Whether they're building an MX-5 sports car or a CX-9 family mover, Mazda aims to foster a positive driving experience. What's uncanny is the way they've managed to transfer the sporting genes of the Miata into the genetic makeup of the CX-9 sports utility crossover. It's a trick that much larger Japanese outfits like Toyota and Nissan have been unable to master. You won't, for example, find much of the sporty Toyota FR 86 in anything else the company builds, nor will you detect much trace of the 370Z in Nissan sedans or sports utilities. But with a smaller outfit like Mazda, the Miata message comes through loud and clear in the CX-9.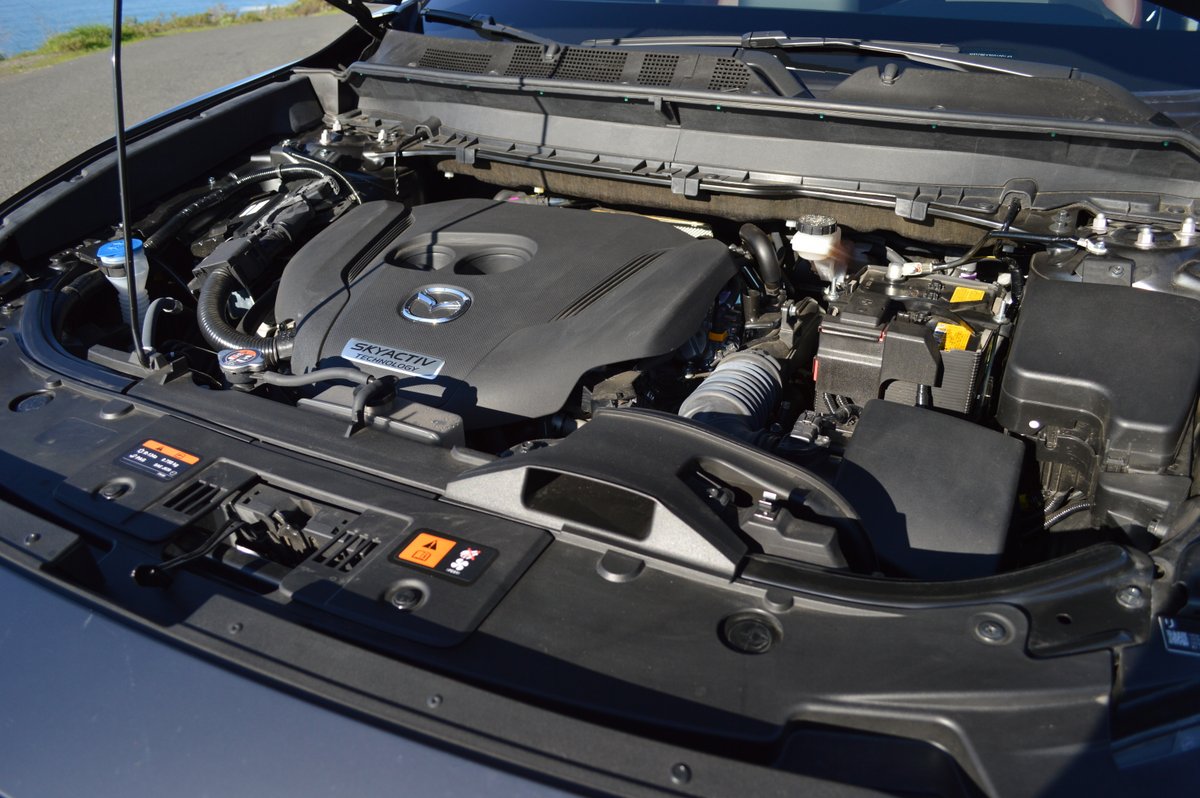 Its electric power-assisted steering, for example, is uncannily precise. You can give partial credit for this breakthrough to the unusual choice of grippy Falcon Ziex tires (255/50R20) mounted on standard 20 inch alloy rims. But sticky rubber is only as good as the suspension that controls it, and here Mazda excels, with fully independent front and rear systems augmented by stout anti-roll bars fore and aft. Considering its ample heft, the CX-9 stays glued to twisty roads.
Mazda advertising seems reluctant to divulge the fact that a four cylinder engine powers the CX-9 Signature All-Wheel-Drive. Factory literature only describes the engine as a "Skyactive 2.5T Turbo Engine." But make no mistake, this engine has nothing to be ashamed of when it comes to performance. It packs 310 lb.-ft. of torque at just 2000rpm, so acceleration is gratifyingly instantaneous. The Skyactive 227hp motor powers all four wheels through a 6-speed automatic transmission. Though it lacks paddle controls, it does offer Sport Mode which allows manual shifts. Just bump the console lever forward for downshifts or backwards for upshifts.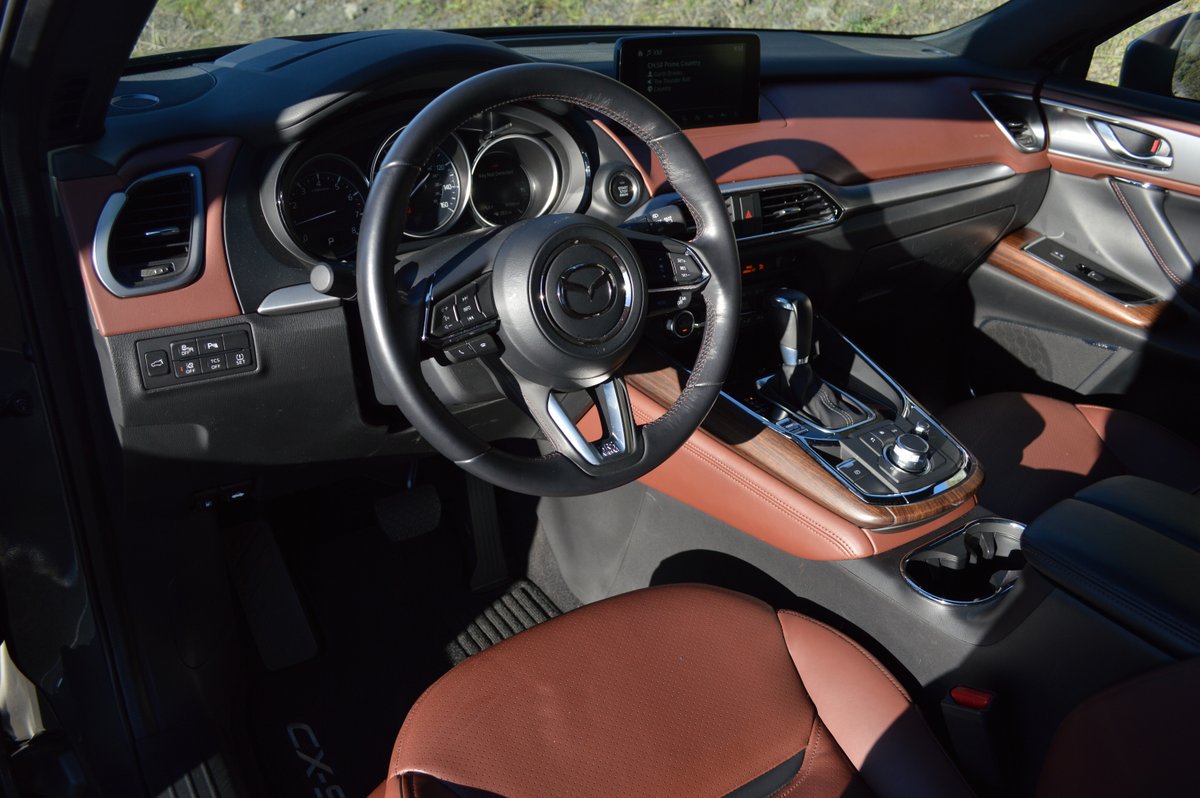 This sizeable sports utility offers seating for 7, with three rows arranged front to rear in a 2/3/2 pattern. The rearmost bench, which folds 50/50, accommodates only short legged occupants. Passengers in rows 1 and 2 (60/40 fold) are very well looked after. In fact, the main cabin of the CX-9 is an unexpectedly elegant proposition in Signature trim level, with swaths of real matte rosewood and real aluminum bisecting expanses of auburn tinted, glove soft Nappa Leather. Mazda stylists have really outdone themselves with the seat detailing: black piping and red stitching combine with inset bands of black leather to convey a sense of richness quite unexpected in this price range.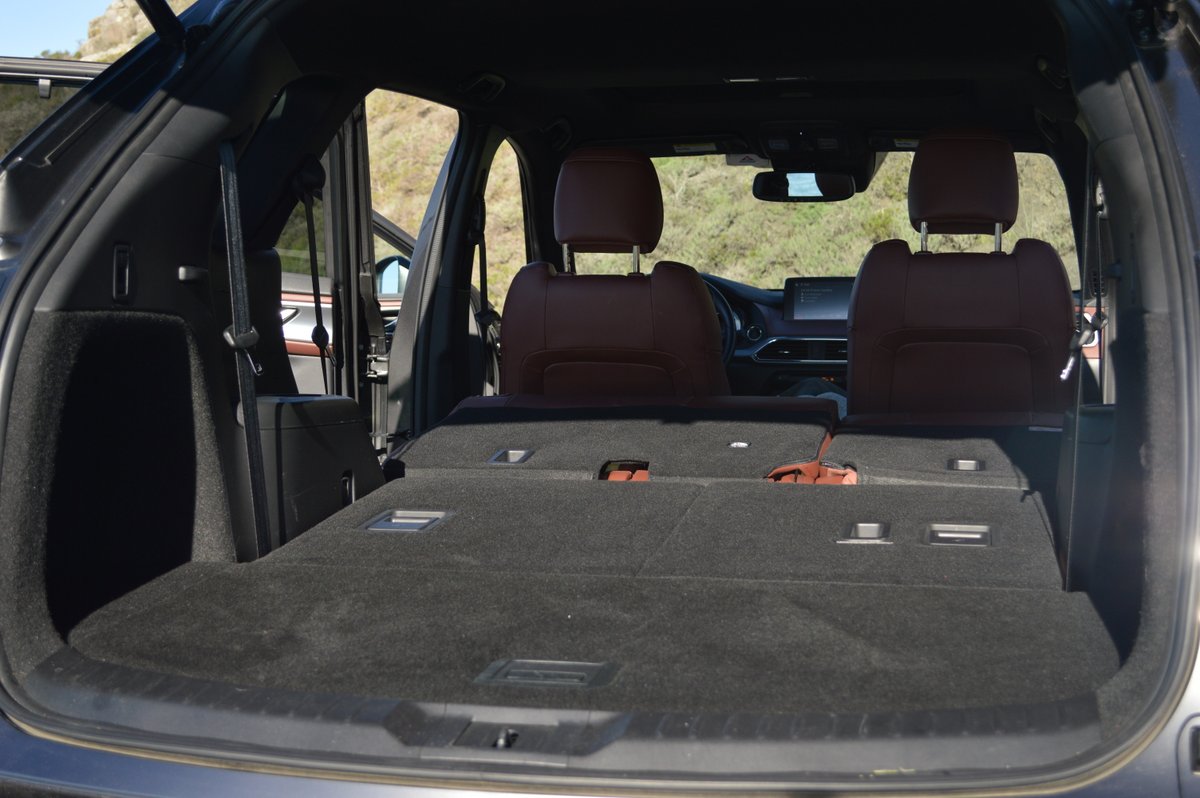 So the CX-9 will hustle down a crooked road with real aplomb, conveying its occupants with unruffled equanimity thanks to standard Roll Stability Control (RSC). The CX-9 is also tow rated for 3500lbs. worth of trailer, and the onboard electronics afford Trailer Stability Assist (TSA) to help manage the sway of your load. Visibility from the driver's seat is excellent in all directions. The view through the large back window is especially welcome, since most SUVs in this mid-size range obscure direct rear vision with a sea of headrests obscuring an undersized rear pane. Mazda has also equipped the back glass with its own wiper and defroster. If those aids don't clear the way for reversing, then utilize the rear back up sensor and image projected on the 8 inch color multi-function display screen atop the dash.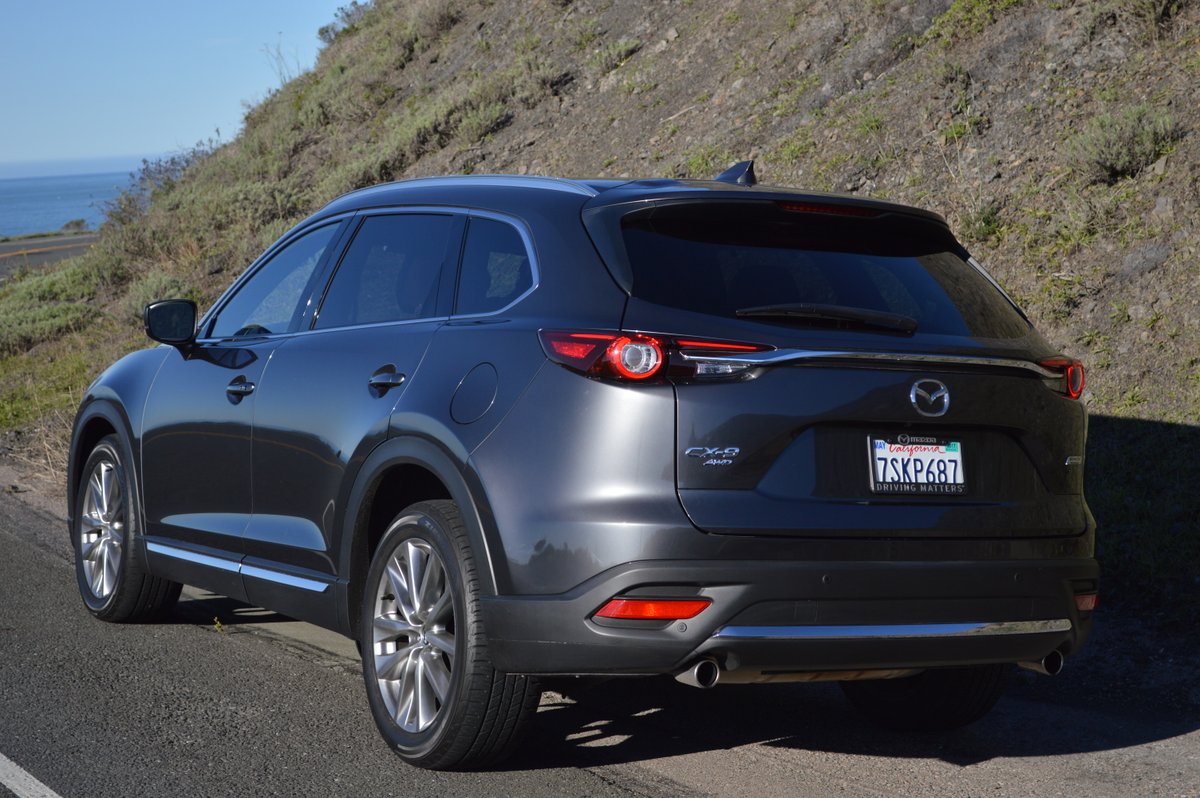 A vehicle in this price range should have a counterbalanced hood, but even the Signature CX-9 makes do with a manual prop rod. Also, the front console cup holders lack a sliding door cover, so they attract and retain every particle of errant dirt. The lower section of the chrome grill features an awkward surface joint that cheapens the look of nose, despite the fact that the Signature grill boats LED lighting accents. Finally, the extreme swept back roofline requires front seat passengers to duck their heads before climbing aboard, an unexpected annoyance in a vehicle that stands 68 inches tall. But these quibbles pale into insignificance given the overwhelming number of positives on offer here. If you want an affordable family hauler with the DNA of a lithesome sports car, the CX-9 should be your first choice.
2016 Mazda CX-9 Signature All Wheel Drive
Engine: 2.5 liter inline 4, turbocharged
Horsepower: 227@5000rpm
Torque: 310lb.-ft.@2000rpm
Fuel Consumption: 21 MPG City/27 MPG Highway
Price as Tested: $45,215
Star Rating: 9 out of 10 Stars
Related posts: