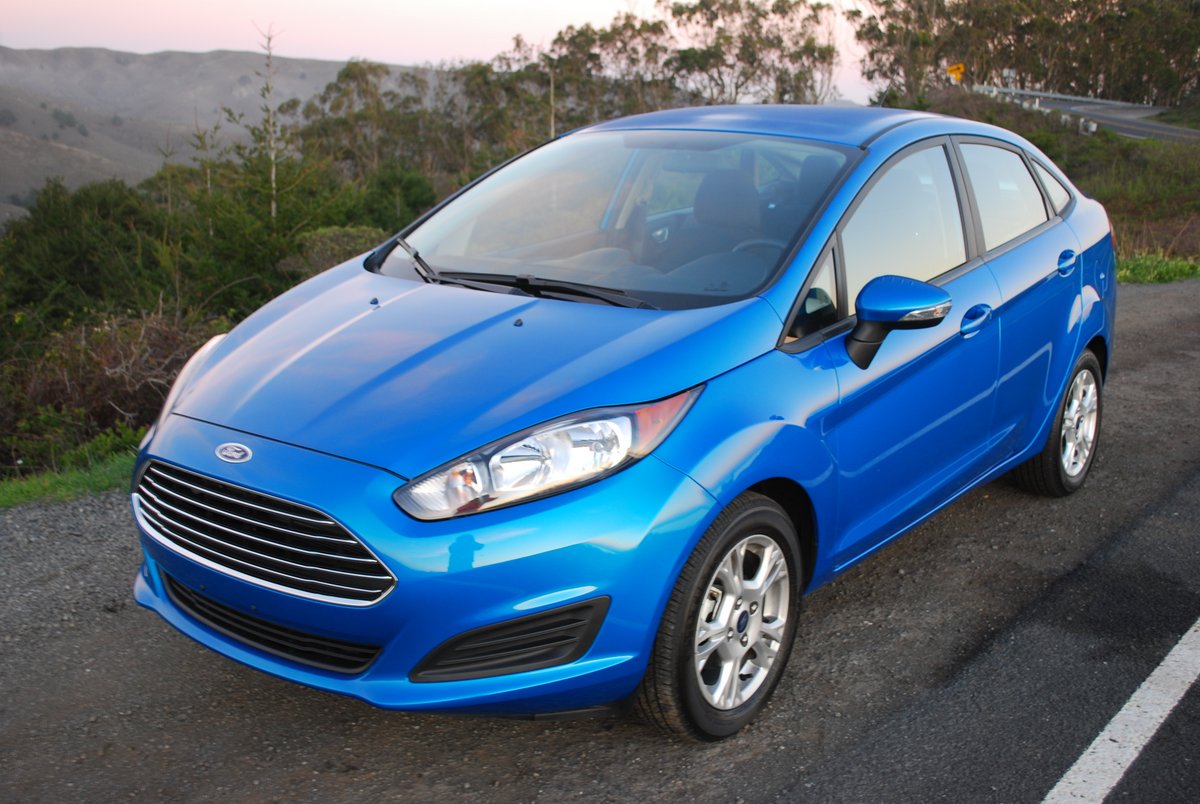 By David Colman
Hypes: Sporting Tendencies, Practical Interior, Gas Genie
Gripes: Lacks Rear Seat Legroom, Distracting Rear View "Spotter" Mirrors
The latest Fiesta is an undeniably handsome design, with its ground hugging snoot, upturned tail, and primly pursed Aston Martin copy grill imbuing it with unexpected flair. The only discordant note in the stylistic aria is struck by the 15 inch SE standard alloy wheels, which are visually swamped by spaciously flared wheel wells. It's been a long time – 40 years to be exact – since a 185/60R15 tire was considered to be the hot setup in street rubber. It's not that these Hankook Optimo H426 tires perform without merit, rather that they just don't look the part on this otherwise up to date styling exercise. The only thing you'll really appreciate about these tires is their cheap price when it comes time to replace them with new ones. But if this were my Fiesta, I'd upgrade it with Plus 1 (16″) or Plus 2 (17″) tire and wheel packages, either through Ford, which offers both, or via an aftermarket supplier. In either event, the new Fiesta will look more like something from the 21st century than an artifact from the groovy Sixties.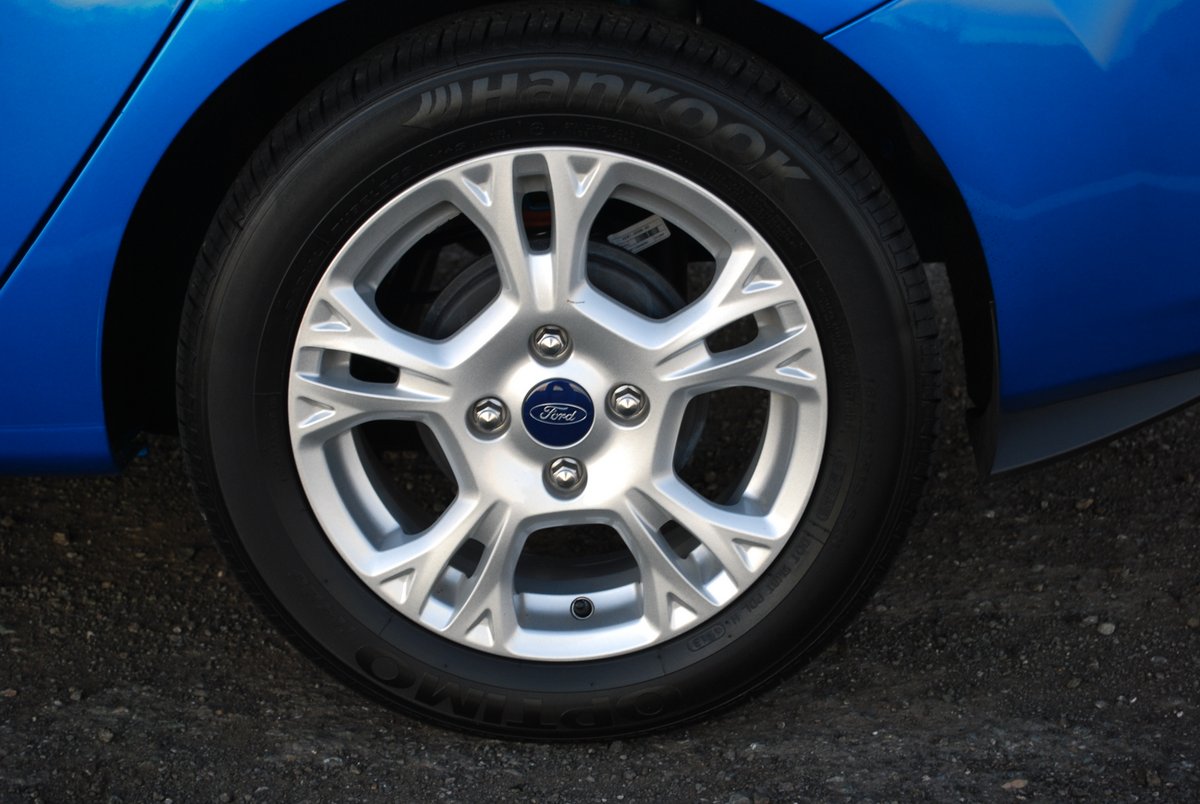 In addition to its cleanly sculpted body, the SE Fiesta offers the impecunious buyer a host of other, more practical advantages. Topping the list is its negligible purchase price of just $15,450. You can hardly buy a decent motorcycle these days for that amount. Our test SE's electric "Blue Candy" tint added a negligible $395 to the bottom line. Its "Power Shift" 6 speed automatic transmission, a $1,095 extra, bumped the bottom line to $16,940, still a sensational deal in the automotive scheme of things today. I would forego the optional transmission in favor of the standard 5-speed manual, which is such a pleasure to operate that it makes the lightweight (2,665 lbs.) Fiesta feel even sportier than it really is. The manual gearbox facilitates ratio choice, a job which is rather a chore with the automatic, which lacks paddles, and requires use of a minute, stick-located toggle switch to swap ratios.
You won't be overwhelmed by the passing power of the Fiesta's 120hp, 1.6 liter four, which makes just 112 pounds of torque. On the other hand, you'll love how long it takes to drain this Ford's 12 gallon fuel tank. We zipped all over the Bay Area for a solid week before stopping to refuel, because the range on a single tank is nearly 400 miles at 32 MPG overall. On highway trips, you can run close to 470 miles before a recharge, since the Fiesta is good for 39 MPG on the freeway. Of course, your butt might give out before your fuel supply, because the cloth seats of the SE are pretty much entry level in terms of adjustability and comfort. Fore and aft travel is manual, as is seatback rake, which is inconveniently controlled by a lever shrouded by the shoulder harness. Steering wheel angle is also manually adjustable, but there is no provision for altering reach.
The rear seats are useless unless your Fiesta is full of occupants no taller than 5 feet. Even then, your rear passengers will have to duck their heads to climb aboard. Anyone 5'8″ tall will find a dearth of knee room back there, and just 1 inch to spare in headroom. On the other hand, the Fiesta is perfect for packing 2 adults up front and a pair of kids in back. Ford even provides seatbelts and headrest for a 3rd, center mounted victim in the rear seat. Even with a full load of 4 or 5, the sedan leaves you with a surprisingly spacious trunk of 12.8 cubic feet. If your cargo requirements call for more storage length, the rear seats flip down in a 60/40 split pattern, though you'll need to remove the rear headrests prior to flattening the seats.
Because the Fiesta is so small and nimble, it's unexpectedly fun to drive. Even in this mildest state of tune, the SE offers immediate throttle response when you've dialed up the proper gear ratio. The steering is refreshingly accurate, and you can really boogie on back roads in spite of the Hankook's modest adhesion limits. If your interests tend more to sporty driving than basic transportation needs, Ford's Fiesta product line includes the turbocharged ST with 17 inch rims and 197hp. But for most occasions, the base engine is more than adequate. It may be hard to believe, but for the price of an entry level Harley Davidson bike, you can buy a genuinely useful, economic and good looking little sedan that exudes value and versatility.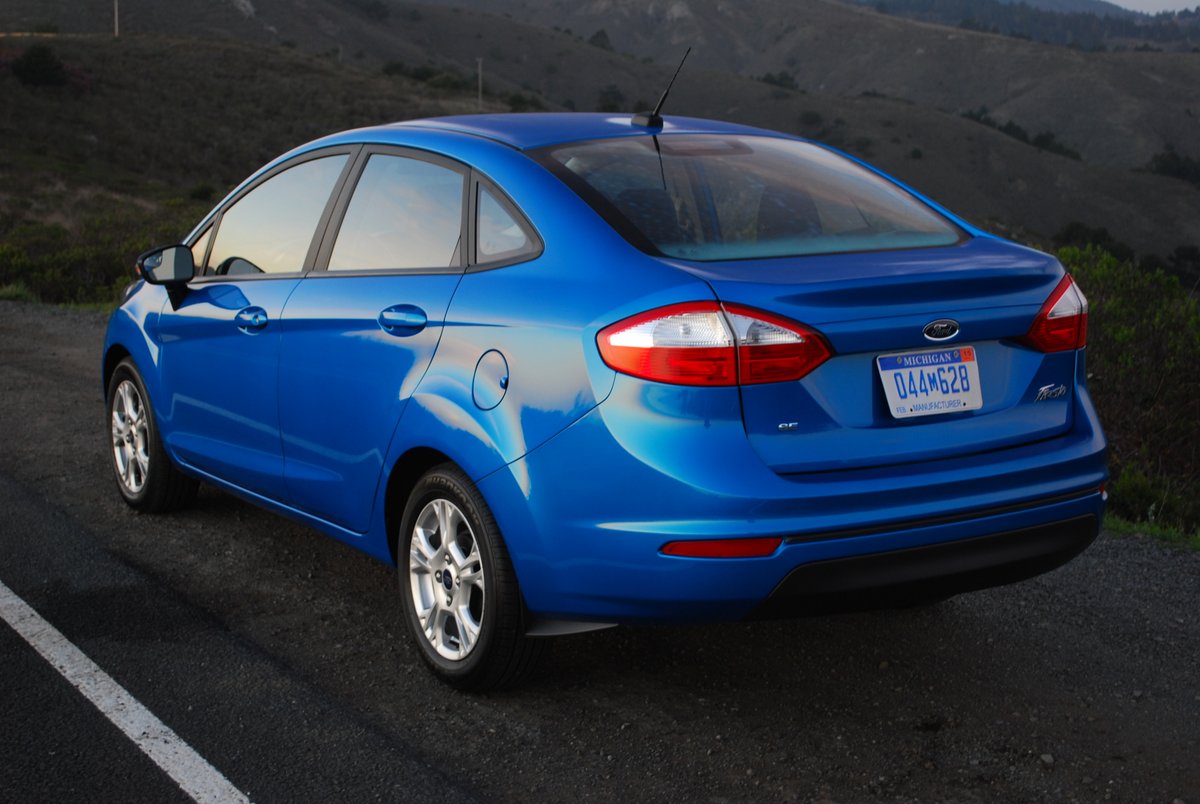 2014 Ford Fiesta SE
Engine: 1.6 liter DOHC Inline 4
Horsepower: 120hp
Torque: 112 lb.-ft.
Fuel Consumption: 29 MPG City/39 MPG Highway
Price as Tested: $17,735
Star Rating: 9 out of 10 Stars
Related posts: