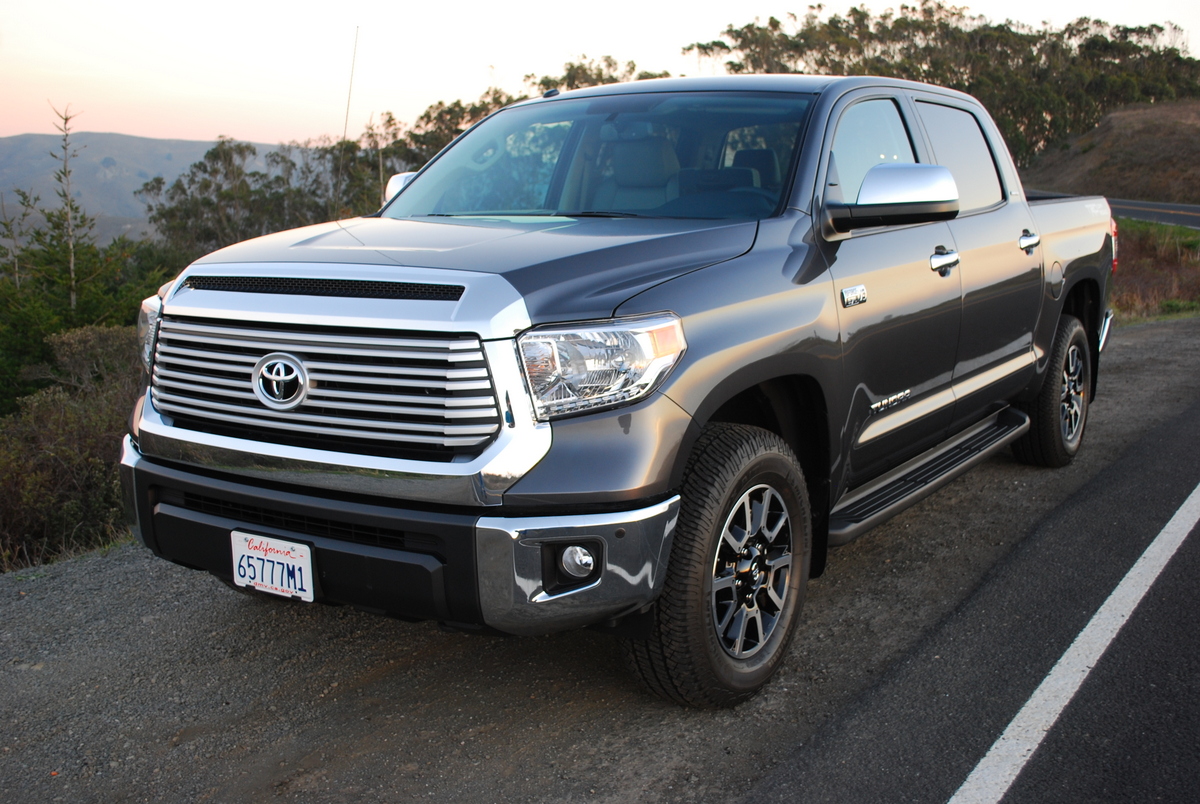 By David Colman
Hypes: More Spacious Than a Texas Prairie
Gripes: Slab Seats, Uninspired Interior Trim
Do you want the good news or the bad news? Okay, let's start with the news for the glass half full brigade. 2014 marks the debut of the all-new third generation Tundra, with redesigned fenders, grill, bed and interior. Thanks to an acre of dazzling frontal chrome, the revamped Tundra looks just as imposingly monstrous as the competition from Ford, Chevy, GMC and Ram. Since size matters most in the truck market, Tundra has more space than ever to offer potential customers. More grill, more bed, more interior, and unfortunately, more weight. This latest iteration weighs nearly 3 tons. 5.7 liters of 381hp V8 is thus heavily taxed when asked to haul 5,899 pounds of truck. Consequently, the bad news is 13 MPG in city driving and 18 MPG on the highway, for an EPA overall rating of 15 MPG.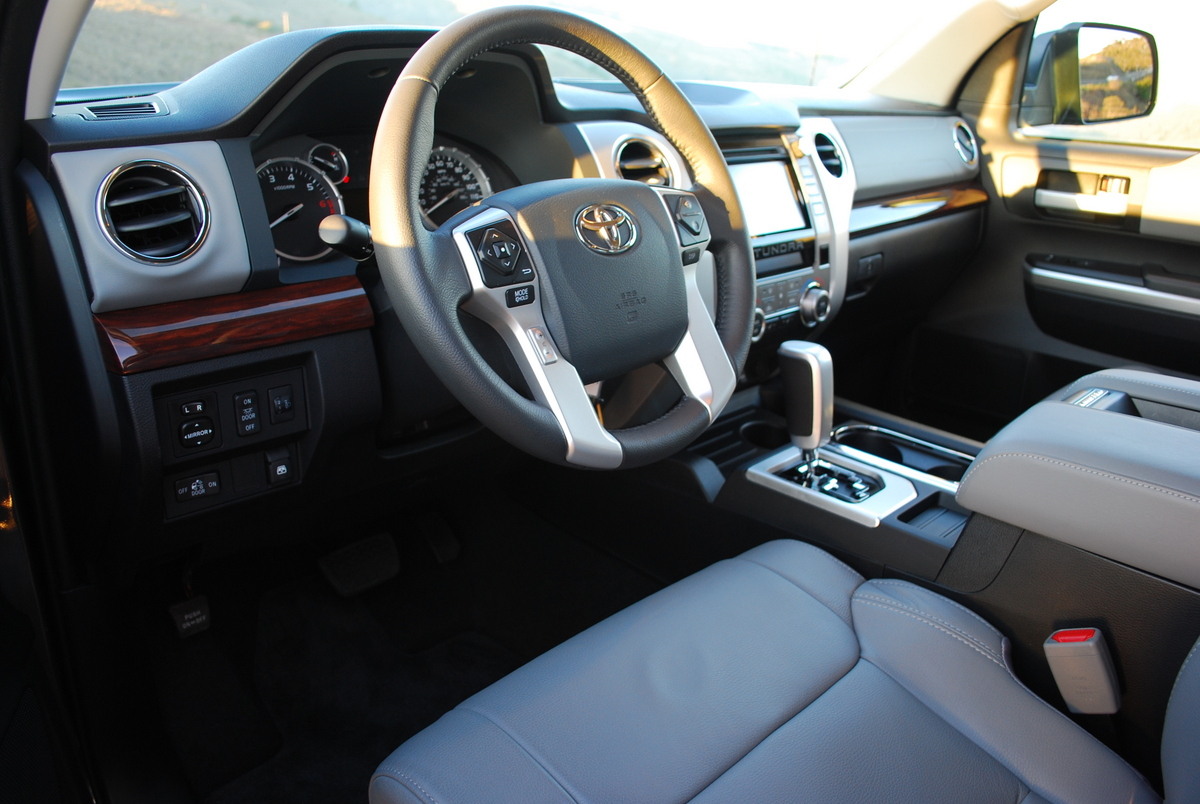 But the poor mileage penalty is offset by this rig's imposing straight line performance. The 5.7 liter Tundra posts a 0-60 MPH time of just 6.7 seconds, and runs the standing start quarter mile in 15.2 seconds at 91 MPH. Those times are nothing short of stunning for such a behemoth, making it the decathlete of the sport truck world. Embellishing the Olympic swiftness is a sensationally inexpensive handling package guaranteed to plant this high rider firmly on the pavement. For just an extra $135, the TRD Off-Road Package replaces standard 20 inch alloy rims with black-spoke TRD 18 inch alloys shod with Michelin LTX AT2 tires. These Michelins have a higher sidewall profile (275/65R18) than the 20 inch tires (275/55R20) normally delivered with a Tundra. That 10mm of added sidewall height sucks up chuckholes off road, as well as potholes on road. The package also includes bright blue Bilstein shock absorbers, skid plates under the engine and gas tank, and front tow hooks. If you added these accessories individually, you'd spend well over a thousand dollars.
This Tundra is designed from the ground up to tow enormous payloads. Toyota provides as standard equipment a receiver hitch, 4 and 7 pin electrical connectors, 4.3:1 rear axle ratio, transmission oil cooler, and heavy duty battery and alternator. You also enjoy a "Tow/Haul Mode" setting for the 6-speed automatic gearbox. So you can believe those ads showing the new Tundra towing the space shuttle Endeavor to its final resting place in L.A. The towing capacity of our test Tundra is 10,000 pounds. If you opt for 4WD, maximum tow rating decreases to 9,500 pounds.
The 3rd generation Tundra has also added a new model to the lineup called "1794″ in honor of the JLC cattle ranch where the Tundra is built in Texas. The 1794 artfully emulates the look of a wild west saloon, hence matching decked out competitors like the High Country Silverado offered by Chevrolet. But the interior of our LTD lacked the finery of the 1794. In fact, its gray plastic came off as a bit cheerless and drab. The front seats, while heated and leather trimmed, are flat and unsupportive. But everything about the cab is huge, with massive dash vents, stick shift, steering wheel, mirrors and step-in, seemingly designed around six and a half foot tall occupants. There's enough rear seat legroom for three adults to stretch their legs. Compared to the 145.6 inch wheelbase of the standard cab Tundra, the extended Crewmax' WB measures 164.5 inches. The back seat bunch is well catered to, with air vents and 120V, 12 amp AUX socket in the floor console, plus flop down center arm rest. The rear seats also fold vertically, flat against the cab back wall to create a storage unit half again as big as the 5'5″ double walled bed of the pickup.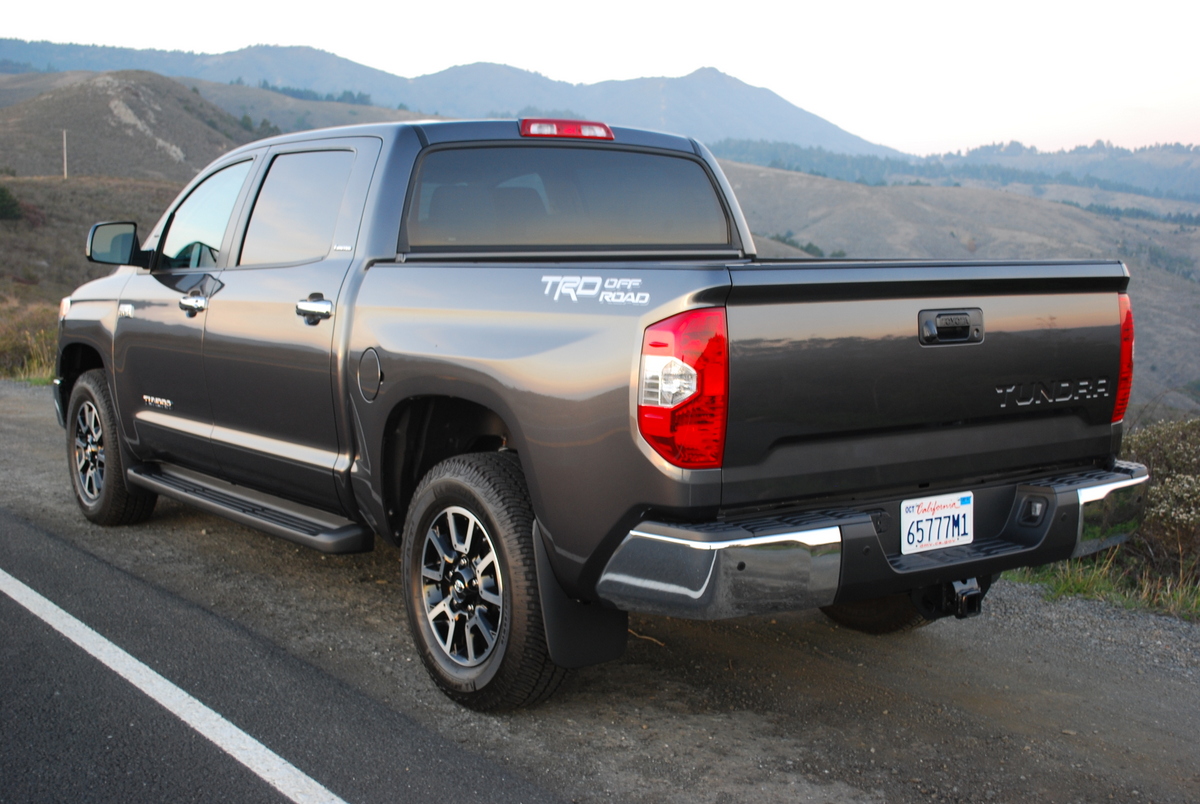 If you can live with the Tundra's mileage shortfall, you'll find this 3rd generation version Toyota greatly improved. Standard features include a rear backup camera and trailer sway control. The rear bed is surrounded by plastic-capped bedrails, and includes a deck rail system with 4 adjustable tie-down clamps. A $365 bed liner is a bargain option. Since the Tundra stands 75.7 inches tall, climbing aboard would present a problem without the $595 optional running boards. Even with such a full bevy of extras, however, the bottom line is just $41,280. For that kind of money, you'll be hard pressed to match the performance, tow capacity and acceleration combo of the Tundra with anything from Ford, Chevy, GMC or Ram.
2014 Toyota Tundra 4×2 LTD Crewmax 5.7 V8
Engine: 5.7 liter DOHC , 32 Valve V8 with Dual Independent VVT-i
Horsepower: 381hp
Torque: 401 lb.-ft.
Fuel Consumption: 13 MPG City/18 MPG Highway
Price as Tested: $41,280
Star Rating: 8.5 out of 10 Stars
Related posts: