Hypes: Race Car Handling at Bargain Store Price
Gripes: Move Radio Controls on Center Console to Dash Face
Get it while you can. The last real sports car, that is. Mazda still makes it, just as they have for the past three decades. But given our national craze for self-driving cars, who knows how long this delectable purebred sports car will last? The MX-5, now in its fourth generation, represents the polar opposite of that automation mania. You buy an MX-5 not because it will ever drive itself, but precisely because this car puts you in direct, unfiltered command of its every move.
Originally just called Miata (Japanese for "little pearl"), the diminutive two seater boasts the most finely tuned responses in the vehicle kingdom. Miata is the best British sports car the Brits never built. Unlike its spiritual predecessors from England like MG, Triumph, and Austin Healey, the MX-5 will never spend its life and your money in the repair shop. While those Brit brands provided driving thrills (when they were running), the latest MX-5 outdoes them all not only for driving pleasure, but for reliability. Consumer Report's evaluation of the 2017 Miata gives it a "Better Than Average" Used Car Verdict.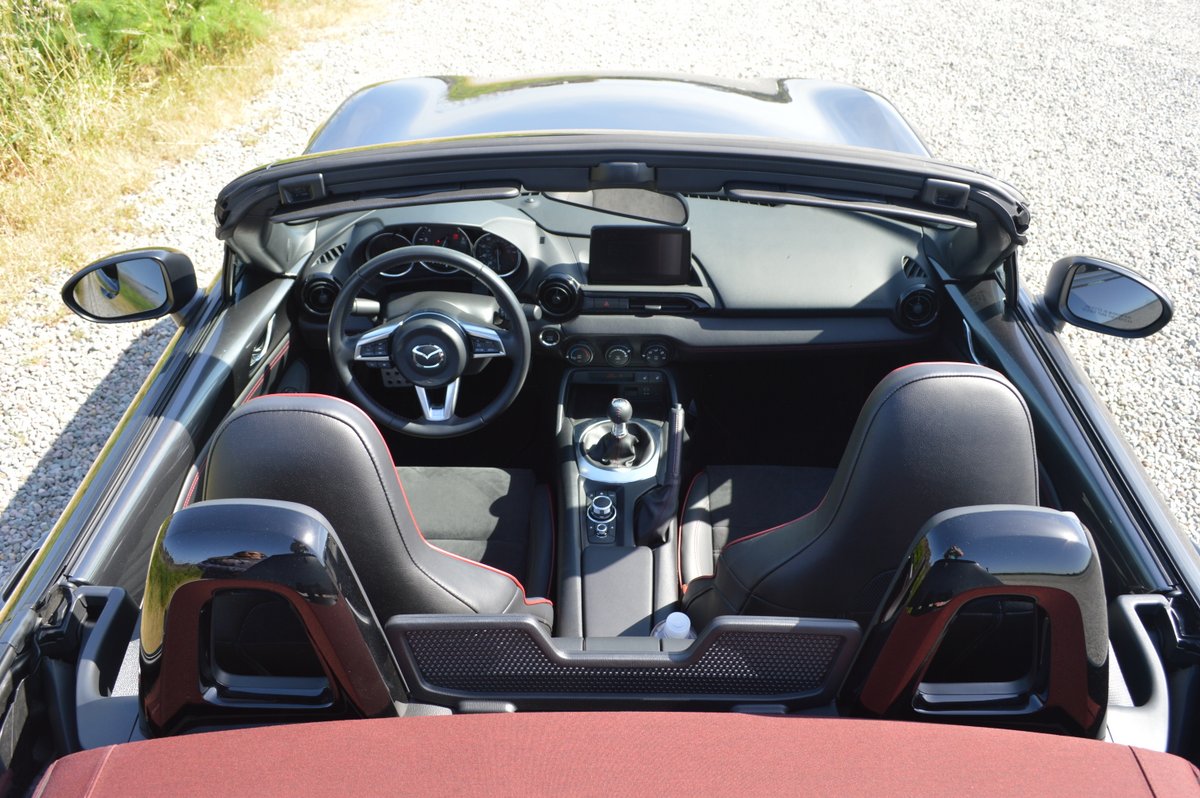 You'll want to order the Club Edition of the Miata because it includes a couple of items that will enhance your driving experience more than you might think. This first is "sport tuned suspension with Bilstein shock absorbers " which hones the Miata's already precise handling to near race quality precision. The second item is a "limited-slip differential" (LSD) which is an essential component of faultless performance since it metes out drive to the rear wheels on an as-needed basis. When you punch the throttle in a turn in a Miata equipped with limited slip, you will never experience un-modulated wheelspin. The Club version's LSD is an essential building block for stable handling.
Our test Mazda also included an option designated "2BB" which adds a whopping $4,470 to the MX-5′s sticker price of $29,155. While "2BB" doesn't have a catchy name like "Club Sport" or "Daytona Runoffs" the three pricey additions it brings are worth way more than what you'll pay here. Inside the cockpit, as soon as you park your butt in the "Heated Recaro Sports Seats" you'll never want to make do with standard Miata buckets. These Recaro seats are not only supportive in extreme cornering, but lushly adept at damping the sport tuned ride of the Miata's Bilstein shocks. In addition to better seats, "2BB" adds super stopper Brembo brake discs and calipers at all four corners. These red blazoned beauties provide enough stopping power to run a 24 hour race at maximum tilt. And covering those arresting brakes are a set of 16 spoke, piano black, 17 inch alloy rims made by the foremost racing wheel company in the world, BBS. "2BB" is a package you can't afford to forego.
If you want your Miata to duplicate the slinky looks of the example I drove, make sure your purchase includes Code "2AP – Appearance Package for Club." on the window sticker. This no-extra-charge group adds some aero tweaks that turn the meek looking stock Miata into a rather more ferocious beast. Matching those BBS rims, piano black side still extensions, rear bumper skirt, front air dam and rear lip spoiler all complement the "Machine Gray" exterior color of the test car. For a final fling of flair, be sure to select the no-extra-cost "1RR – Red Roof Package." The dark cherry fabric of the convertible top enhances the subtle grey paint and pegs the look meter on 10.
Without question, the appearance and performance of the Miata, after nearly 30 years of development, has morphed from cute to nasty. When you equip the latest aerodynamic body shell with the "Appearance Package for Club," you end up with an enticing road burner that bears only the slightest resemblance to that first generation "little pearl." Despite all the appearance improvements, the Miata has lost absolutely nothing of its original feel and feedback. In fact, with 155hp now on tap, and a 6-speed manual gearbox that is the envy of every other car maker for its precision, the latest MX-5 is a real screamer on a back road. Helping immensely in the handling department is a set of Bridgestone Potenza S001 tires (205/45R17) that afford seemingly limitless adhesion due in part to a super soft TW rating of 280. There may be more ways to have fun on a back road than a Club MX-5 fitted with Recaro, Brembo and BBS, but the entry fee will triple what you'll spend on this steal of a deal last real sports car.
2018 Mazda MX-5 Miata Club
Engine: Skyactive-G 2.0 liter DOHC inline 4
Horsepower: 155hp
Torque: 148lb.-ft.
Fuel Consumption: 26MPG City/33MPG Highway
Price as Tested: $35,240
Star Rating: 10 out of 10 Stars
Related posts: