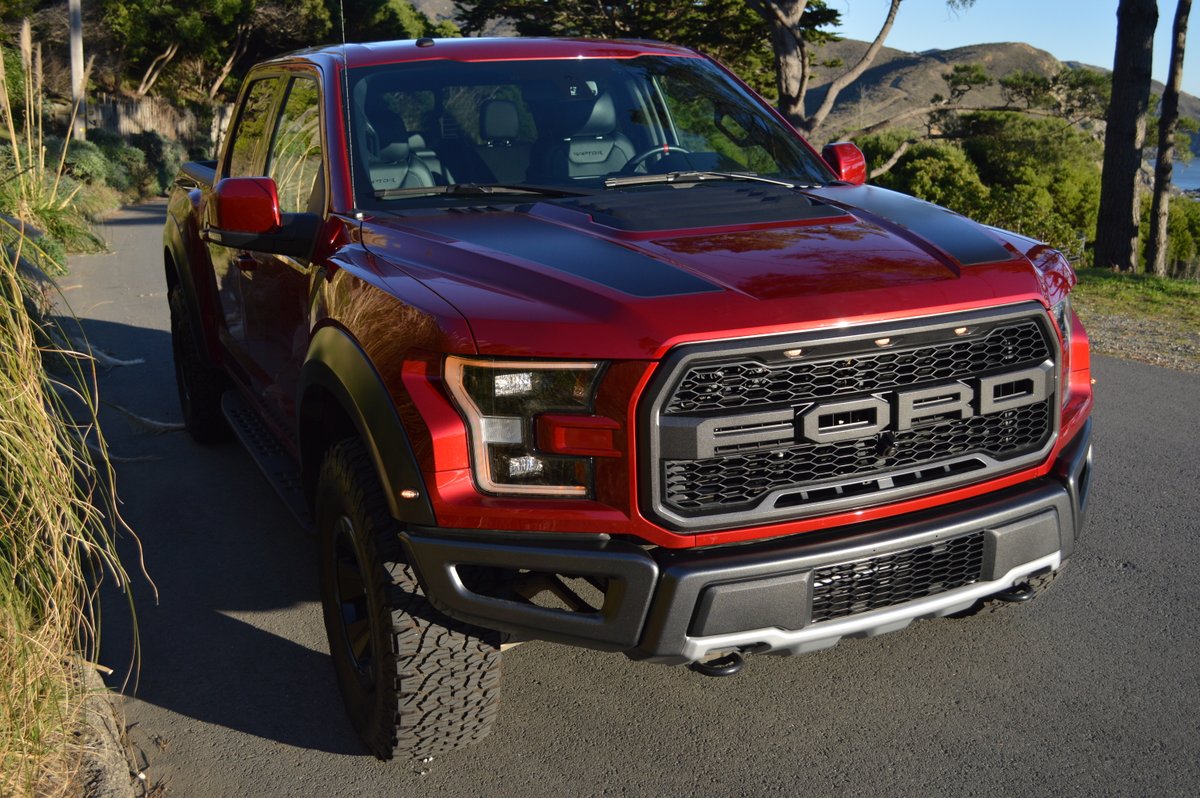 Hypes: Massive Suspension and Frame
Gripes: It Left After One Week
The first definition of raptor in Webster's is not a bird of prey, but rather "a plunderer, a ravisher." Now here's a truck that will plunder the earth while you ravish its performance. Instead of claws, Ford's Raptor uses monster truck treads to get the job done: 315/70/R17 BFGoodrich T/A KO2s at each corner mounted on behemoth optional ($1,185) forged alloy wheels equipped with bead locks. Aside from those modest charcoal and silver alloy rims, there is absolutely nothing else discreet about this ultimate F150. In both styling and decoration, the Raptor is in your face everywhere you look. Take that massive grill, for example, with hyper extended F-O-R-D letters that each measure 9 inches in width. The dark grey tailgate "Applique" ($495) features an even wider FORD typeface with each letter measuring 14 inches. In the unlikely event that the model name escapes you, Ford has wrapped the Raptor with giant decals above each rear fender ("Exterior Graphics Package" – $1,075) identifying this Ruby Red Metallic Tinted ($395) truck as a Raptor. You will find further reminders from the matte black "Hood Graphics Package" ($900), the name stitched to both front seat headrests, and the bas-relief notation inscribed in the black crackle finish running boards.
While the Raptor makes a very bold visual statement, its performance proclamation is even louder than its looks. Start with the strident tone issuing from outlandishly large flat black dump pipes exiting just below the tailgate. When you toe into the twin turbocharged all-aluminum V6, the twin exhausts issue a startling blat that will titillate your eardrums. That's because this truck motor, which is closely related to the engine in Ford's class-winning Le Mans GT, makes a prodigious 450hp @ 5000rpm and an even more plentiful 510 lb.-ft. of torque at just 3500rpm. In other words, the Raptor is without question the fastest pickup truck you can buy today, with 0-60mph capability of 5.2 seconds. If you floor the accelerator and run this Ford through the quarter mile, it will record a 13.9 second run @ 98mph. Bear in mind that this stellar straight-line performance comes from a truck weighing very close to 3 tons.
But Ford did not construct the Raptor to be drag raced. Rather, it has been designed to provide the ultimate ride off-road. In fact, among the multiple available settings for ride preference, Ford has included one called "Baja." This choice automatically locks in high range 4-wheel drive, while simultaneously optimizing all steering, suspension and engine parameters for ultra-high-performance. We didn't have a chance to get down to Baja during our week with the Raptor, so we'll have to take Ford's word for its off-road prowess. However, the following engineering clearances should give veteran Rubicon types a clear idea of the Raptor's elite design brief. Minimum running clearance stands at 11.45 inches. Water fording depth is 32 inches. Approach angle is 30.2 degrees, departure angle 23.1 degrees. Breakover angle on the SuperCrew is 10.9 degrees, or 11.45 degrees for the smaller SuperCab model. These impressive figures will reveal to any serious off-roader that the Raptor really is designed to complete the romp from Ensenada to La Paz through Baja with flying colors.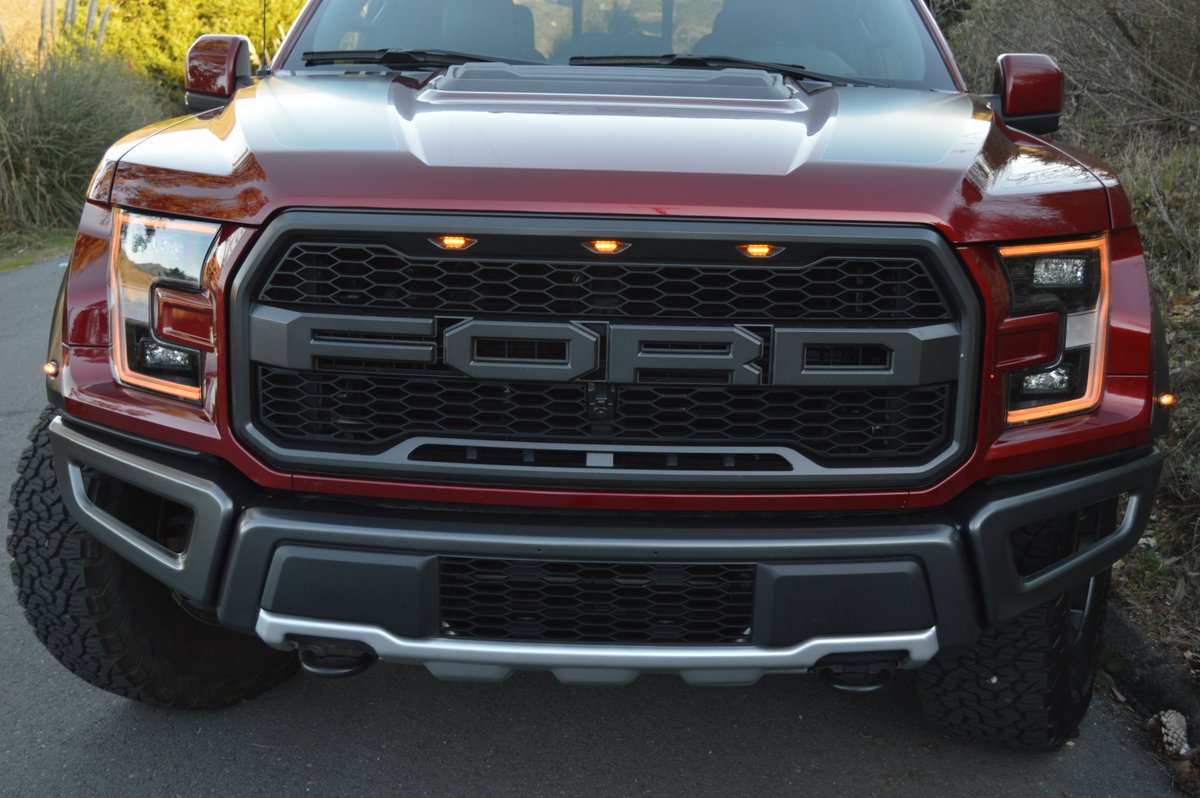 Although we never found a suitable unpaved spot to exercise the Raptor, we can testify that this truck makes a delicious everyday companion. Its cabin is so comfortable you never want to climb down from your throne. The front seats are wide and spacious, although they lack sufficient side support. The instrumentation is beyond reproach, with the most important gauges always displayed for water and oil temp, fuel level, and miles to empty. A series of computer command buttons on the steering wheel allow you to supplement that base information with a dozen screens of additional material encompassing everything from off-road lean angle to engine oil condition and tire pressure. But the best part of the Raptor's cab is the 360 degrees of vision it affords to keep you ahead of the traffic game. The fact that our test truck was also equipped with the optional ($1,295) Twin Panel Moonroof made our vast panorama enjoyment that much better.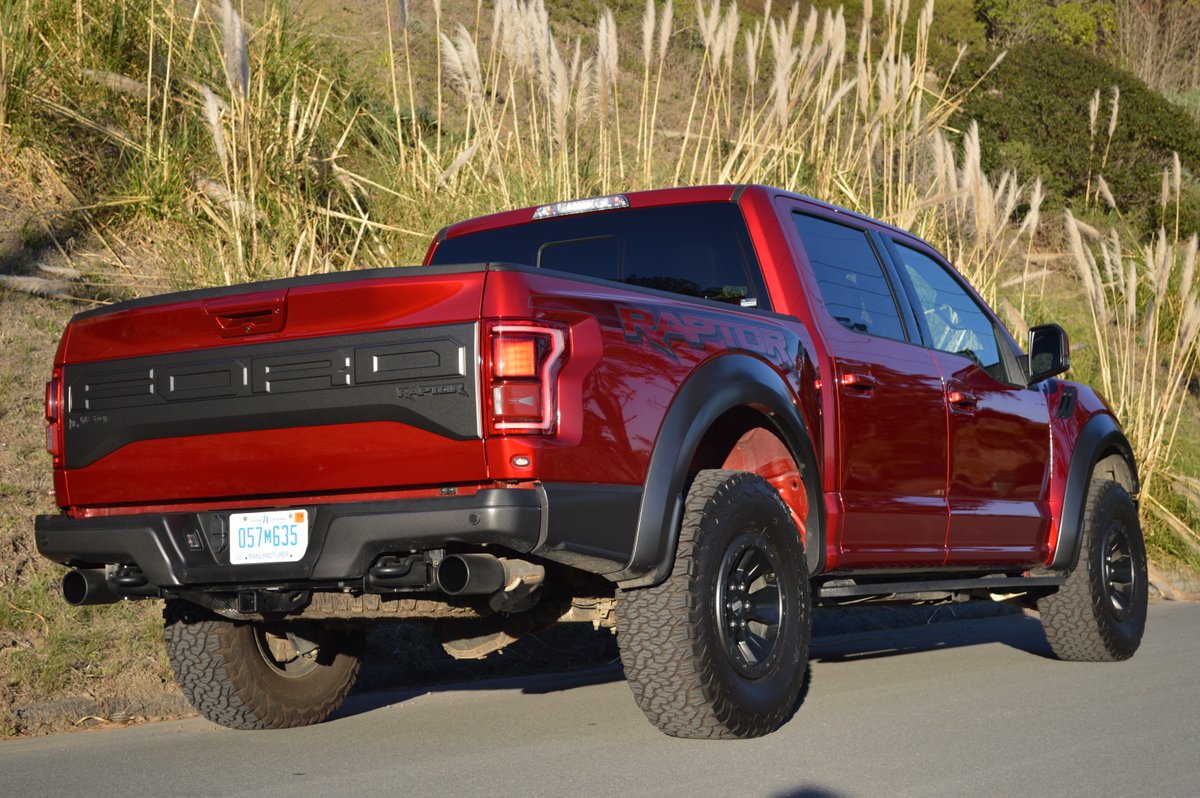 2017 Ford F-150 SuperCrew 4×4 Raptor
Engine: 3.5 liter all aluminum V6 with DOHC, 24 vales and twin turbocharger
Horsepower: 450hp@5000rpm
Torque: 510lb.-ft.@3500rpm
Fuel Consumption: 15MPG City/18MPG Highway
Price as Tested: $69,995
Star Rating: 10 out of 10 Stars
Related posts: