Best Sports Car: Porsche 911 Carrera and Chevrolet Corvette

The iconic Porsche 911 Carrera is well-suited for road-ripping sports performance, as well as running errands. With the Carrera S and 4S boasting a 0 to 60 mph time of only 4.6 seconds, the 911 Carrera leads its class in the performance category. The standard 2008 Carrera offers a 3.6-liter (3596 cc) flat-6 rated at 325 hp and 273 lb-ft of torque. The Carrera S is fitted with a slightly more powerful 3.8-liter (3824 cc) flat-6 rated at 355 hp and 295 lb-ft. The exterior of the base Porsche 911 Carrera models are nearly devoid of extraneous trim and the low, smooth-bodied 911 looks the part of a serious performance machine. Basically, few cars can match the 2008 Porsche 911′s terrific performance and looks.

The Chevrolet Corvette proves to be a smart choice for anyone wanting a luxury sports car with Ferrari-like performance at a bargain price. Updated for 2008 and beyond, the Corvette receives an all-new 6.2L LS3 V8. The bump in displacement — up from 6.0L — increases horsepower to 430 or 436 with an available sports exhaust. Peak torque is 424 pound-feet on the basic model and 428-pound feet with the improved exhaust. With a 0 to 60 mph acceleration time under four seconds, the Corvette's performance ranks high within the class of luxury sports cars, and it even gives Ferraris and Aston Martins a run for their money.
Best Small Crossover/SUV: Honda CR-V and Acura RDX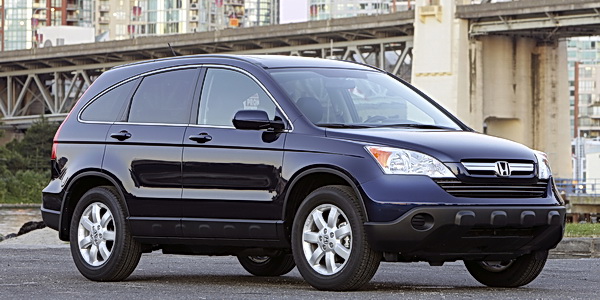 The Honda CR-V's position is based on its excellent combination of a practical interior and a reputation for safety and reliability in its class. The 2008 Honda CR-V has city-friendly maneuverability and car like handling. The CR-V's smooth powertrain and an attractive, yet simple instrument panel and controls are some if its outstanding features. Its closest competitor, the Toyota RAV4, just can't quite match the CR-V's high level of quality, although, it does have and an available third-row seat option over the CR-V.

The Acura RDX scores well for its excellent combination of performance, a comfortable and roomy cabin, and stellar safety ratings. With standard all-wheel drive and a turbocharged engine, the 2008 Acura RDX is seen as a worthy competitor to the high-performing BMW X3. The 2008 RDX Base Sport Utility is a great value with an MSRP of $33,195.00. Gas mileage might also be an important consideration and the RDX gets an average 22 miles per gallon on the highway and 17 miles per gallon in the city.
Related posts: