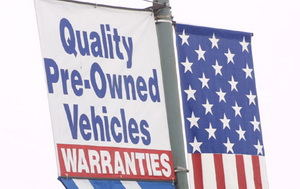 By Harmon Leon
Trading in your vehicle can be a very emotional experience. It' s like saying goodbye to an old friend (or an old enemy if the car has been a bothersome a piece of crap). Despite the obvious, car owners have more of a sentimental value ("This is the first place I lost my virginity!") to their vehicle compared to its actual worth when it comes to trading it in.
So here's a little auto trade-in pop quiz to help you can do it right. Hopefully this will make the experience less painful than a nerve-exposed tooth pulled with rusty pliers.
1) Before you trade in your car you should:
a) Give it a good cleaning and make sure everything is running correctly in order to get the highest trade in price.
b) Have an exorcist rid it of all demons so the dealer won't think your car is haunted. Booooooo!
c) Cry and drop into a fetal position.
d) All of the above.
ANSWER: A—Those fast food wrappers in the back seat aren't going to help drive up the price.
2) Before you trade your car in you should go online and check out:
a) That Youtube video of the bulldog riding a skateboard cuz that's always funny.
b) The Kelley Blue Book value of your vehicle at www.kbb.com.
c) Comparisons of other models of the same make, model and age, along with the retail and wholesale price of similar vehicles to find the best trade in price.
d) Your Myspace page for secret admirers.
e) B & C
ANSWER: E—Yes, the Kelly Book will provide valuable market value info.
3) An advantage of trading in to a dealership rather than selling it yourself is:
a) The dealer isn't going to insist on their money back if something breaks on the car.
b) In most states, you're only taxed on the remainder of balance, once your trade-in is deducted.
c) It's a lot simpler than trying to sell it yourself.
d) That video of the bulldog riding a skateboard is always funny.
e) All of the above except d).
ANSWER: E—Yup, though you make less money, you in simplicity.
4) A disadvantage of trading your car in to a dealership is:
a) They wont find that video of the bulldog riding a skateboard very funny.
b) You lose money because of the dealer has to make gross profit on your car, where you can usually make about $2K-$5K more selling the vehicle yourself.
c) You might be attacked by a swarm of killer bees.
d) All of the above.
ANSWER: B—Like I said before, you are saving on simplicity.
5) A Few dealership trade-in tricks to look out for include:
a) Mental devaluation. The salesman will walk around your car and point out all that is wrong with it so you will mentally ask for less
b) The dealer will come back with roughly $2k less than the car is worth in order to give room for trading.
c) They will hold your keys hostage in order to keep you at the dealership a few minutes longer if the deal is going soar.
d) Getting a bulldog on a skateboard in order to distract you from the transaction, cuz they know you'll find it funny.
ANSWER: A, B & C—So, remember put your game face on!
Good luck on your car trade-in amigo!
Related posts: