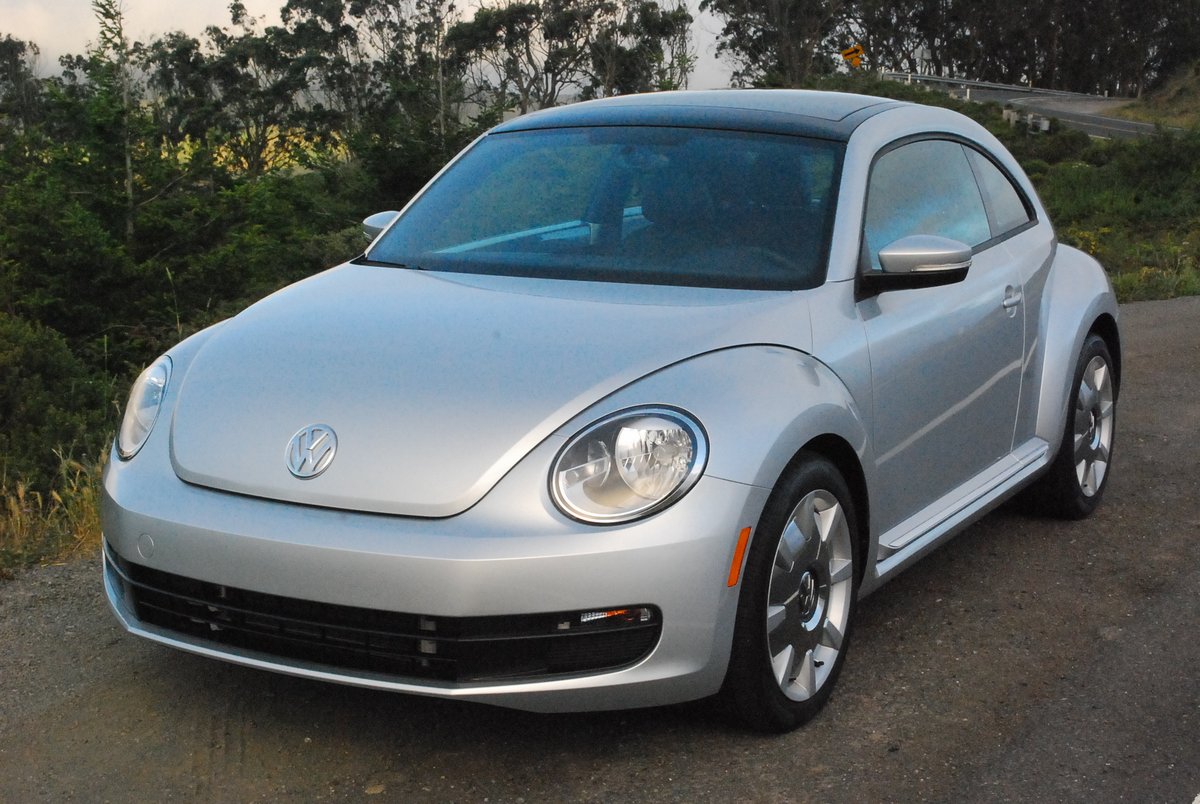 By David Colman
Hypes: Premium Build Quality, German Engineering
Gripes: Chintzy Door Pocket Straps
There's only one VW model you can order in Yellow Rush for 2015. It's also the only one you can order in Denim Blue. Let's see, Rush Yellow and Denim Blue – colors that have kind of a Hippie ring to them, don't you think? A nostalgic ring that's not at all out of keeping for prospective buyers of the reinvented Beetle. After all, both owners and car came of age in the Age of Aquarius. For color loving Hippies and even their Hipster offspring, VW offers no fewer than 11 standard colors for the current Beetle. That's nearly twice as many as you can select for the Golf (7) or the GTI (6).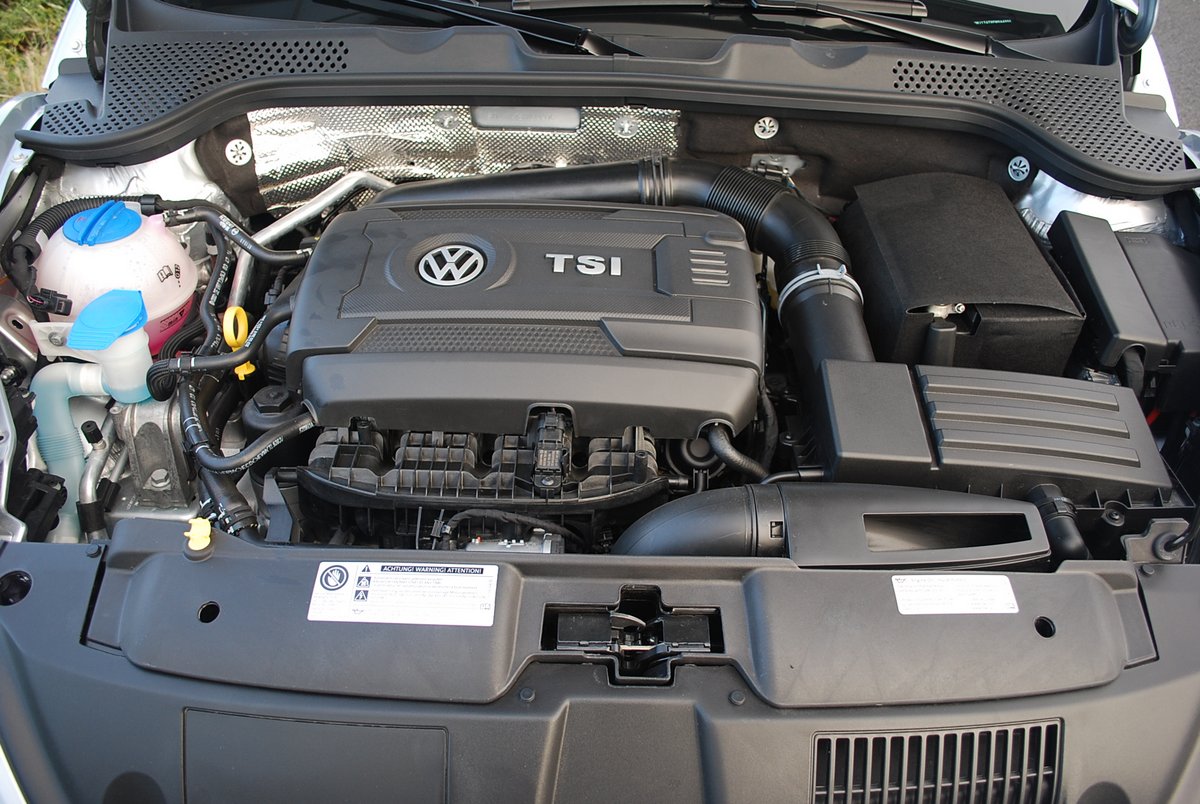 Color is just the beginning of the long, strange trip you'll take when you saddle up a new Beetle. Our test model, finished in a fetching shade called Reflex Silver Metallic, featured the standard engine in the Beetle line, a 170hp. 1.8 liter turbocharged 4 driving through a 6 speed automatic transmission. This model, replete with a sunroof, Fender premium audio system and RNS 315 touch screen Navigation, retails for $26,985. This affordable package is but one of no less than 30 (!) different options VW offers for the Beetle model line. Breaking things down to the simplest split, you can order a 1.8 liter turbo stripper, with manual gearbox, for as little as $20,195. The 150hp Diesel-powered Beetle TDI, making 236lb.-ft. of torque, starts at $24,795 for a manual gearbox version.
The top line 2.0 liter "R-Line" turbo, making 210hp and coupled to a DSG gearbox with full manual override, lists for $30,525 with sunroof, sound system and navigation. If you upgrade to an R-Line convertible, you're looking at a $35,095 Beetle. In fact, although the test car we drove for a week doesn't even break into the top half of the Beetle expense spreadsheet, it still makes for a very enjoyable ride. Its turbo 4, which benefits from direct fuel injection streamed at high psi, offers more than enough performance to make even rabid lane changers happy. The transmission happily accepts commands to hold gear choices, though it lacks the steering wheel paddles supplied with the expensive DSG option.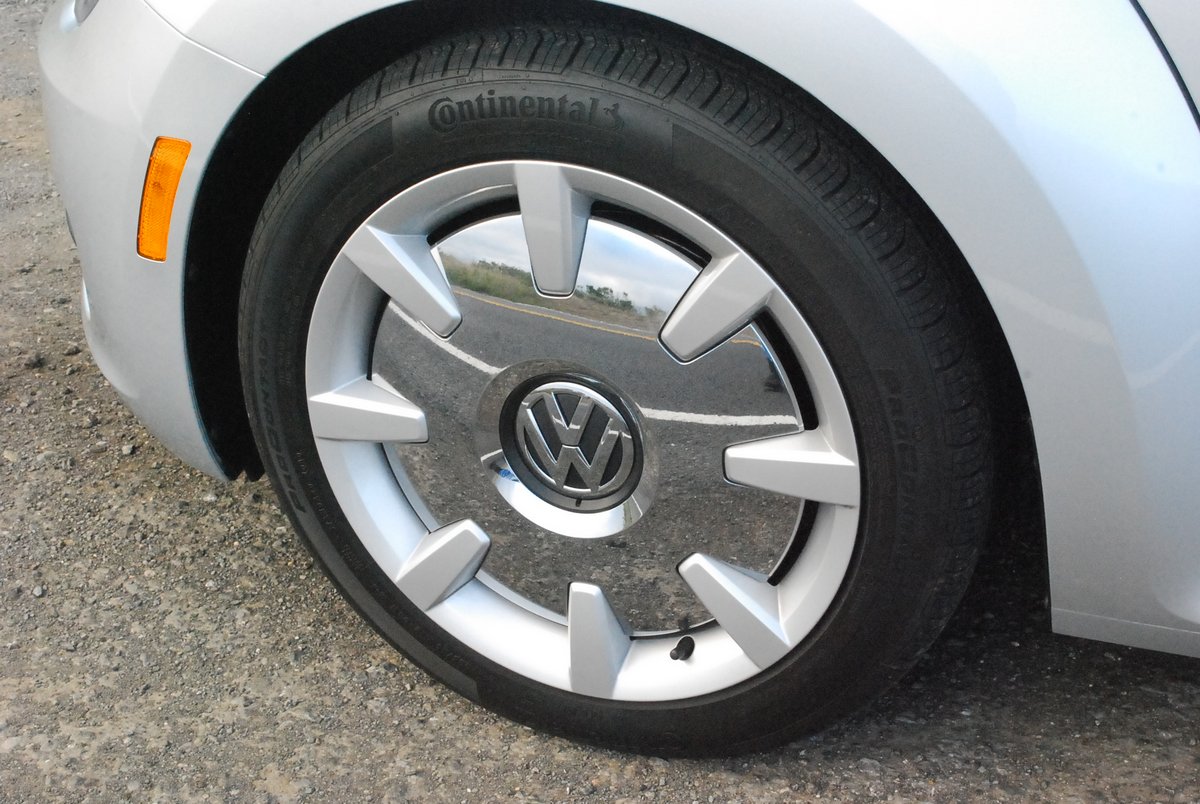 .
Bearing in mind that the Beetle is really nothing but a re-clothed Golf, it should come as no surprise that its handling is nimble, accurate and pleasurable to control. The Servotronic speed-variable electro-mechanical steering achieves a happy combination of feedback, precision and intuition. The Beetle always obeys your positioning commands with grace and dispatch. Premium Continental Pro Contact tires (235/45R18) are well suited to the task of clipping apexes accurately. The 18 inch chromed hub alloy rims lend a retro note to the Beetle, looking a bit like the original model's steel wheels and poverty chrome center caps. Especially appealing is the oversize VW logo featured on each wheel.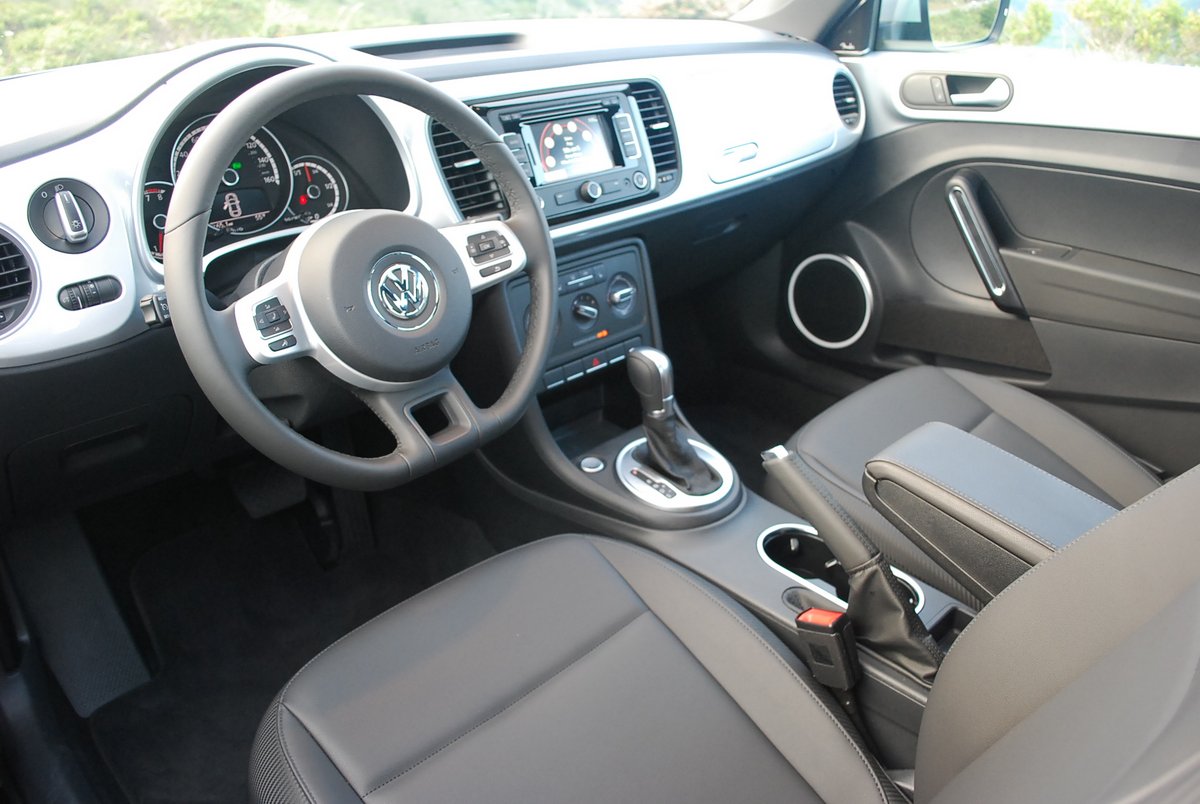 There's nothing poverty stricken about the Beetle's interior. Its fit and finish are fastidiously delineated. The dash and doors feature a handsome sweep of Silver Reflex Metallic paint that matches the exterior color and lends an elegant complicity to the interior. The standard heated "comfort" front seats, new for 2015, look fetching even in the Titan Black leatherette application of our test VW. A diagonal pattern of stripes distinguishes the side bolsters from the seating surfaces in a look that mimics silk and satin. The glovebox features a delightful latch that owners of earlier Beetles will recall with fondness.
But this interior is not showy at the expense of utilitarian virtue. After a shopping trip to Home Depot garnered a couple of 4′ light fixtures and a 10′ pole for cleaning windows, my wife and I debated whether some of the purchases would be poking through the sunroof on the trip home. I said no, she said yes, and when we got to the Beetle, we discovered that because both rear seats fold flat, everything would fit inside the car, including that 10′ long pole. Given its diminutive size, the Beetle offers an amazing compendium of space efficiency, fuel efficiency (28MPG overall) and driving joy for a very modest investment.
2015 Volkswagen Beetle 1.8T
Engine: 1.8 liter turbocharged inline 4, DOHC, 16 valves, direct injection
Horsepower: 170hp
Torque: 184lb.-ft.
Fuel Consumption: 25 MPG City/33 MPG Highway
Price as Tested: $27,805
Star Rating: 9.5 out of 10 Stars
Related posts: