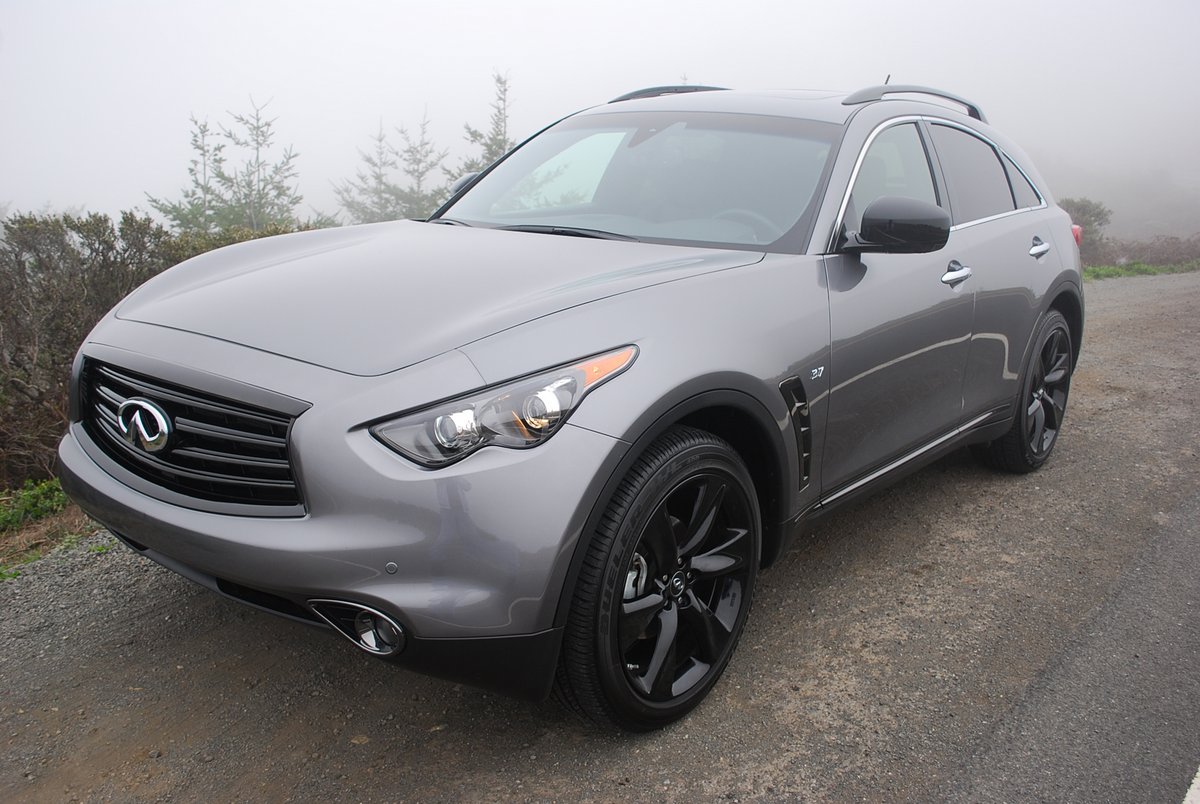 By David Colman
Hypes: Black Never Looked Better
Gripes: Sloping Roof Cuts Into Storage
You could have had a V-8. Last year, that is. But for 2015, Infiniti has eliminated the 390hp, 5 liter V8 from the QX70 model range in favor of a 3.7 liter V6 good for 325hp. The now standard V6 is just adequate to the task of propelling the 4,225 pound QX. Although rated to tow a trailer load of 3,500 pounds, you might find tough sledding over the Sierra with such a combo. The 7-speed automatic gearbox is well suited to extract maximum performance from the V6, with rev-matching available on downshifts in manual mode.
The $3,550 Sport Package adds, among many niceties, solid magnesium paddle shifters to facilitate manual transmission operation. These oblong extrusions are partially covered with a rubberized surface that insures contact regardless of where the steering wheel is positioned. The Sport Package really improves the overall appearance of the QX by replacing stock 8×18 inch rims with gigantic 9.5×21 inch black wheels carrying 265/45R21 Bridgestone Dueler H/L 400 tires at each corner. These 45 Series tires improve handling precision at the expense of ride discomfort over potholes and parking lot risers. The small trade-off, however, is well worth it because the QX is so responsive and planted when you tackle curving back roads.
Opting for the Sport Package also reduces glare to a minimum since almost all surfaces normally chromed or bright receive the black-out treatment here. The front grill, fog light surrounds, roof rails, exterior mirror housings, side air vents, lower side moldings and rear finishers are all done in black. Even the headliner in the cabin is black. This is not to say that the Sport QX is entirely free of color, however. Wild and attractive purple stitching adorns the leather covering the seat bolsters, door panels and steering wheel. Matching purple rings outline the tachometer face (redline 7,500rpm) and the speedometer which optimistically reads to 180 mph. In all, Infiniti has done a handsome job of packaging the QX in a menacing outfit that enhances the vehicles good bone structure.
On the other hand, the $2,950 Technology Package is something you'll want to eliminate from your build sheet. Nanny assistance devices are all the rage these days, and Infiniti offers an alphabet full of them guaranteed to assure your perpetual annoyance. Most drivers won't have a clue about the meaning of the acronym dubbed controls splayed randomly across the dashboard reading "IBA," "FCW," and "DCA." These are all part of a sustained campaign to eliminate your brain from the driving equation. If you have the time to spend reading your newspaper printed owner's manual, you will determine, after much effort, that IBA means Intelligent Brake Assist, FCW is Forward Control Warning, and DCA is Distance Control Assist. Further perusal of said owner's manual reveals that no fewer than 16 exceptions can potentially disable operation of IBA, while 12 possibilities exist to render FCW inoperative. Mercifully, the QX70′s central command control allows you to disengage most of these assistance devices so your journey is not continually interrupted by incessant warning chimes.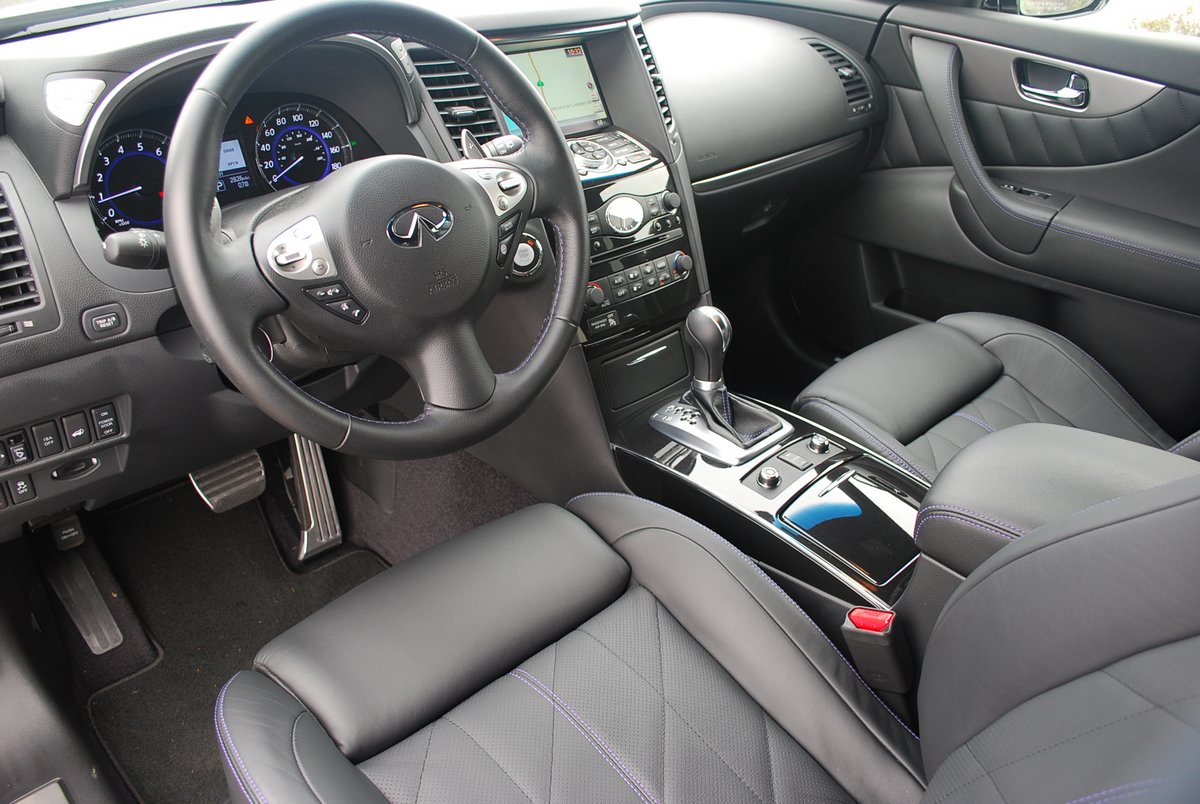 The sports seats offered as part of the Sport Package are particularly fetching. The perforated leather seating surfaces are sewn in a handsome quilted pattern that looks expensive and inviting. The analog clock, elegantly set into a prominent position in the center of the dashboard, is a welcome throwback to the first Infiniti Q45, a nice example of traditional marque carryover. The circular computer control mouse conveniently located above the clock, is easy to operate while at a standstill. The dial includes four directional command buttons, with a center button for selection purposes, and a separate button labeled "back." This system controls the QX' hard drive navigation system, offered for $4,300 as part of the Premium Package. This compendium also upgrades the base 7 inch screen to an 8 inch color touch display monitor, and provides an "around-view" look at all sides of your SUV, with moving object detection. This feature is particularly useful since low aspect vision is not a strong point from the high mounted driver's seat of the QX70.The expensive package also provides, Voice Recognition, plus "Nav Traffic" and "Nav Weather" reports.
This rear-wheel-drive QX70, done up in Sport Package black, is an undeniably handsome addition to the Infiniti SUV model range. Its calming and comfortable interior will lull you into virtual somnolence once you've learned to disable the intrusive Technology Package.
2015 GMC Canyon 4WD SLE Crew Cab Short Box
Engine: 3.7 liter V6
Horsepower: 325hp
Torque: 267lb.-ft.
Fuel Consumption: 17 MPG City/24 MPG Highway
Price as Tested: $58,085
Star Rating: 7.5 out of 10 Stars
Related posts: