By David Colman
Hypes: Handles Better Than a Bug Eye Sprite
Gripes: Some Interior Ergonomic Improvements Needed
Over the course of a car model year, I typically test 50 new vehicles. Of those, fewer than 10 make the cut as cars I would buy and own. The Scion FR-S is one of those 10 for 2014. The FR-S' fun-to-price ratio pegs it as a best buy in the sports coupe category. If you're an enthusiast driver looking for slot car handling in a practical, economical package, this Scion fits the bill. Every time you slip behind its perforated black leather steering wheel, you know you're in for a spell of undiluted driving entertainment. Only a car as nimble and light (2,758 lb.) as the FR-S can provide the immediate feedback that is this Scion's defining trait. The interface between driver and machine is so polished and rewarding that you will never look at recreational driving the same way again. That you can experience automotive nirvana for a base price of just $24,700 defies logic.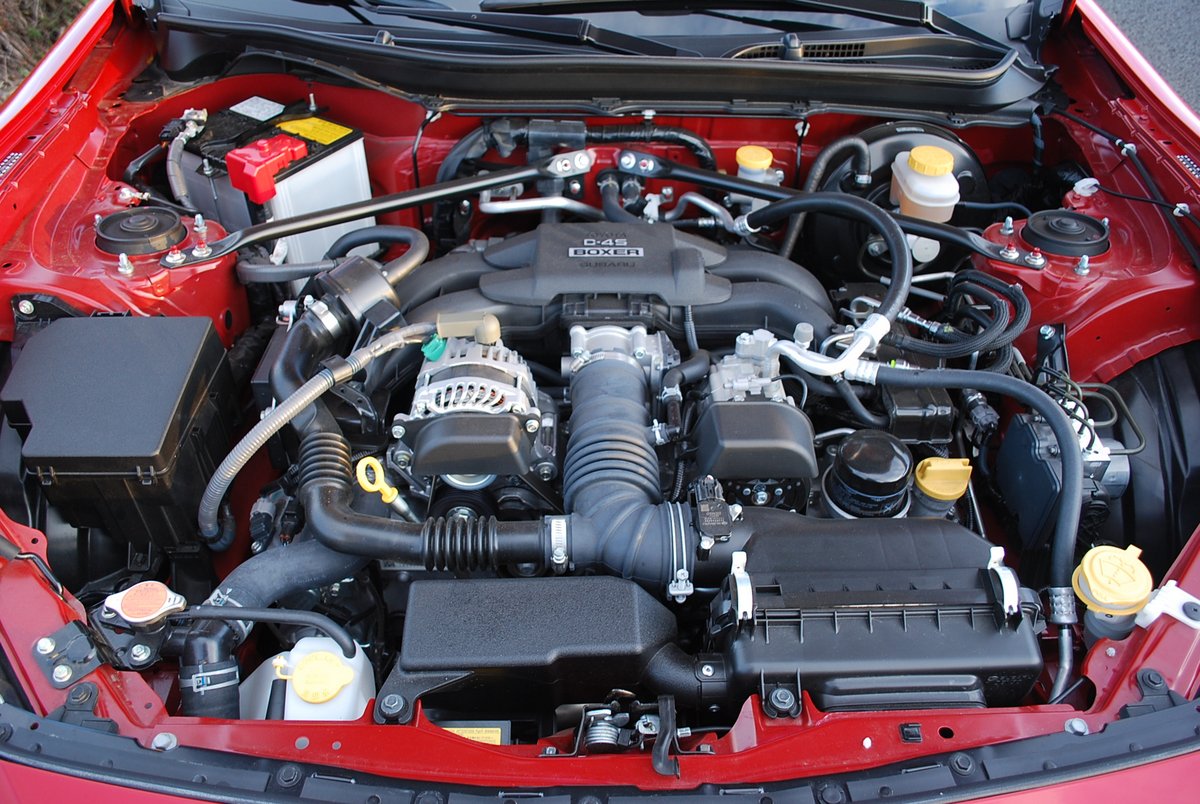 It certainly isn't the FR-S' Subaru power plant that evokes such jubilation. The 2.0 liter opposed 4 cylinder engine is hard pressed to make 200hp and just 151lb.-ft. of torque without also producing substantial noise and vibration. The silver faced tachometer, which features a programmable rev indicator, reads to 9,000rpm. Although the Boxer motor reaches redline at 7,600rpm, you'll want to up shift sooner than that to avoid the racket at redline. Although the FR-S is not blindingly quick in a straight line, it's so well balanced that you hardly notice the power shortfall. The superb steering feel, ultra precise shift linkage, and highly retentive sport seats foster the illusion that you're driving a race car. Only the similarly priced Mazda MX-5 comes close to emulating the responsiveness of the FR-S. And the petit Mazda roadster offers none of the FR-S' practicality: roomy interior, hatchback storage access, abbreviated rear seat, and permanently enclosed construction. You get the same kind of performance as the MX-5 without making the kind of concessions that render the Mazda comparatively impractical for daily use. This Scion can be your daily driver all week long, then play racer for you on the weekends.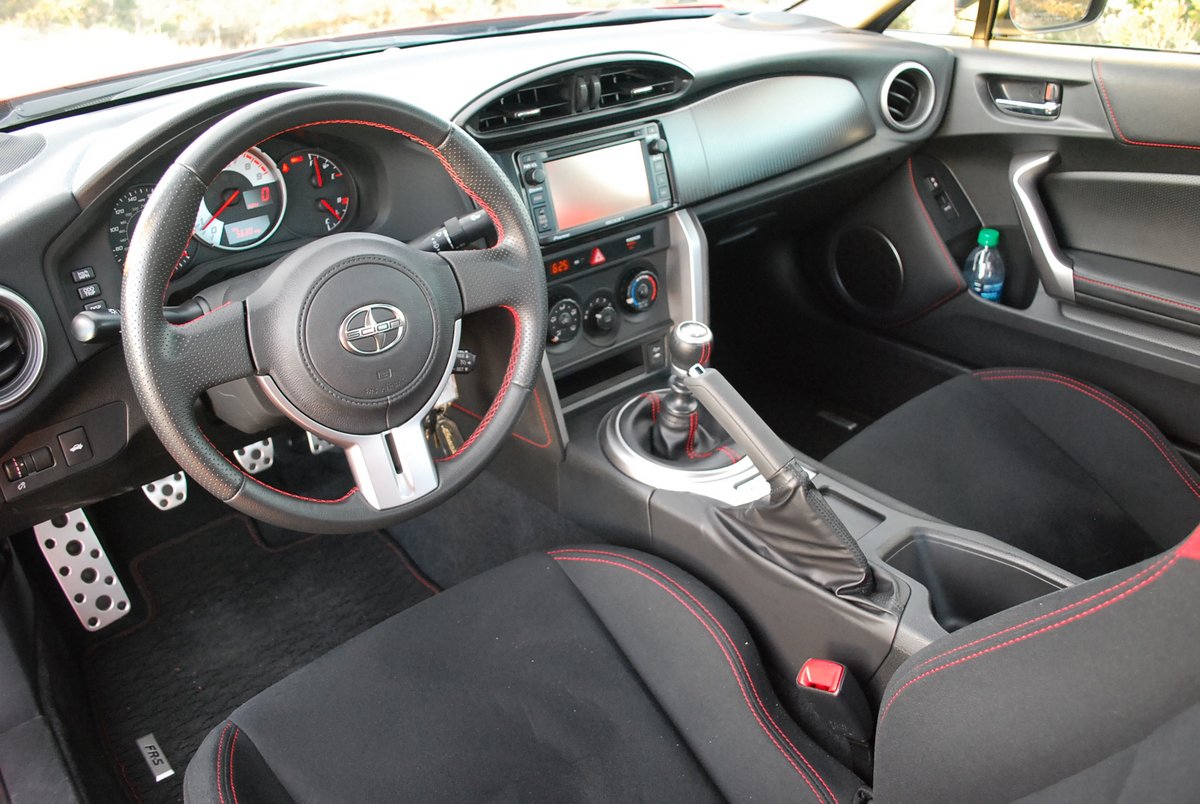 Of course, you will notice a few price point-bred drawbacks to FR-S ownership. When you open the cabin door, you will be hard pressed to stuff your bag or purse into the rear seat area without first tilting the front seatbacks forward. When you flop them backwards in order to climb in, the back rest returns, not to your pre-selected angle, but rather to the full upright position. After you've dealt with this 2 or 3 times in the course of a day's errands, you'll wonder why Scion didn't endow these otherwise excellent seats with backrest position memory. The rather elemental beverage holder between the front seats also garners a cost cutting demerit. It contains 2 identically sized receptacles, neither of which feature prongs to adapt to smaller diameter cups. As a result, my co-pilot was forced to stabilize a Starbucks "tall" size cup by hand, rather than rely on the sloppy fit of the holder. These shortcomings are a surprise in a cabin that is otherwise thoughtfully designed, with unexpectedly lavish attention to detail.
For example, the clutch, brake and accelerator "sport" pedals are furnished with slip free surfaces fashioned from rubber and aluminum that match the threshold scuff plates. This intricate bright work looks like it belongs on a Ferrari, not a bargain Scion. Likewise, the dash face looks suitably business like and racy thanks to a faux carbon fiber strip that garnishes the understated interior with just the right touch of glamour. Red contrasting stitching on the steering wheel, seat bolsters and door kick plates are the only traces of flamboyance in the tightly focused driving environment Scion has perfected here.
The 215/45R17 Bridgestone Turanza R400 tires provide a slight handling improvement over the Michelin all-season radials fitted to previous FR-Ss throughout the first year of production. But given this coupe's inherent balance and grip, it cries out for the stickiest aftermarket tires you can afford. If this FR-S landed in my garage on a permanent basis, it would be wearing a set of BFG, or Hoosier soft compound autocross rubber that would transform it into the go-kart Scion meant to be at birth.
2014 Scion FR-S
Engine: 2.0 liter opposed 4 cylinder DOHC, 16 Valve
Horsepower: 200hp
Torque: 151lb.-ft.
Fuel Consumption: 22 MPG City/30 MPG Highway
Price as Tested: $25,455
Star Rating: 10 out of 10 Stars
×

2014 Scion FR-S Wheel and Tire
Related posts: