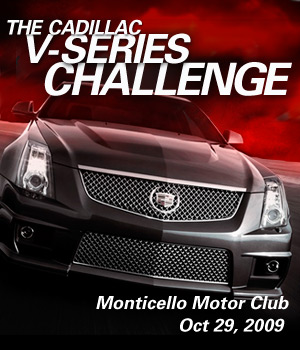 By Adrienne Gruben
Tomorrow is the Bob Lutz Cadillac V-Series Challenge. For those of you who don't know, Bob Lutz, an auto industry icon and currently a Vice Chairman at GM, first invited writers and then any and all owners of cars comparable to the Cadillac CTS-V to apply to get all Speed Racer with him on October 29 at the Monticello Motor Club in Monticello, N.Y.
Of the 120 people who gave a crap, Lutz chose seven. Of the seven, three are auto journalists: Jalopnik's Wes Silver and his Jaguar XFR; The Truth About Cars' Jack Baruth; and Lawrence Ulrich of the fancy NY Times. The journalist invites are clearly a tactical move on Lutz' part. The other four are joe-blows. Michael from New Jersey and Michael from New York are bringing a BMW M5 and M3 respectively. (Perhaps Lutz was feeling nostalgic for his days as a BMW exec.) Tom of Philly will race his Audi RS4 and Chris from Michigan will bring his Cadillac CTS-V.
It's clear who Lutz thinks Speed Racer is, but then who is Racer X? And what about Trixie? And that weird monkey? Let's leave those questions in the obtuse pile, and focus on the race itself.
There are many variables at play and while it's easy to start comparing the cars themselves, the track and driver experience are huge variables. With Monticello, you've got one big straight and then a bunch of tight bends. I'm thinking the Caddy's power to weight ratio and gearing could increase its odds, especially because it will take a super savvy driver to pull out the M5′s potential. And let's talk about drivers. While Lutz doesn't have much open track experience, the dude is fearless and all heart.
And recall that Lutz made his objective very clear: "We're going to take away every last excuse people have not to consider our products. We know that some consumers still think Cadillac cars do not have the top-end performance they believe the German luxury cars have. The development objective of the 556-hp Cadillac CTS- V was to create the world's best high-performance sedan. In final testing, the car lapped the legendary Nürburgring in 7:59.32, fastest ever for a production sedan (recently eclipsed, reportedly, by Porsche Panamera). In other words, we believe we have achieved our goal of building the world's fastest sedan, but I look forward to putting that theory to the test…. and may the best car win."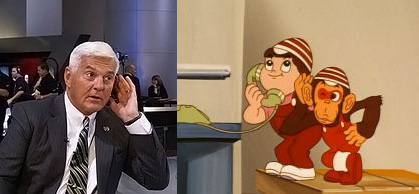 Spritle and Chim Chim answering Bob Lutz's Callout
Ok, so that's clearly code for " last-ditch marketing ploy," and God knows how many behind-the-scenes shenanigans are taking place to make sure Cadillac does not end up looking like an A-Grade loser, but I do give Lutz props for going the anti-Facebook route for his marketing strategy. I guess his background as a Marine aviator inspired him to go old school mano-a-mano, even if it could end up being a slight of mano. We'll know soon enough if Lutz will get his wish. I doubt I will get mine though: getting Lutz to say, "Go, Speed Racer, Go!"
Race Results
Selected to compete against the CTS-V was an E60 BMW M5, a Jaguar XF Supercharged, an E90 BMW M3, a B7 Audi RS4 and a Mitsubishi Evo X MR. A Jaguar XF-R was originally selected, but pulled out due to potential overheating problems with the brakes.
The event took place under grey skies at the Monticello Motor Club in Monticello, N.Y. and we now have the results. Taking top honors was former GM Performance Division Executive John Heinricy with a lap time of 2m and 46.56s in the Cadillac CTS-V.
1. Cadillac CTS-V (John Heinricy): 2:46:560
2. Cadillac CTS-V (Brian Redman): 2:49:183
3. Cadillac CTS-V (Aaron Link): 2:48:902
4. BMW M3 (Michael Cooper): 2.50:424
5. Cadillac CTS-V (Jack Baruth): 2:51:153
6. Cadillac CTS-V (Lawrence Ulrich): 2:53:026
7. Cadillac CTS-V (Bob Lutz): 2:56:321
8. Mitsubishi Lancer Evo X (Wes Siler): 3:08.126
9. BMW M5 (Michael Mainwald): 3:08:989
10. Cadillac CTS-V (Chris Fairman.): 3:14:292
11. Audi RS4 (Tom Loder): 3:15:702
12. Jaguar XF (Archan Basu): 3:16.670
Related posts: