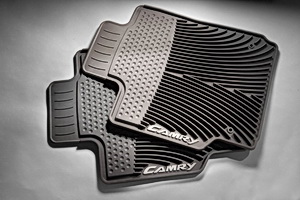 Toyota Cites Stuck Accelerator Risk For Big Recall
Right now Toyota is calling it a "safety advisory", the National Highway Traffic Safety Administration (NHTSA) may upgrade this to an official recall. The potential problem lies with unsecured or mismatched floor mats in Toyota vehicles that may interfere with the accelerator pedal. You can read the official statement from Toyota and the list of affected vehicles after the jump.
According to the statement, "A stuck open accelerator pedal may result in very high vehicle speeds and make it difficult to stop the vehicle, which could cause a crash, serious injury or death."
Until Toyota develops a remedy, Toyota is asking owners of specific Toyota and Lexus models to take out any removable driver's floor mat and NOT replace it with any other floor mat.
(Continued on page 2)
Related posts: