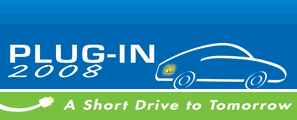 CEOs plug in to the future;
Get behind the wheel of 100 mpg car
SAN JOSE, CA (July 8, 2008) – Tired of $4 gas? Plug in! Get 100 miles per gallon. Save gas. Save money. Cut pollution. Fight global warming.
The Silicon Valley Leadership Group would like to put you behind the wheel of a plug-in hybrid car – eventually at least. As a start, on Monday, July 21, five Valley CEOs and executives will take possession of their new plug-ins, which they are purchasing through a program initiated by the Leadership Group to demonstrate the value of these cars to their drivers and the environment. The CEOs will each get a converted Toyota Prius at a news conference outside the San Jose McEnery Convention Center, a day before the start of a three-day international conference on plug-in hybrids.
Event: Five plug-in hybrids delivered to Silicon Valley CEOs and executives
When: 1 p.m. Monday July 21
Where: Plaza in front of the San Jose McEnery Convention Center, 150 W. San Carlos Street
To jumpstart the plug-in market, the Silicon Valley Leadership Group hopes to sign up 100 people to have a conventional Toyota Prius converted to a plug-in, with the addition of a larger battery pack and a plug. Twenty-five potential owners are already on board, and the first five owners will talk about their cars on July 21.
Because they run exclusively on electricity a greater percentage of the time than conventional hybrids, plug-ins can average 100 miles per gallon — a fuel cost of 4 cents per mile, with gas at $4 a gallon. For a car getting 25 mpg, the fuel cost is 16 cents per mile.
The news conference not only highlights a valuable initiative by the Leadership Group, it also offers a good story, with visual elements, to lead into a discussion of the important international conference on plug-in hybrids over the following days.
# # #
Sent on behalf of the Plug-In 2008 organizers.
Silicon Valley Leadership Group
224 Airport Parkway, Suite 620
San José, CA 95110
Related posts: