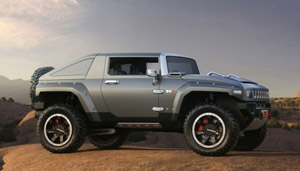 The long expected deal from GM to sell of its extremely poor selling HUMMER brand to Chinese concern Tengzhong has just gone through. So the ride that was once seen as being emblematic of American excess can now be seen as … Chinese excess? Or will it just be seen as excessive, no matter who makes it? And on top of that, with HUMMER sales down something like a bazillion percent from this time last year, just why would Tengzhong, or any other car company, want to invest money in a vehicle like this?
Well, for one thing, if you were to sell it internationally, there might still be a market for it. You know, third world dictators, army types, rappers etc. And the other thing is that Tengzhong is planning on making a "green" version of the HUMMER, whatever that might turn out to be.
China's Sichuan Tengzhong Heavy Industrial Machinery Company announced today that a deal to acquire the brand from GM has been completed for $150 million. Tengzhong will take an 80 percent stake in HUMMER and a private investor will get the remaining 20 percent. In addition to pocketing 150 million bucks, GM is able to ditch one of the most controversial automobile brands ever.
But of course, it's not all that cut and dried. U.S. and Chinese regulators still need to approve this facet of the deal, but it turns out that Tengzhong will contract vehicle manufacturing from GM through at least June 2011. In other words, GM will still be literally making the HUMMER, it's just that Tengzhong will get all the glory and whatever profit they can scrape out of it.
Tengzhong has previously stated it is investigating biofuels, hybrids and fully electric machines, so that's where the "green" end of this might come in. It will be interesting to see just how serious Tengzhong is about making a green HUMMER, and if they do, just what the green Hummer will look and perform like.
Source: AutoBlogGreen
Related posts: