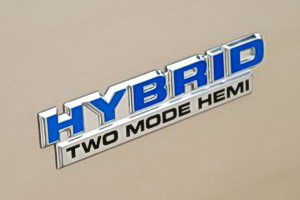 You can call this a good news/bad news sort of thing. The bad news is that Chrysler's two-mode hybrid joint development program has been disbanded, and the good news is that the hybrid Ram pickup is coming in 2010.
The joint development program, which was a very big deal for a while, was created several years ago between Chrysler, General Motors, Daimler, and BMW to work out a two-mode hybrid system for light duty vehicles, is now effectively over. The four automakers involved have either launched or are about to introduce versions of the two-mode hybrid system, so the program is being wound down and the engineering office will be closed by the end of this year.
But the Ram pickup hybrid should be in dealerships by 2010.

Although Chrysler is now going with a straight hybrid for the upcoming ram, they did briefly build a version of the Aspen and Durango SUVs with the dual-mode hybrid system last year. Chrysler says that they are dedicated to re-launching the hybrid system in the Ram pickups in 2010, possibly even a follow on development of the two-mode (depending on who you ask). Also depending on who you're listening to, in this case the Detroit News, there is speculation that it is "unlikely the planned light duty hybrid will launch anytime soon in the Ram 1500." So, this might come down to who do you believe, Chrysler, or the Detroit News.
On other two-mode news, the Mercedes ML450 hybrid and BMW X6 ActiveHybrid are both going into production at this very moment, both of which will be using a version of the two mode transmission built by Daimler and designed under the now-ended joint partnership.
There's a way of looking at Chrysler's move, accounting-wise, for making a pickup into a hybrid, rather than making a smaller hybrid instead. If you look at the whole fleet's fuel economy, if you raise the lower end, which is where the MPGs for pickups live, it has a greater overall effect than raising the top end.
Source: AutoBlogGreen
Related posts: