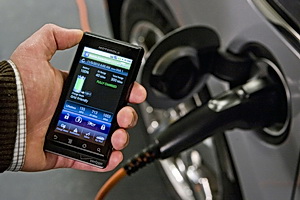 OnStar 2.0 mobile app adds Google maps and voice search
GM has been talking about the 2011 Chevrolet Volt for three and a half years now. After listening to years of hype and Volt propaganda, GM's main marketing message for the 2011 Volt is centered around the message that "It's the electric car without limits, the one you can take on spontaneous road trips, and it's different from all those other EVs with their limited ranges."
Since battery powered EVs are relatively new and beginning to become available to the mainstream consumer, the most common question remains, "Where can I recharge when away from home and battery power is getting low?" With all-electric vehicles, "range anxiety" is very real among consumer perceptions. People don't want be to waiting for roadside assistance if their batteries are depleted because getting restarted isn't as easy as running for a gallon of gas. The reality is that building the infrastructure to support EVs will take some time and customers need an easy way of finding a charging station until they become as common as your local 7-Eleven store. The Volt isn't bound by this problem because it has a small engine onboard that extends it's range beyond the capacity of the batteries. Regardless, range anxiety exists and GM has the answer, or more accurately, a smartphone app that addresses this important issue.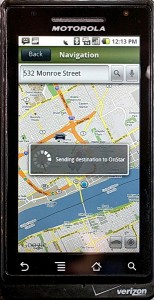 The latest announcement surrounding the Chevrolet Volt is a new version of the OnStar mobile app for the Android which integrates Google maps with OnStar services. Google and General Motors plan to connect the automaker's in-vehicle communications system, OnStar, with phones running on Google's Android operating system. According to the automaker's release Tuesday, a 2.0 version of the app for Android phones will incorporate new location-based services using Google technology.
More details about how GM aims to deploy Google's technology will come out this week in a demo at the Google I/O conference in San Francisco. But the automaker says it has added a new navigation tool to the existing Volt mobile app built for Android phones. The tool will use Google's voice search, provide vehicle tracking and access to Google maps, and allow Volt owners to send destination info from their Android phone to their car's OnStar navigation system for turn-by-turn directions.
Earth2Tech reporter, Katie Fehrenbacher, has a hands-on video of the Android app for the Volt.
http://earth2tech.com/2010/05/18/video-hands-on-with-gms-android-app-for-the-volt/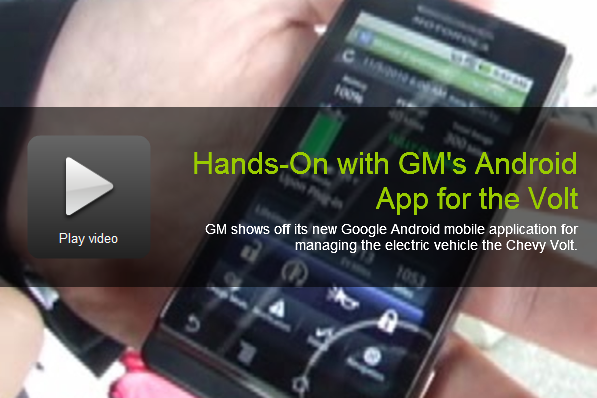 About the Chevrolet Volt: Unlike such plug-in hybrids as the 2012 Toyota Prius Plug-In Hybrid–which expands the electric range of a conventional hybrid–the Volt is not a hybrid. It's an electric car that happens to include a range-extending engine to provide power to the motor that drives the wheels when the lithium-ion battery is depleted.
The Volt can be driven anywhere; you can take a road trip in it
It's not limited by range because of developing infrastructure that is in progress
It's an electric vehicle with the capability of driving across the country
Related posts: