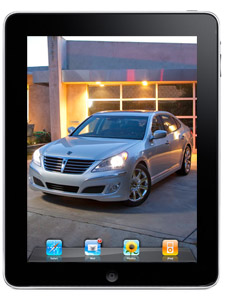 Buy one iPad and for an additional $49,500 get an Equus
Hyundai announced at this year's New York Auto Show the 2011 Equus will come with an Apple iPad preloaded with a digital copy of the owner's manual.
The all-digital owner's manual will be a fully interactive application. Could this be the end of the traditional paper owner's manual sitting unread in our gloveboxes or a marketing ploy riding on the success of Apple's new product?
An iPad as an owners manual comes with its own set of problems. Imagine having to change the tire or replace a headlight bulb and realizing you left the iPad at home so Junior could play Scrabble on it. What happens the first time you drop the "digital manual?" Spending another $499 just to read your manual will be a pain unless Hyundai offers other methods of viewing the manual.
Complaints aside, there are many nice perks with the digital "manual" that comes with the Equus. Information can be quickly found by simply typing-in what you are looking for, rather than thumbing through the table of contents. Hyundai has revealed that it will be possible to schedule service appointments on the iPad and even tell the company when to pick up the car. The South Korean automaker will even give you a loaner car while the Equus is being serviced. That's a luxury service no Lexus or Mercedes-Benz can provide.
A much more convenient method of digitizing the manual would be to have it displayed on the car's built-in navigation screen rather than a 3rd party device. This is better in practice, but it does not carry the same buzz as a free iPad.
A traditional paper manual will be likely sitting in the glove box of every Equus sold. Automakers in the future might switch to digital manuals to save money. Let's hope paper manuals are not a checkbox add-on at the dealership for $29.99.
The 2011 Equus will be in the $50,000-$60,000 price range and will have a 4.6-liter V8 with 385 horsepower. The car is due to arrive at dealerships in September of this year.
Related posts: