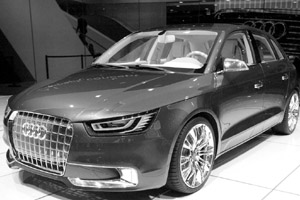 Audi is getting into the mini-car market for real with their new A1, and its production will start this fall. Audi felt compelled to answer both BMW's MINI as well as the Euro only A-Class from Mercedes with the A1. As you would expect, it looks like a shrunken head version of an Audi: just like the big ones, only crammed onto a smaller frame. Although there are no plans for a U.S. version, Audi isn't saying no either.
Production of the new A1 will begin in Belgium this October. That's according to Alfons Dintner, head of Audi's Brussels plant. He also stated that Audi will shut down the plant for the coming five weeks in order to ramp up for production of the A1 which will hit Audi's European showrooms in the beginning of 2010.
Audi first showed the A1 mini in 2007 with a show car dubbed the Metroproject Quattro (3d) study and then followed on that with the much closer to production ready A1 Sportback Concept in Paris last year. The production model will stay very close to the two concepts, but will skip such nice design details such as the frameless doors or the aggressively styled bumpers, it will also dial back the interior design as well. The A1 will initially roll out as a three-door model with the five-door Sportback version following shortly after, according to Dinter,
The A1 is longer and wider than BMW's MINI, and Audi describes the car as a "premium supermini". The A1 will be presented with a slew of 4-cylinder diesel and gasoline powertrains, including the VW Group's latest direct injection 1.2-liter and 1.4-liter TSI petrol engines. Also rumored to be on the way from the Ingolstadt-based automaker is a soft-top cabriolet version and a hot-rodded S1 with close to 200HP worth of output.
Now, all Audi has to do is bring the diminutive A1 stateside, especially the S1, and things could get interesting.
Source: CarScoop
Photo from Flickr user Wyemji
Related posts: