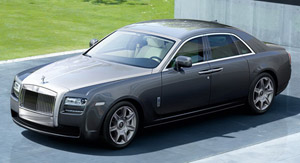 First it was a rumor, and now it looks to be a reality, but the engine choice seems counter to where they were supposedly going. Rolls Royce, makers of cars for the old money and landed gentry for the longest time, has decided to make what amounts to an "entry level" or baby Roller – or at the very least a smaller ride. Nothing really wrong with that. And on the face of it, there's nothing wrong with mounting a twin-turbo V12 into a car, any car. But isn't this supposed to be the "baby" of the line up?
Rolls Royce let some details about the upcoming and all-new Ghost, which a lot of people are saying will be the first "driver-orientated" Roller in quite a while. The Ghost was first publicized at the 2006 Paris Motor Show and then previewed at this year's Geneva Show, and is aimed to compete head on with Bentley's Continental Flying Spur.

The Ghost looks a lot like its corporate sibling, the Phantom, and has similar detailing on the front-end and also has the same rear-hinged coach doors that open very wide. The Ghost's interior styling features all the "usual" luxury amenities and high quality materials expected from a car with a price tag normally associated with a house. You can choose from either individual lounge seating or standard lounge configuration, there's a massage function and perforated leather for a cooling stream to the seat surface, that sort of stuff.
Of course the most interesting details lie under the hood. Although it's a "baby" the Ghost still tips the scales at a Hummer-like 5.368 pounds, so maybe going with a twin-turbo V12 isn't such a bad idea. Said mill is a brand-new 6.6-liter V12 engine with the aforementioned twin-turbochargers and direct injection. It cranks out 570 horsepower and puts out a maximum torque of 575 lb-ft at a low-low 1,500 rpm. All that power gets to the to the rear-wheels via an eight-speed, shift-by-wire, automatic ZF gearbox.
RR says the Ghost can do 0-60 mph in 4.7 sec and go all the way to an electronically governed top speed of 155 mph. In case you're wondering, the mileage is 17.3 mpg US, not bad, considering.
It will officially debut the upcoming Frankfurt Motor Show, and prices will start at around $272,000.
Source: CarScoop
Related posts: