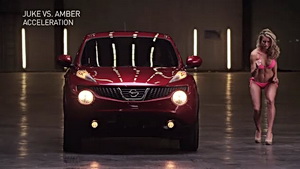 In the spirit of the Sports Illustrated Swimsuit Edition going on sale this month, Nissan released a series of four ads that were created to answer the age-old question: what's better, the Nissan Juke or a tall blond bombshell in high heels?
The Juke marketing campaign pits Amber and the car against each other in the categories of acceleration, agility, appeal and aerodynamics. Neither really wins in the end, but we get to see Amber in four bikinis, plus a few slow-motion shots that really test your pacemaker. I think the biggest achievement is not Nissan's newest crossover, but Amber running the sprint and slalom course in a pair of high heels without breaking an ankle.
Watch the videos below and you be the judge.
Model vs. Model "Acceleration"

Model vs. Model "Aerodynamics"

Bonus video after the jump
Related posts: