By David Colman
For: Whopper V8, Airy Cabin, Finely Crafted Finish
Against: High Climb-In, Small Sunroof
Only ex-tank commanders or moonlighting semi drivers will find this QX to be beautiful. But if beauty is as beauty does, then a lot of potential buyers who need to tow trailers or haul lots of people will also discern the inner beauty of the QX. Let's start with trailer towing, a task for which this Infiniti is ideally suited. Since it's based on Nissan's rugged Titan truck platform, and powered by a 5.6 liter V8, you've got enough horsepower (400hp) and torque (413 lb.-ft.) to pull 8,500 pounds of deadweight. Infiniti assists this task by including an integral Class IV tow hitch, and 7-pin wiring harness (with cover) in the basic specification of the QX. Standard self-leveling rear suspension also aids the drayage process. The 7 speed automatic gearbox keeps the engine working at top efficiency, with manual override and rev matching available via the console mounted stick. Normal dry weather operation calls for 2WD selection, with 4WD offered for extra traction in inclement conditions. The 4WD setting consists of both high and low range all-wheel-drive.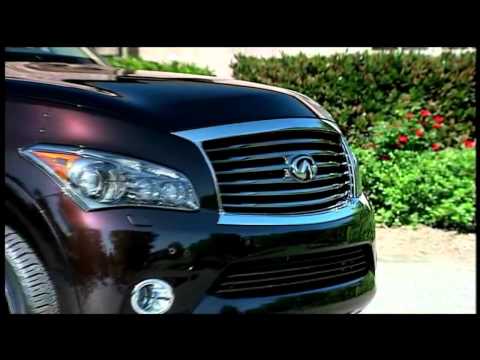 2011 Infiniti QX56 – Drive Time Review. This video is brought to you by Steve Hammes
If it's human haulage you're after, you couldn't do better than the QX without buying a school bus. Like many other SUVs, this one has 3 rows of seats (accomodating 8) , but unlike most others, all 3 rows are eminently accessible and comfortable. Order the optional ($2,900) Theater Package and you'll turn your QX into a mobile entertainment center that offers 2nd row occupants a pair of 7 inch DVD screens, and wireless headphones with which to follow the action. Best of all, the Theater Package also includes remote tip-up controls for the 2nd row seats to ease entry for passengers in the 3rd row. Of course no one boarding this magic bus has it any better than the 2 front seat riders. The QX features standard 10 way front seat adjustment for the driver, 8-way ditto for the passenger, and 2-way lumbar support for both front seats. In addition, the combination leather/wood steering wheel rim is heated, and the wheel itself tilts and slides at the push of a button. The driver's command position offers excellent forward, side and rear vision.