By David Colman
For: Hard-Edged Driver's Package
Against: Goofy Top-Down Trunk Space
Even in Vibrant Red, Infiniti's G37 Convertible looks innocuous enough to be confused with other low boiling point drop tops like Chrysler's 200, VW's Eos and Volvo's C70. But unlike that trio of rather lethargic performers, the G is more wolf than sheep because it's based on the Nissan 370Z, its hereditary brother. Thus, when you're feeling the urge to crank on the speed, the G Convertible is more than up to the task because it shares its 3.7 liter V6 with Nissan's ultra-quick 2-seat Z car. The G's standard 7-speed automatic gearbox insures there's a cog for every situation. Finding the right one is as easy as blipping the elephant-ear sized magnesium paddles fitted to the steering column (not the wheel), or popping the floor-mounted stick fore and aft. When dropping down a gear, you'll instantly slot into the appropriate lower gear set, thanks to rev-matching throttle blips provided automatically on each downshift.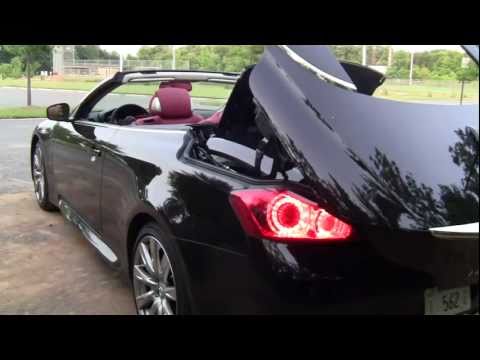 Infiniti G Sport Convertible Automatic Review. This video is brought to you by Drivin'Ivan
If you opt for the $1,700 Sport Package, 19 inch alloys replace the standard 18 inch wheels. Ultra-sticky Bridgestone RE050A tires (225/45R19 front, 245/40R19 rear) mounted on smoked chrome 19 inch alloys afford excellent bite when cornering hard. Sport brakes and sport-tuned steering further elevate the driving experience. Although the G remains softly suspended for a comfortable ride, the extra body roll in switchback maneuvers never seems to detract from grip level at the Bridgestones' contact patches. When pressed hard, the normally benevolent G morphs into a surprisingly adept back road tiger. Just be sure to deactivate the Traction Control System (TCS) via a dash-mounted button, located rather inconveniently out of sight left and below the steering column. Otherwise the TCS nanny will interrupt your progress at the most inopportune moments.