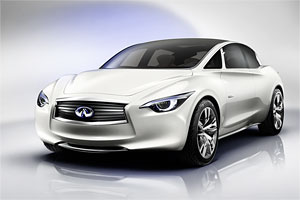 Infiniti will be debuting their compact luxury concept car, the Etherea, at the upcoming Geneva Motor Show in March. Geared towards younger car buyers who are looking for a "new type of luxury", the Etherea will take elements of a coupe, sedan, hatchback and crossover to create a car that is distinctly different from anything currently available in the luxury compact class.
The Etherea concept car features the crescent-shaped C-pillar from the Essence concept car, high-tech interpretations of traditional Japanese materials and finishes, a new mechanical layout and innovative access arrangements, making the 4.4m compact car feel spacious.
Photo gallery after the jump

The Infiniti Etherea concept car will make its debut at 12:15 CET on Tuesday 1 March 2011 at the Geneva Motor Show (Hall 1, Booth 1030).
Related posts: