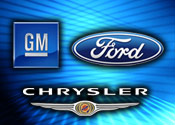 By Alex Kramer
With the economy souring and auto sales plummeting, the possibility of one or more of the Big Three (GM, Chrysler, Ford) going bankrupt is becoming very real. Although an argument can be easily made that they dug their own grave through bad strategic decisions, inept management, and less than competitive products, there remains the question of whether the domestic car industry is too significant to fail.
Lining up on the pro side of a bailout are the Democrats in Congress, who are trying to push through an additional $50 billion in cash for the carmakers. Following the same logic that led the Fed to bailout the banks, the argument is that any bankruptcy in Detroit would have a devastating ripple effect on the economy.
As economist Daniel Gross observes in a recent column, "because of GM's size and the place it occupies in the supply chain, the company's failure would likely trigger the bankruptcy of hundreds of suppliers and other companies that rely upon it." It has been projected that up to 3 million jobs would be lost if all three were to go belly up, a devastating scenario from any perspective.
On the other hand, if a bailout is passed and the companies are allowed to limp forward, wouldn't that only postpone and perpetuate the problem? Shouldn't the forces of competitive capitalism be allowed to do their work and clear the market of these sad reminders of America's past?
New York Times columnist David Brooks makes a compelling case that the Big Three deserve to fail: "Granting immortality to Detroit's Big Three does not enhance creative destruction. It retards it… If ever the market has rendered a just verdict, it is the one rendered on G.M. and Chrysler. These companies are not innocent victims of this crisis." Plus, if Congress bails out the car industry, who would be next? Every other troubled industry would come begging for money and expect Uncle Sam to dole out the cash.
As with many issues this country faces, there is no perfect solution for fixing the domestic car industry. Although we all might wish that capitalism would just run its course and get rid of the imperfections in the system, it becomes much harder when those imperfections are delivering your paycheck. Perhaps the Big Three should be kept alive for a while longer, to prevent any additional stress on the economic system, while also being prodded to become smaller, more efficient, and more resilient. And if that doesn't work, then at some point the once mighty American auto industry should be quietly laid to rest.
Related posts: