By David Colman
For: Ultra Efficient, Handsome, Comfy Front Seats
Against: Nervous Electric Steering, Tiny Base Model Tires
The Prius is the Japanese version of the Swiss Army Knife. You can buy a lot of different versions to fit your needs. There's original Prius, which Toyota now terms the "liftback" model in order to distinguish it from the recently introduced "V" version, a stretched model with roomier interior. Now a third version is coming on line called "c" for city transport. The Prius c is a smaller and significantly lighter offspring of the world's most successful hybrid vehicle. It weighs nearly 600 pounds less than any other Prius, and costs significantly less as well. The c model will be offered in 4 levels of trim, with the base model retailing for just $18,950. If you bump all the way up to level 4, you'll still lay out only $23,230.
Of course, nothing comes free when you cut size and substance, and the Prius c is no exception. It is the only current Prius with drum rear brakes instead of discs at all 4 corners. The tires fitted to the level 1 Prius c are small enough to work on any number of motorcycles. These R400 Bridgestone Turanzas measure just 175/65R15, and do not offer much in the way of adhesion. But of course, such low rolling resistance tires are an integral part of the Prius mileage equation because their hard tread blocks reduce contact patch resistance and promote extraordinary mileage. The base Prius c fulfills those expectations by returning 53 MPG in city driving, 46 MPG in highway mode, and 50 MPG combined fuel economy. These are the highest figures yet recorded for a passenger car without plug-in capability. Many of you will stop reading right here and get yourself on the March, 2012 delivery list for the Prius c based on mileage figures alone.
But the newest Prius offers reasons for purchase beyond operating economy. The front seats are among the best in the automotive business, regardless of price class. To save weight, they are thin framed, but foamed in all the right places to provide exceptional comfort. Unfortunately, the rear seats, while passable for short trips, are too upright for long term comfort. If you order the Level 1 model, your interior seating surfaces will be covered with a breathable, handsome fabric lightly patterned with embossed graphics. Level 2 ups interior furnishings by adding contrasting bolsters to the seating surfaces. If you pop for level 4, you'll find yourself nestled in Toyota's effective leather substitute called SofTex, with heated front seats included.
On the central tunnel, you'll find a couple of buttons for selecting either "EV" mode or "Eco" operation. The EV setting is useful when you're looping through an enclosed garage structure looking for a parking place. Now you can do so quietly, without spewing fumes indoors. The EV setting works only when you're traveling under 25mph, and is good for just 1 mile of travel at that speed. The Eco setting can be selected for normal driving chores. When engaged, Eco cuts throttle opening by up to 12 percent, making the Prius react like its been drugged. If you're a dedicated mileage greenie, you'll be content to drive routinely in Eco mode. The rest of us will leave the Prius c in Normal mode, since even there 0-60mph takes a leisurely 11.2 seconds.
The latest iteration of the Prius shape is the most visually stimulating yet. With dozens of aero tweaks stolen from aeronautical drafting boards, the c model cuts a startlingly low drag coefficient (Cd) of 0.28. Ridges molded into the turn signal lenses and brake light housings channel air so effectively that the Prius c is virtually free of wind noise at freeway speed. The superior aerodynamics also explain why the Prius c returns 50 MPG, and why a sedan with just 73hp and 82 lb.-ft. of torque can top out at 105mph. Of course the extra boost provided by the 60hp electric motor helps in that regard too.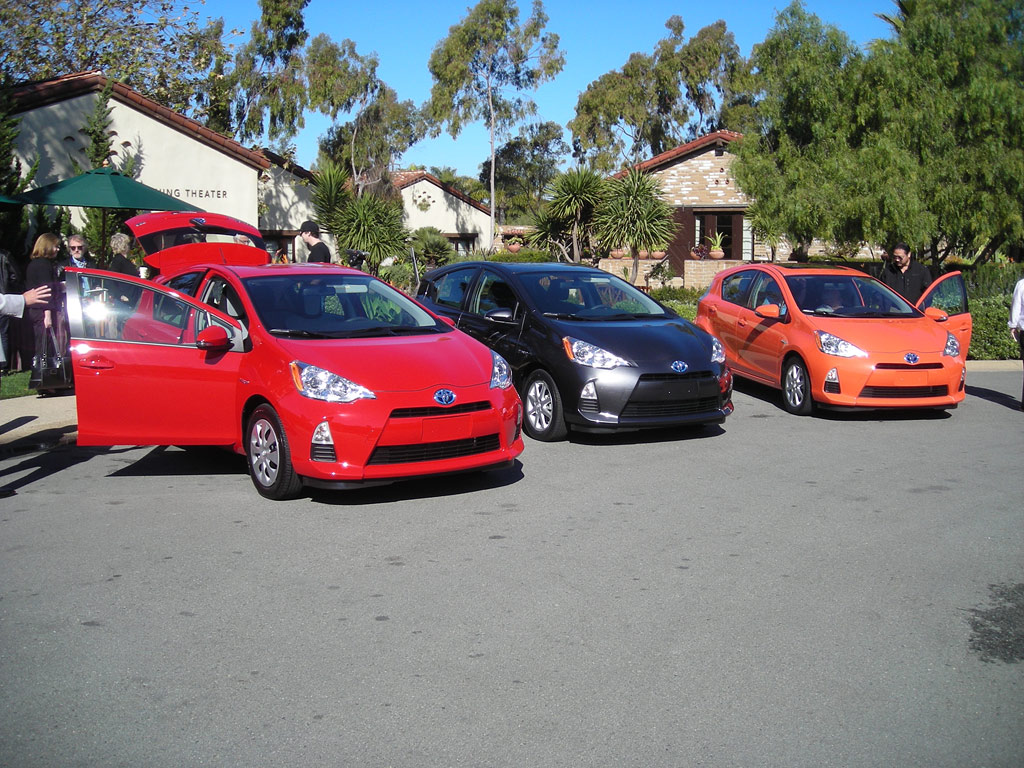 There's a lot to love about the new, lighter, decontented Prius c. Number one, of course, is its stellar fuel conservation. But its interior comfort, natty appearance, and reduced price range all make it an appealing buy. This newest variant of Toyota's Japanese Army Knife will appeal to a wider audience than ever before. It's the perfect first car for your child, as well as being the most sensible adult city car you can find for under $20,000.
2012 Toyota Prius c
Engine: 1.5 liter aluminum DOHC, 16 valve inline 4
Horsepower: 73 at 4,800rpm
Torque: 82 lb.-ft. at 4,000rpm
Motor Generator Two: 60hp/125 lb.-ft
Fuel Consumption: 53 MPG City/46 MPG Highway
Base Price (Level 1): $18,950
Star Rating: 10 out of 10 Stars
Related posts: