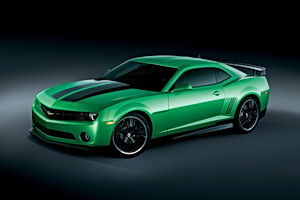 The North American International Auto Show (NAIAS) had much to offer this year, but what I was most impressed with was how hard the American car underdogs are trying to win back individual drivers. Instead of choosing to remain in sad, little rental car fleets, they are going for "Most Improved Player," while also staying true to the more positive parts of their images. I know, I know, some of you communists are thinking, "What positive parts?" but allow me to give props to one recent effort.
I need to get this out of the way: Camaro's Synergy Green Special Edition is NOT green in the trendy sense; it's not a an electric vehicle, or even a hybrid. It's actually green. REALLY green. "Shrek" Green. So what's up with the green, and why do I sort of love it? Camaro spoke to me personally about it–me, and 3000 other enthusiasts.
"Just as those colors helped make the first generation Camaro an icon, modern colors like Inferno Orange, Rallye Yellow Transformers Edition and Synergy Green will define the 2010 Camaro." And the green aint' just on the outside. The instrument panel is green. The door inserts are green. And the Jet Black (yes they capitalized it) cloth seats, steering wheel, shift knob and center console, have Synergy Green (caps again) stitching. Hey you guys, did I mention the vehicle, which will be produced in limited quantities from February to May, was green? However, after years of attracting fans of a certain feathered hair, feathered personality ilk, Camaro is getting hip–it's even getting props from the makers of Infiniti–Nissan. (Ok, Nissan also makes the 370Z, the company's Camaro equivalent, but mentioning Infiniti sounds better, no? )
Like Domino's Pizza issuing a mea culpa for its "cardboard crust", ketchup-like sauce and a damaging YouTube video made by two rogue employees who spit on the pizza, Nissan Design America Chief Bruce Campbell issued a modified mea culpa at the NAIAS AW Design Forum (but without a controversy to apologize for). To further his point, he issued a surprising shout-out.
"There's too much sameness. We are guilty of this sameness," but he went on to give the Camaro props for bucking sameness, taking risks and standing out. And while he also gave props to his company's 370Z, he continued, "We need to be bold and really challenge ourselves and challenge the sameness. We need to be bold and not to be fearful." Now I really get why someone wrote the song "Bitchin' Camaro."
The company also offers more stuff that we traditionally associate with the bitchin', iconic, sports car. The $27,000 price keeps the Synergy Green Special Edition in Camaro's customary low to mid-range. It's based on the Camaro LT1, has a rear spoiler, a 3.6L direct injection V-6 engine, which they've paired with your choice of a six-speed manual or automatic transmission. The benchmark powertrain emphasizes both performance and efficiency by having the V-6 deliver 304 horsepower and 273 lb.-ft. of torque.
Not a shout-out to Camaro's days of yore are the amenities. There's Bluetooth phone connectivity, a USB port for MP3 players, and remote vehicle start for models with automatic transmission, but its MPH is more old-fashioned: 29 mpg on the highway, which definitely disqualifies it from being trendy, energy-efficient green, but I guarantee you this: as grouchy as Shrek can be, it is a sports car that the pretense-loathing, but still somehow hip ogre would love to drive through the winding roads of Far, Far Away.
Related posts: