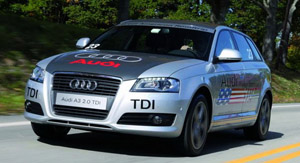 More news on the diesel front: Audi has finally decided to bring a diesel variant of its very popular A3 to America as a 2010 model. The A3, which is sort of the car that people buy when they want more than a Volkswagen and less than a bigger Audi, has been intensely popular. Small and compact enough for urban duty, yet able to travel long distances with ease put the car on a spectrum of car buyers' short lists.
The only thing missing, for the American market, has been a diesel option. The oil burners have been available since the get go in Europe, where diesel is a popular fuel choice, but Audi has been reluctant to bring any of their diesels to North America. This has been something of a downer for those that want an Audi and are either the frugal type, or more green conscious, but now that's all set to change.
Actually, the A3 diesel will be the second oil burner to arrive on our shores. The first is the big Q7 TDI sport utility vehicle. Due to be in showrooms by November of this year the 2010 A3 Sportback TDI, the cars full name, is hoped to make quite a splash. Audi even announced prices for this new version.
The base price for the front-wheel drive A3 Sportback TDI with the dual-clutch transmission that Audi dubs the S tronic will be $29,950. That will not include the $825 destination charge, taxes, title, options, and the ubiquitous "dealer charges". Under the hood will be a 2.0-liter turbo diesel that cranks out 140 horsepower and puts down 236 lb-ft of torque to the pavement, and motivates the five-door hatch to a terminal speed of 130 mph.
Audi and the EPA say that A3 TDI gives you an estimated 30 mpg worth of mileage in city driving and 42 mpg on the highway. This is not stellar, but pretty good, considering that the littlest of Audis is heftier than you'd expect.
All this is well and good, and it will be interesting to see how American Audi buyers respond to this new offering. Hopefully, they'll sell them by the boxcar load. I say this for two reasons: One, they'll be greener, and two, the more that are out there, the more aftermarket tuners will get their hands on them.
And a sporting version of Audi's A3 Sportback TDI could be a very interesting ride.
Source: CarScoop
Related posts: