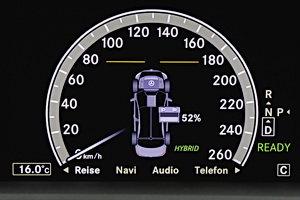 Good news if you're into green cars and have a lot of money: That Mercedes-Benz S Class BlueHYBRID you ordered is on its way to your dealer's showroom as we speak. Or if you're just green and into the full on coveting mode, then that means you can soon swing by the Benz shop and desire.
This is Mercedes' first production hybrid vehicle and the S 400 runs a mild hybrid system that M-B developed in combination with BMW. While the Bavarians are being performance oriented with their ActiveHybrid 7 Series, the three-pointed star gang is aimed for more efficiency. The Stuttgart boys have gone with a 3.5-liter V6 mated to the hybrid system, and have also used lithium ion batteries. This is the first time lithium ion batteries have been used in an automotive application.

The 120 V Li-Ion battery is about the same size as a conventional lead acid starter battery found in the more prosaic S Class and it sits in the engine compartment. This means that no trunk space is lost to hybrid bits or bobs and luggage capacity is the same as the standard S Class.
Even though this is a top of the line S Class Mercedes (read that as "it's as heavy as a tank") the mileage numbers aren't all that bad. The S 400 BlueHYBRID gets 19 mpg city and 26 mpg highway according to the EPA. Which is up from 15 mpg city and 23 mpg highway for the V8 powered S550. The price, for those of you that might be interested in getting one, starts at $87,950.
I wonder what, if any, effect this will have on greening the cars we drive. Traditionally, Mercedes has been a leader in developing new technology and bringing it to the market place. But they are way behind the times with hybrids (the Prius is already on its third generation, for example). What this could do is push more rich people to adopt hybrids, and thereby give the whole genre more of a halo.
Source: AutoBlog
Related posts: