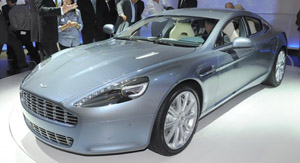 The Aston Martin Rapide 4 door has had one of the longest gestation periods of any car in recent memory. It first came upon the scene almost four years after its concept debuted at the 2006 Detroit Auto Show. The initial reaction of everyone who saw it was a simple "Build it now!!!"
And finally, Aston has gotten off the dime and finally revealed a production version in Frankfurt. Due to hit the streets in early in 2010, this will be Aston Martin's first series production four-door. AM didn't mention prices just yet, but did say that detailed pricing expected to be announced later in the year. The Rapide will be come equipped with Aston Martin's hand built 6.0-liter V12 engine that puts out 477HP at 6,000 rpm and 443 lbft of peak torque at 5000 rpm.
All that power and torque goes to the tarmac via rear wheels through Aston's six-speed 'Touchtronic 2′ automatic transmission. Although a slush-box it does allow the driver to change gears automatically or manually via the steering column-mounted paddles made of magnesium. There's no performance stats yet, but the word from Frankfurt is that 0-100km/h should happen in a little over 5,0 seconds. The Aston Martin Rapide features what the company terms four 'swan wing' doors that open slightly upwards.
Aston Martin Chief Executive, Dr. Ulrich Bez had this to say about his company's newest: "Rapide is the culmination of the Aston Martin range of sports cars, a car that seals the revival of a truly admired marque. There is now an Aston Martin for every taste and for every use." Bez continued, "With Rapide, the entire family can enjoy their Aston Martin together in unison, in an invigorating yet comfortable environment, sitting low, with plenty of visibility from every seat and with new levels of comfort, refinement and entertainment."
Curiously, the Rapide will be the first car in the history of the firm to be built outside of Britain. Final production will be done by Magna Steyr at their plant in Graz, Austria.
Source: CarScoop
Related posts: