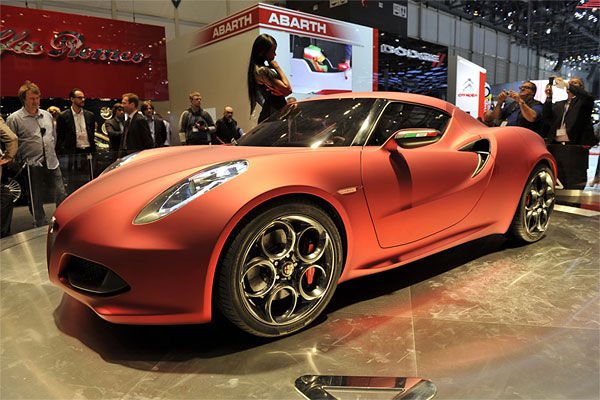 At last week's Geneva Auto Show, Alfa Romeo unveiled the 4C concept coupe, that will likely be sold at U.S. dealerships paired with Fiat.
Similar to the 8C Competizione, the more compact 4C concept is smaller, built with carbon fiber and aluminum, and will weigh less than 1,800 pounds. The Alfa Romeo 4C will also feature a 1.75-liter turbocharged four-cylinder, 200-horsepower, rear-mounted engine, rear-wheel drive, and a top speed of 155 mph.
Most impressive is the design to keep weight at a minimum. The 4C is already small, but careful application of carbon fiber and aluminum manage to keep the curb weight below 1784 pounds (850 kilograms). Parts of the frame are built from aluminum but the body is all carbon fiber. If a past report from Autocar is to be believed, parts of the stressed frame will be carbon fiber too.
The carbon fiber cockpit is being built by specialist Dallara and should be their next take on their previous project of the KTM X-Bow. Will the 4C GTA save Alfa? Enthusiasts have been dreaming of a new sports car from the Fiat brand, and this time round it could prove to be affordable.
According to Alfa Romeo CEO Harald Wester, production for the Alfa Romeo 4C will begin in late 2012, but no details have been released about when U.S. sales will start. Dealers may not get the product until the tail end of 2012 or in early 2013. The 4C will be priced around $62,000 and Alfa Romeo only plans to build 15,000 to 20,000 units of their 4C coupe over five years.
Fiat has been a bit behind schedule on dealer openings, but plans to have 130 locations up and running by autumn. The Alfa Romeo brand will team with their fellow Italians to make full use of the soon-to-be-established dealer network.
Related posts: