Gale Banks might not be a name that everyone on the street might know, but if you know about diesels, or more specifically high output high performance diesels, then you know about Gales Banks. As far as I know, Banks still holds multiple diesel records at the Bonneville Salt Flats. He has been squeezing more and more performance out of oil burning engines longer than most diesel fans have been alive. And now, it would seem, he has turned his attention towards the Volkswagen's Jetta TDI. This could get very interesting in a lot of ways.
This is a bit of a departure for Banks. In addition to regular runs on The Salt, his main line of work is working aftermarket tricks on the biggest diesel pickups available in the U.S. and big rig semi-trucks.
Now, word has slipped out that Banks is working on a modified Jetta. Although there is no word (yet) on the bits and bobs he's added making it in to a parts catalogue, you'd have to think that they would. And if so, this means that having a TDI that is both economical and more sporty could be available soon.
The Banks-tuned VW is called the Jetta Sidewinder, and the car is supposedly very similar to the Jettas that VW uses in its TDI Cup series, a one make racing series that is really worth paying attention to. Mods to the powertrain include a cold-air induction system, a less restrictive exhaust system that has completely done away with the mufflers and a reprogrammed engine management computer. On the inside the Gale Banks IQ, a handheld touch-screen computer that is designed to interface with the vehicle, keeps you informed of what the engine is doing.
Gale also had a go at the underpinnings of the Jetta TDI as well. Banks has upgraded the suspension as well as improving the wheels and tires. No hard figures are out, but reports say that all the mods have had a very positive impact on performance and the fuel economy has not been adversely affected. And the cherry on top? The car remains 50-state emissions compliant.
So when do green speed freaks get more info?
Most likely at SEMA.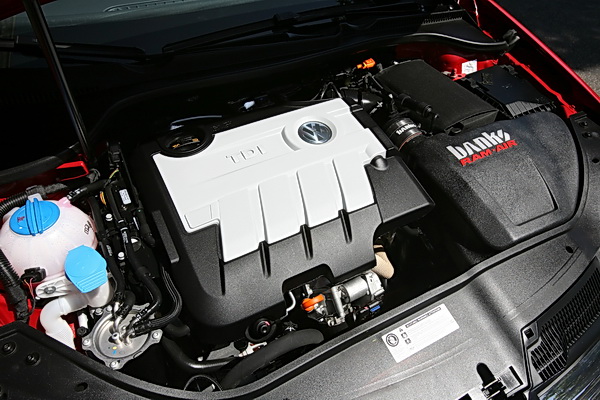 Source: AutoBlogGreen
Related posts: