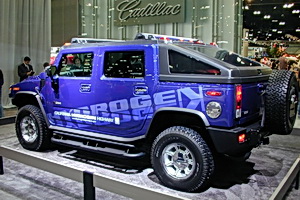 Senate leaders, joined by Texas oil billionaire T. Boone Pickens, unveiled a bill yesterday to jumpstart the production of vehicles that run on natural gas. The legislation, dubbed the NAT-GAS bill, was introduced by Sen. Majority Leader Harry Reid, D-Nev., and Sens. Orrin Hatch, R-Utah, and Robert Menendez, D-N.J.
It would increase tax credits for buying a natural gas-powered vehicle from $5,000 to $12,500, boost grants to create additional natural gas filling stations and create grants for light- and heavy-duty natural gas engine development.
This is another case of "better late than never"—natural gas is not experimental; it's already here and ready to go as a fuel alternative. The fact that we've waited this long to pass a bill like this just illustrates how far behind the times we are when compared to other countries. While there are about 10 million vehicles worldwide that run on natural gas, only about 142,000 of them are in the United States.
Related posts: