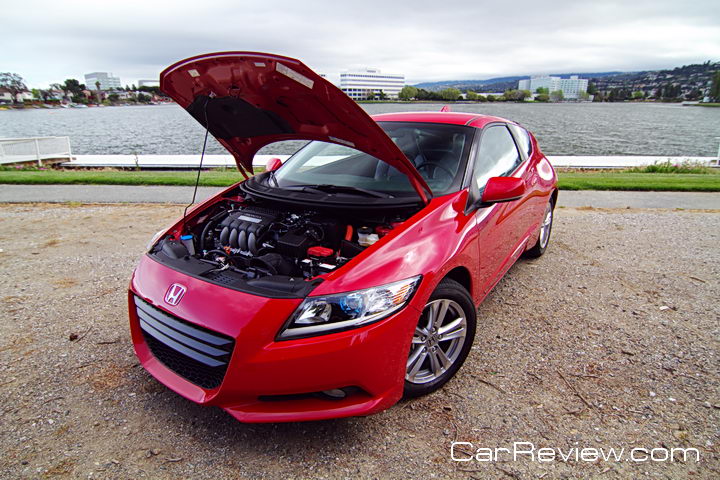 Driving Impressions
Let's get this out of the way first: putting a hybrid powertrain in the CR-Z was a mistake. With only a modest 122 hp available from the 1.5L engine and electric motor, and over 2,600 pounds of weight to move around, this is not a fast car. The engine revs eagerly and you do feel a bit of extra torque from the hybrid system, but even at full throttle there just isn't a lot of thrust.  Acceleration feels no quicker than the original CRX, which is pretty sad given how much faster most cars have become.
Due to Honda's mild approach to hybrid technology, which doesn't allow for electric only running, there isn't much of a gain in efficiency either. Our test car managed 36 mpg over 400 miles of mixed driving, which isn't bad, but I remember easily getting close to 40 mpg in my old CRX. Some of the newer compact cars are even getting over 40 mpg on the highway, with no batteries required. Why Honda didn't drop a regular 4 cylinder engine into the CR-Z, or a small turbocharged motor, is a mystery to me.
Having acknowledged this almost fatal error, you might be wondering how the CR-Z could possibly redeem itself. The first answer lies in the fact that this is the only hybrid currently available with a manual transmission, and as we've come to expect from Honda, it's a very good one. With short shifter throws and smooth, supple clutch action, shifting between the 6 gears is simply a delight.
Additional smiles started to show up on my face the moment I took the CR-Z out on some twisty back roads. The car sits low to the ground and the suspension is nice and firm, but not so much that the ride really suffers. The CR-Z does pitch a bit over rough pavement, as you would expect for a car with such a short wheelbase, but the car feels more planted on the road than its size would indicate.
The CR-Z has three modes for different styles of driving: sport, normal, and econ. Put it in sport mode and the car comes alive, with more aggressive throttle and steering response. After flinging the CR-Z through some S curves, I started to feel some of the same handling magic that made me fall in love with the CRX many years ago. Like the CRX, the relatively narrow all-season tires have a surprising amount of grip and then gradually let go when you're going way too fast around a turn, making the CR-Z a very forgiving car in which to explore the limits. The car even rotates a bit mid-corner and then progresses into mild understeer if you stay on the gas, which is easily corrected by lifting the throttle.
Altogether, the CR-Z comes up short when you compare it to other small sporty cars, like the MINI Cooper S or Mazda MX-5, but there is still enough of that small car handling magic to warrant labeling the CR-Z a sporty hybrid, and stick shift aficionados will definitely smile when they row through the gears for the first time.

Related posts: