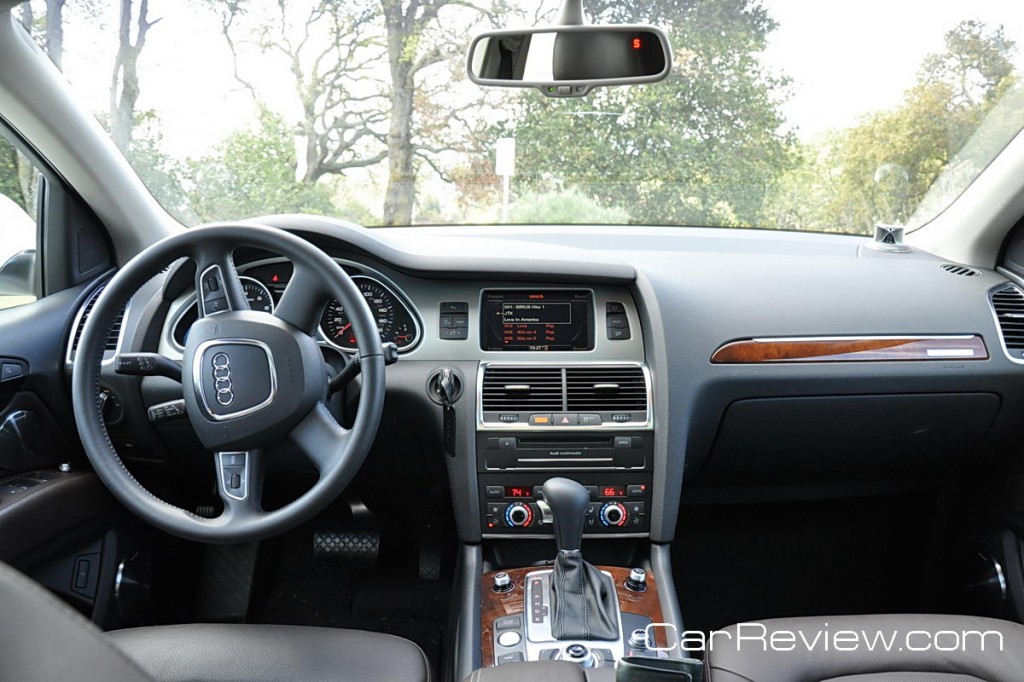 Interior Comfort and Ergonomics
As you would expect in a luxurious SUV from Audi, the interior is made of high quality materials and is very stylish, but it doesn't neglect comfort and functionality. The interior seats and dash were all wrapped in quality leather with wood and chrome accents. The seating was very comfortable for both front and rear passengers, with the front seats being fully electronic, with 12-way power adjustable seats with memory, and with additional lumbar support (it would have been more amazing if the lumbar support could double as a massage chair as well). The front seats also feature heating and cooling that is adjustable to varying degrees.
Another nice touch is that Audi also designed the rear seats with heating and they recline a few degrees, too – something not found in many vehicles, where backseat passengers are generally overlooked and forgotten. There is a third row of seating available, if necessary, which doesn't obstruct the driver's rear view visibility. But as usual, these seats are meant for more petite passengers and definitely not ideal for long road trips. And when folding down the second row (40/20/40 split) and third row (50/50 split) seats, the rear cargo area provides a flat cargo area with a massive amount of space; it's easy to haul large boxes, luggage and sports equipment without the slightest fuss.
From the driver's perspective, the center console is well presented and spaced, without too many buttons or controls knobs. It's also integrated with Audi's MMI (multi-media interface) system, which adds a whole new level of interior customization. So many items can be accessed and controlled through the MMI – the air flow to passengers, GPS, radio, CD player, car monitoring and maintenance systems, sound system and more, all through the touch of a dial.
To be honest, the MMI system is complicated and a little excessive, with an extensive list of micro-adjustments available to tweak the driving experience. It was easy to get lost and distracted navigating through the plethora of options. Another quibble was the large 7-inch LCD screen – why wasn't it a touch-screen? It seems counter-intuitive to only use the MMI dial. A touch-screen would have made it easier to maneuver through all the MMI system settings. As a note, the touch-screen feature is found in Audi's sister company's VW Touareg and could be easily transferring to future Q7 models.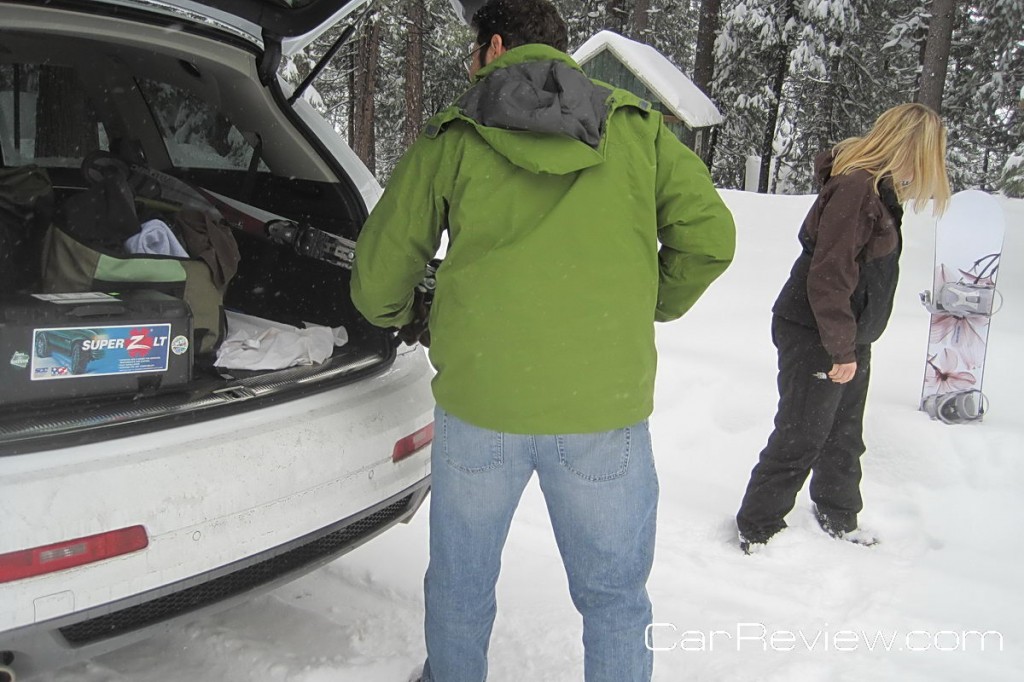 During our test journey from the SF Bay Area to Lake Tahoe and back we were in the car for almost 8 hrs in one day. Amazingly, there were no complaints from any of our passengers. And even with all our winter gear packed into the rear cargo area, there was still plenty of space and leg room for all passengers. Overall, everyone was very pleased and impressed with the comfort factor of the Audi Q7.
Performance & Handling
Looks and styling aside, the only way to really experience the Q7 is by throwing it out into the urban jungle and rural wildernesses. Our Q7 came with the new and improved 333 hp (325 lb-ft of torque) supercharged V6 engine (up from last years sluggish 272 hp, 3.6L V6 engine), which was peppy and excitable. The 8-speed automatic Tiptronic transmission, with optional manual shift control, ensured super smooth gear changes. With this powertrain, the Q7 is noticeably powerful and strong, while also being zippy and agile. The Q7 is quietly confident and ready to step up when you need it the most.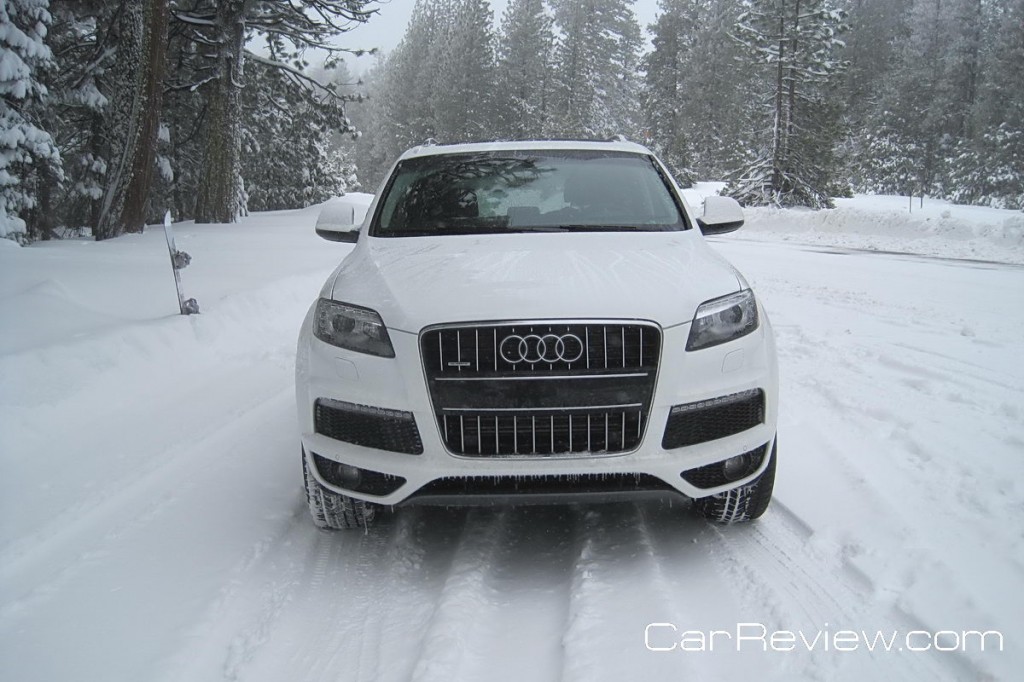 For our test journey, we took the Q7 for a spin in some heinous Californian winter weather. Our trip from the San Francisco Bay Area to Lake Tahoe was packed with heavy rain and high winds by the Bay, and then became heavy snow and intense winter driving conditions in the Sierra mountains. How did the Q7 fare? Two words: superbly and magnificent. Our testers never doubted the Q7. In fact, when other cars were sliding off the snow covered roads and into the massive snow banks, the Q7 rolled by undaunted by the frigid wonderland.

Related posts: