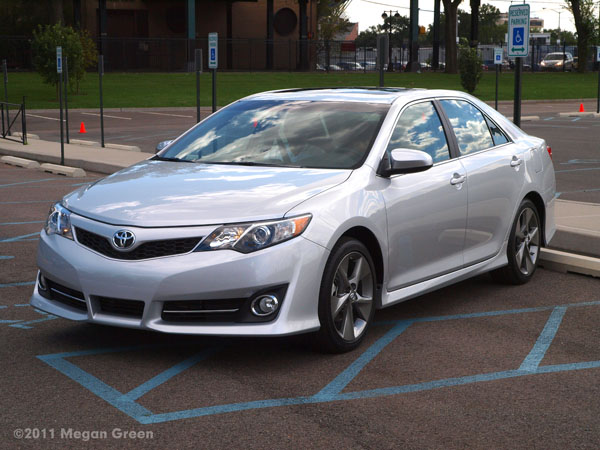 Toyota's redesigned 2012 Camry mid-size sedan was launched today simultaneously in Los Angeles, Detroit, New York City and the Toyota- owned plant in Georgetown, Kentucky, where the Camry is being manufactured.
At first look, the exterior shape is fairly close to the 2011 Camry. The change is more in the details – the headlights reshaped to curve around the front horizontally, integrating with a more subtle and simplified honeycomb grille. The entire front end is beefier and is seated lower, the fog lights tied into the design with chrome detailing. The windows are a bit more squared at the A pillar and C pillar than the previous model, adding to the sharper, boxier appearance.
Toyota designed this generation of Camrys with all new exterior sheet metal, the lightweight steel thus reducing the weight by 150 pounds on the LE and 220 pounds on the hybrid. While significantly lighter, the 2012 Camry is the same size as previous generations, but is roomier with increased visibility.
Not left out of the redesign is the powertrain; the 2.5-liter four- cylinder engine in L, LE, SE and XLE models have been increased by nine to 178 horsepower, incrementally increasing combined mpg by two to 28 (estimated 25 mpg city/35 highway.)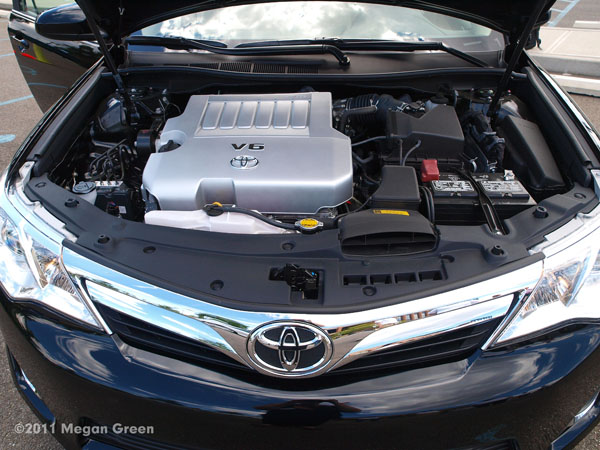 SE and XLE offer a 3.5-liter V6 engine upgrade, increasing the horsepower to 268, boasting projected EPA-estimated ratings of 21 mpg city/30 mpg highway. All transmissions are automatic, while the Camry SE allows manual shifting with steering wheel paddle shifters in "D" mode.
The all-new Camry Hybrid Synergy Drive powertrain's 2.5-liter four- cylinder engine is conceptually the same engine as the Prius. In combination with the aforementioned weight reduction, fuel economy is bumped up by 30% to EPA-estimated 43 mpg city/39 mpg highway/41 mpg combined.

Related posts: