By David Colman
Hypes: Movie Theater Back Seat, Tows 3500 lbs.
Gripes: Lag on Downshifts, Poor LED Headlight Pattern
In 2014, Acura brought an all new MDX to the mid-size SUV market segment. Since then, this entry, which remains unchanged for 2016, has become the all time top selling SUV with three rows of seating. In practice, this stretched Acura looks and behaves more like a minivan than a sports utility vehicle. Acura does provide something of a placebo to the sports minded with its Integrated Dynamics System (IDS). For example, switching from 'Normal" to "Sport" by adjusting the IDS' transmission-tunnel mounted control allows you to tighten steering effort from your driver's seat perch. But really, the MDX' long suit isn't its sports personality. Rather this SUV serves primarily as a mobile comfort lab that crams all the comforts of home into its elongated 194 inch rolling chassis. If you want a real sports SUV, check out the X3 or X5 from BMW and the Macan or Cayenne from Porsche.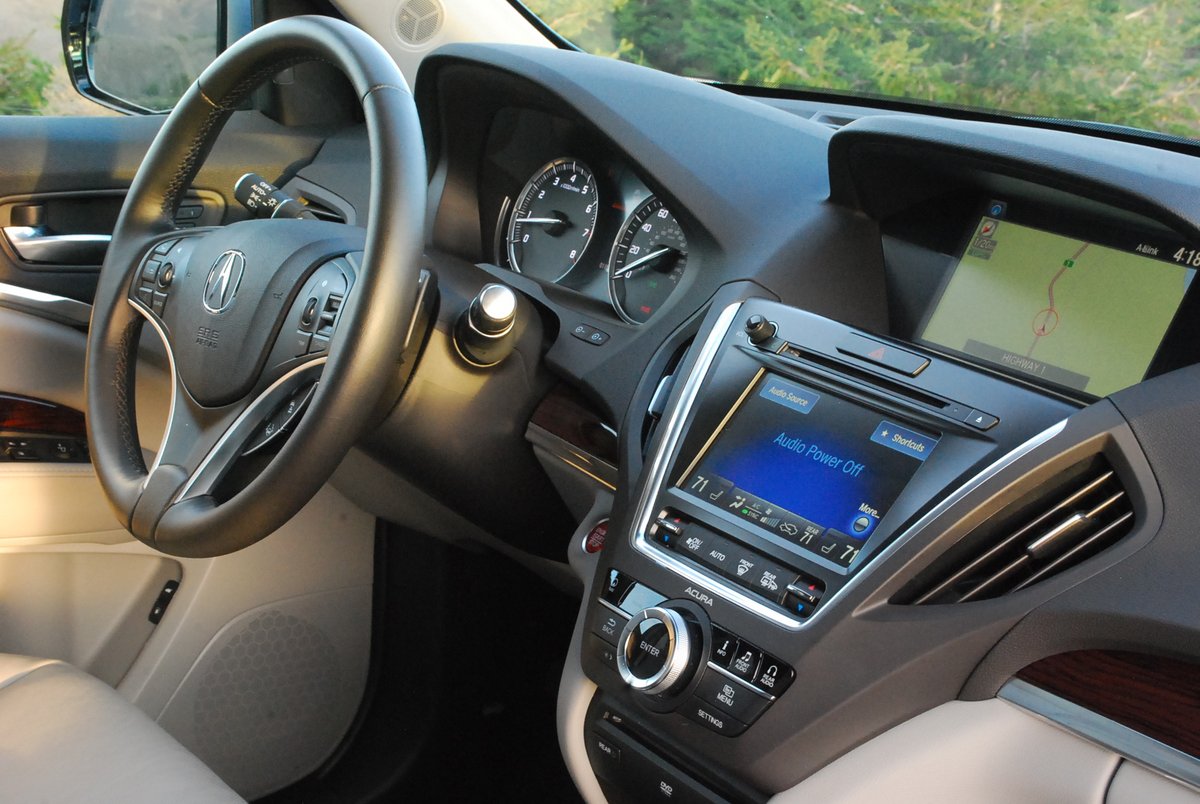 At $58,000, the MDX represents decent value for the dollar if you're the techie type who values whiz-bang communication protocols over the driving experience. From the technology standpoint, the MDX has few peers in the marketplace today. For example, our Acura included both the "Tech Package" and the "Advance Package" in its all inclusive price. The "Tech Package" consists of such comprehensive enhancements as Navigation with voice command activation, real time traffic information, warning systems for lane deviation, forward collisions, and rear cross traffic, plus 3 zone interior climate control. What Acura terms the "Advance Package" promises to save you from going off the road or crashing into a frontal impediment. These so-called "mitigation" features include a slow speed cruise control for traffic jam stop and go.
To be sure, the cabin of the MDX is a comfy, well designed home site with but one annoying exception. That would be the standard issue "Push Button Shifter" which is mounted on the center console. After a week behind the wheel of the MDX, I still failed to come to terms with its obtuse location and unneeded complexity. The problem here lies in the fact that each gear selection requires a different skill set: engaging "reverse" demands a backward push on a sunken rectangular button, while "drive" requires a downward push on a flush mounted circular button. If you're good at patting your head while rubbing your tummy, you'll love this arrangement. But for me, it produced hesitation and uncertainty. The simple act of gear selection, which has long been unconscious and automatic, is more complicated than it needs to be in the MDX.
Once you do select "drive," you'll discover this Acura runs through 9 gears. The upside here is that you've got a gear ratio for every occasion. The downside is that it takes the transmission nearly 2 seconds to select a ratio when you floor the throttle in "drive." This lag time compromises the abundant horsepower (290hp) and torque (267lb.-ft.) of the 3.5 liter V6 engine. And that's a shame because this sophisticated power plant, with direct injection of fuel, and variable valve timing to maximize combustion burn, allows the MDX to crank off 0-60mph runs in the 6.4 second range. Thanks to the fuel efficient addition of variable cylinder management (VCM), the V6 loafs along on fewer than 6 cylinders when under light cruising loads. This produces an overall EPA estimate of 22MPG, which is unexpectedly frugal for a vehicle weighing in at a chubby 4,290 lbs.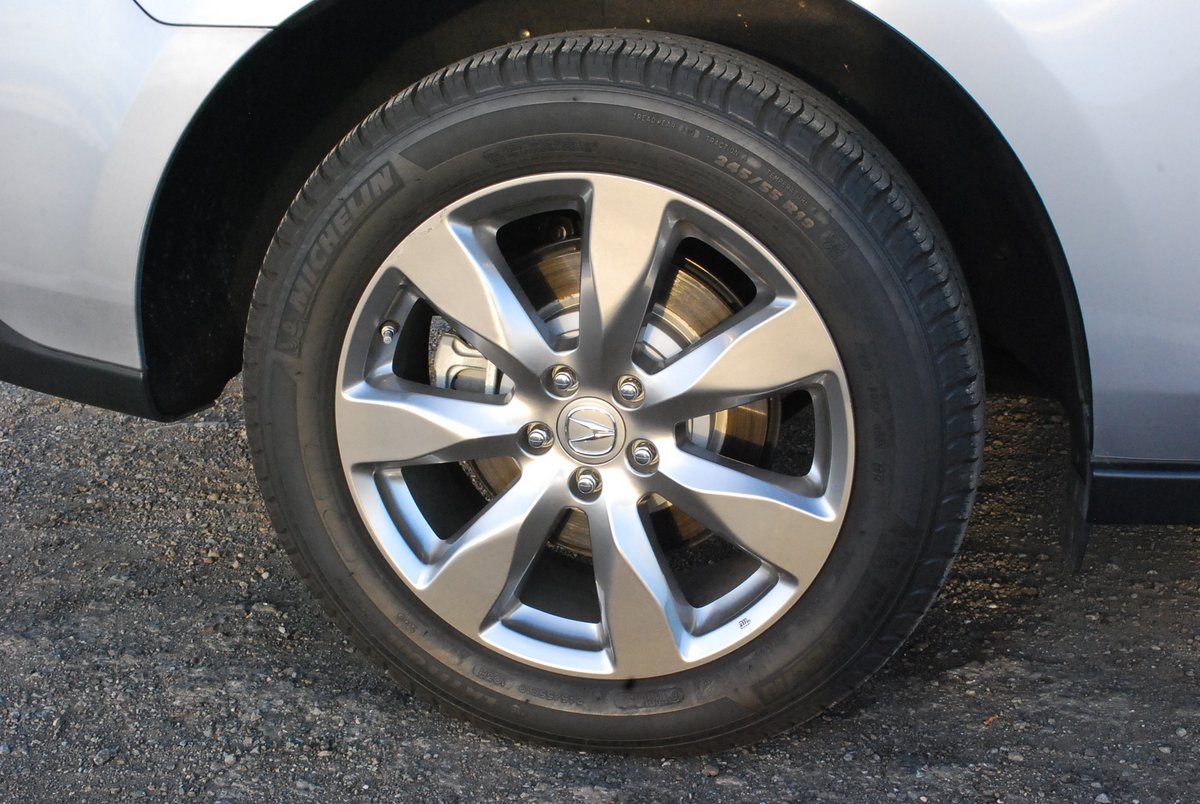 The strong suit of the MDX is neither its performance, nor the handling of its 245/55R19 Michelin Latitude tires, but rather its sensational list of comfort attributes. For example, where else will you find a 16.2 inch rear screen DVD with HDMI and wireless headphones included in the base price? Where else will you find the complete gamut of active safety devices – from Collision Mitigation Braking System to Road Departure Mitigation – included in the base price? Next year the federal government will be adding just such active safety measures to their testing and rating standards. You can be sure that the MDX will be one of the first SUVs to gain 5 stars in that new category.
2016 Acura MDX AWD
Engine: 3.5 liter V6, SOHC 24 valves, Direct Injection, VTEC
Horsepower: 290hp
Torque: 267lb.-ft.
Fuel Consumption: 19 MPG City/26 MPG Highway
Price as Tested: $58,000
Star Rating: 7.5 out of 10 Stars
Related posts: